---
FREE Shipping & Returns on this item.
Please be advised that orders may take 1-2 days to process before shipping.
Description
ZEISS Touit 50mm f/2.8M Macro Lens for Sony E is an excellent companion for your portraits and close-ups. Its planar optics design and a silent autofocus motor system deliver life-size 1:1 magnification with accurate color and near-zero aberrations!
The ZEISS Touit 50mm f/2.8M is a sought after lens unit suitable for all your macro needs. Its design is specifically for use with Sony E-mount mirrorless cameras. It can handle portraits and other close-up photography well and deliver 1:1 magnification with excellent color fidelity. The lens is suitable for hobbyists as well as serious researchers. You can use it if you are particular with details in the frame photographed like flowers, insects, or small objects. It is also highly recommended for professionals like archeologists and researchers looking for minute details in specimens. Many people even use it for underwater studies with proper housing like Nauticam.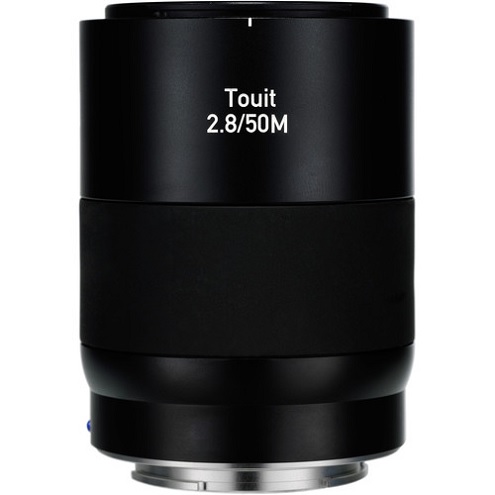 ---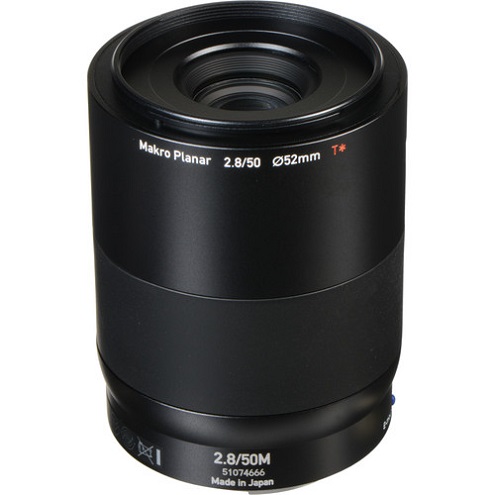 Our Take on the ZEISS Touit 50mm f/2.8M Macro Lens for Sony E:
ZEISS Touit 50mm f/2.8M Macro Lens has a planar optical design that includes two aspherical and two low dispersion elements. The full system consists of 14 elements in 11 groups. The design brings down all sorts of aberrations and distortions to a minimum and produces accurate results with good color delivery. While the aspherical elements control spherical aberrations, the partial dispersion elements manage the chromatic aberrations and color fringing. Besides, there is also a floating elements system for consistency in image quality for the entire focus range. The unit works excellently for the close-up of objects with a minimum of a 5.9-inch distance. It has a 75 mm equivalent focal length for 35 mm considerations.
---
An anti-reflective coating makes the ZEISS Touit 50mm f/2.8M Macro Lens faithful to color and suppresses flare and ghosting when used in an ambiance with higher levels of lighting. In a low lighting situation too, it performs well with the f/2.8 maximum aperture size. It has a minimum aperture of f/22. With its exceptional photo quality and outstanding features, it is a unit much loved by photographers looking for capturing macro images and videos. Though its design is especially for APS-C, one can also use it with full-frame cameras. You get a picture cropped for a 75 mm lens equivalent.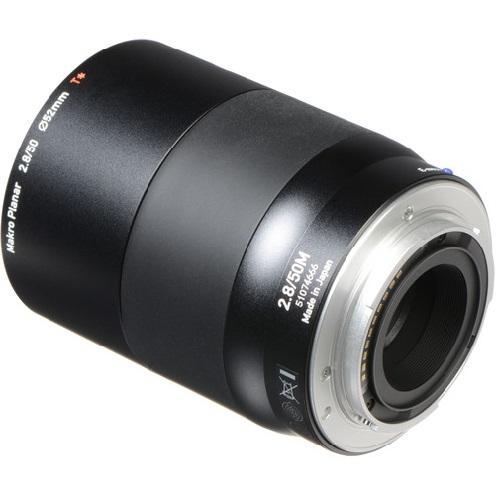 ---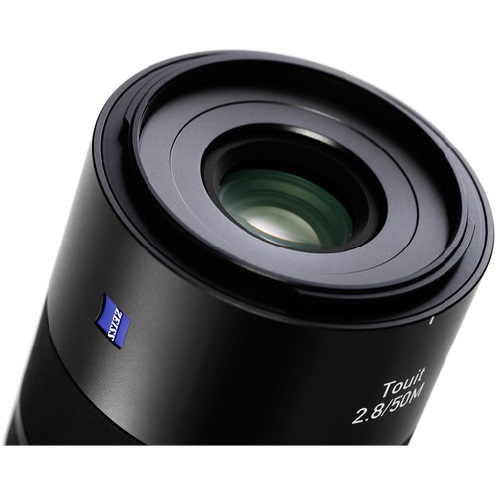 A DC motor is present in the ZEISS Touit 50mm f/2.8M Macro Lens system for capturing stills and videos using an autofocus feature. It works fast and silent and helps provide accurate results. And if you prefer focusing manually, there is a manual focus mode too. Even the manual feature is not wholly manual; when the focus is adjusted manually, it activates the DC motor, which in turn adjusts the focus to the desired range. It gives better precision compared to fully manual lenses. The lens unit dimensions are 2.95 x 3.58 inches and it weighs light at 290 grams. The unit is compatible with many Sony Alpha 5000 and 6000 series devices. It can be used with various filters and polarizers. The unit usually comes with the latest firmware installed.
TOP 10 KEY FEATURES:
| | |
| --- | --- |
| Focal length: | 50mm (Equivalent to 75mm Focal Length for 35mm consideration) |
| Aperture Maximum: | f/2.8 |
| Aperture Minimum: | f/22 |
| Compatible Format: | APS-C |
| Angle of View: | 31° |
| Minimum Focus Distance: | 5.91 inch / 15 cm |
| Optics: | 14 Elements in 11 Groups |
| No. of Diaphragm Blades: | 9 |
| Focus Type: | Autofocus |
| Filter Size: | 52 mm (Front) |
Included in the box:
ZEISS Macro Lens for Sony E - Touit 50mm f/2.8M
ZEISS 52mm Front Lens Cap
ZEISS Rear Lens Cap for ZEISS Touit E-Mount
ZEISS Lens Hood
Payment & Security
Payment methods
Your payment information is processed securely. We do not store credit card details nor have access to your credit card information.
---
Security