Description
Swarovski TLS APO 23 mm Digiscoping Lens for ATX/STX Spotting Scopes is suitable for both viewing and photography and is easy to switch from one to the other. The apochromatic lens adaptor gives you sharp and high-contrast videos and still images regardless of whether you use it for digiscoping with ATX / STX spotting scopes or for telephotography using a Micro Four-Thirds camera!
The Swarovski TLS APO 23 mm Digiscoping Lens can be of use in multiple applications. It makes a Swarovski Spotting Scope function as an excellent digiscoping setup. Thus you can get sharp images and videos of distant objects with vivid details. At the same time, with a Micro Four-thirds camera attached to the spotting scope eyepiece, it can become a high-quality telephoto lens. It is one of the devices becoming more and popular among birders.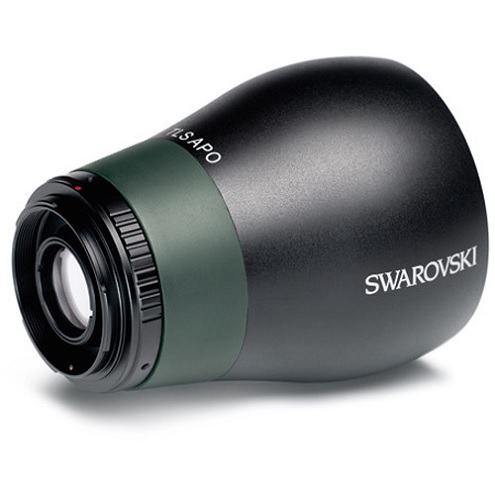 ---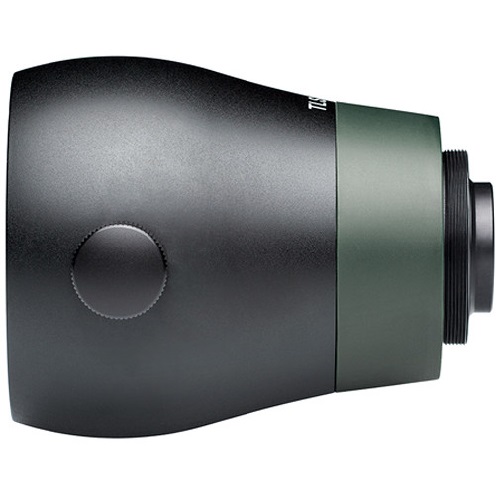 Our Take on the Swarovski TLS APO 23 mm Digiscoping Lens:
With the 23 mm apochromatic lens of the Swarovski TLS APO Digiscoping Lens, you don't need to worry about any chromatic or spherical aberrations. It provides clear and sharp images with no distortions and excellent color rendition across the entire frame. The lens of TLS APO aligns the camera sensor accurately with the plane of the image frame in view. Regardless of the type or model of the camera attached to the system, it eliminates distractions to provide high-contrast images and high-quality videos with the Swarovski spotting scope.
---
As mentioned earlier, the Swarovski TLS APO 23 mm Digiscoping Lens is compatible with both ATX / STX spotting scopes and cameras with micro four-thirds sensors. The effective focal lens obtained while using the unit with ATX / STX 65 or 85 spotting scopes is in the range of 1150 – 2760 mm. And if you use ATX / STX 95, it is 1380 – 3220 mm. The adaptor lens unit does not deteriorate the image quality of the still frames or the videos observed or photographed.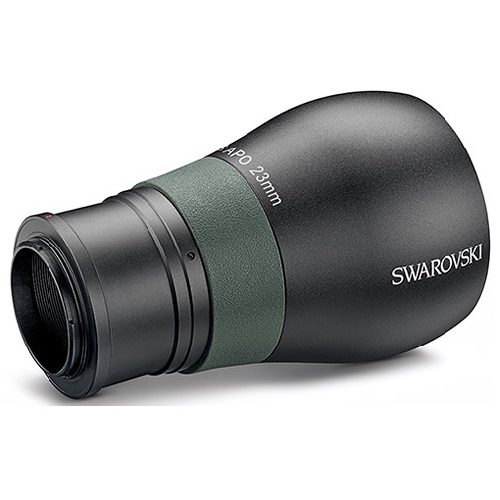 ---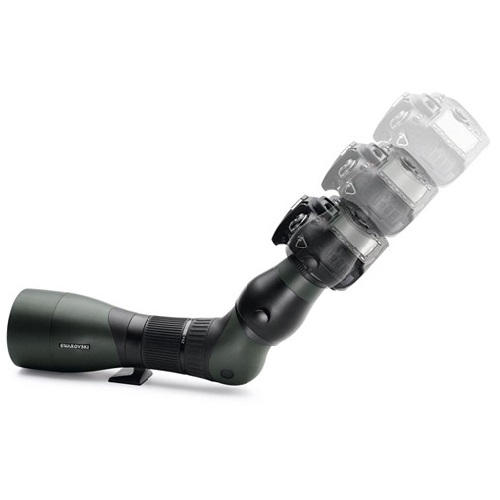 The Swarovski adaptor sleeve has a slide-down mounting design that makes it convenient to smoothly switch between the modular eyepiece of the spotting scope and the camera rig. Thus, one can enjoy both the viewing and photography applications of the unit without a hassle, whenever required. The mounting design helps in moving and adjusting the camera without affecting the spotting scope's position, and maintaining the alignment and setting of the system. And there is zero light interference between the camera and the spotting scope. The care given to the design considerations provides a more secure mechanical feel while using the system as a whole.
TOP 10 KEY FEATURES:
| | |
| --- | --- |
| Lens Type: | 23 mm apochromatic |
| Application: | Viewing, Photography |
| Compatibility for digiscoping: | ATX / STX spotting scopes |
| Compatibility for telephoto application: | Cameras with Micro Four-Thirds sensors |
| Effective Focal Length With ATX/STX 65: | 1150 – 2760 mm |
| Effective Focal Length With ATX/STX 85: | 1150 – 2760 mm |
| Effective Focal Length With ATX/STX 95: | 1380 – 3220 mm |
| Required Adaptor type: | T2 mount |
| Adaptor sleeve design: | Slide-down mounting |
| Weight: | 1.2 lbs. (including package) |
Included in the box:
Digiscoping Lens: Swarovski TLS APO 23mm for ATX/STX Spotting Scopes
Eye-cup
Retaining Collar
Payment & Security
SWAROVSKI TLS APO 23mm Telephoto Lens System Apochromat (for ATX/STX)