---
FREE Shipping & Returns on this item.
Please be advised that orders may take 1-2 days to process before shipping.
Description
Swarovski Optik's TLS APO 23mm Digiscoping Lens compatible with a range of spotting scopes such as ATS, STS, ATM, STM, and STR is ideal for capturing high definition pictures of the wildlife, visible at the end of your spotting scopes!
Swarovski Optik's TLS APO 23mm Digiscoping Lens is an excellent choice to enjoy the exciting birding and sightseeing and to capture high-quality pictures throughout the sessions. The lens's design enables it to work with the angled and straight eyepiece modules while interacting with wildlife. This digiscoping lens is for a wide range of Swarovski spotting scopes such as ATS, STS, STM, ATM, and STR. The lens is also compatible with the cameras having Micro Four Thirds sensors. Hence, this digiscoping lens facilitates Swarovski spotting scopes to function as a telephoto lens for these Micro Four-Thirds cameras. The wide range of compatibility of the product enables the user to obtain sharp and detailed images and videos of distant objects or birds.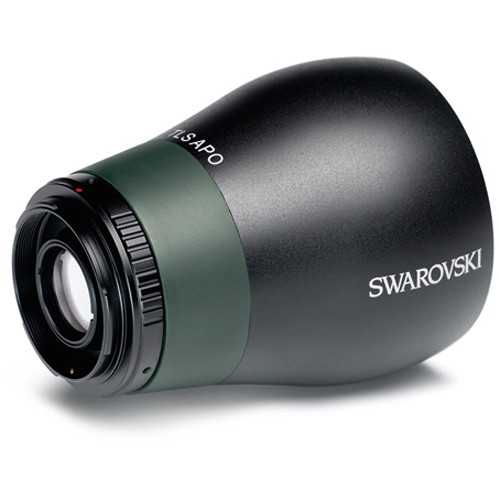 ---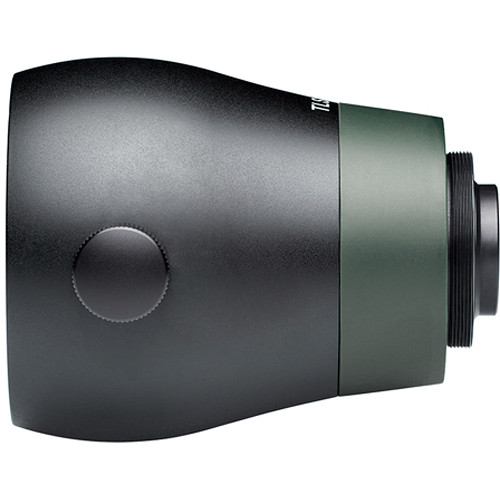 Our Take on the Swarovski Optik's TLS APO 23mm Digiscoping Lens:
Swarovski Optik's TLS APO 23mm Digiscoping Lens features an actual focal length of 23mm and an effective focal length ranging from 1150mm to 2300mm. The low value of the actual focal length allows the lens to capture a small amount of light. Besides, the short focus length ensures a large image section with a wide scale of options with photography. The lens is apochromatic as well. This feature of the lens minimizes any possible spherical and chromatic aberrations. It also ensures that the scope's quality does not get affected by using the TLS APO adapter. All these features help capture pictures having true color rendition and zero distortion across the whole frame.
---
Swarovski Optik's TLS APO 23mm Digiscoping Lens ensures an impressive digiscoping experience when mounted to the spotting scope eyepiece along with a T2 adapter and a camera body. The TLS APO adapter also aligns the camera sensor along the focal plane of the transmitted image. Crisp images and videos rich in contrast and high color fidelity are possible irrespective of the camera used. A T2 adapter ring and a camera that is not included with the lens will be required to make the outstanding Swarovski digiscoping session complete.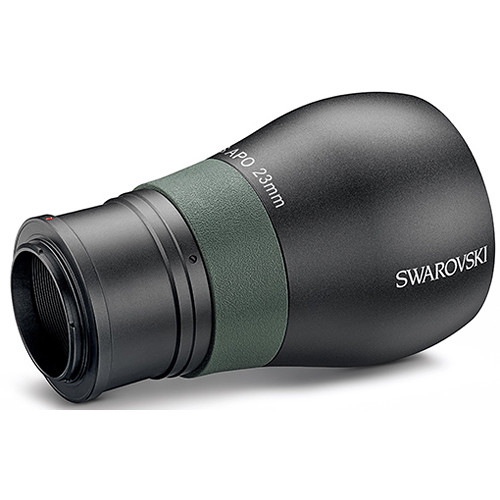 ---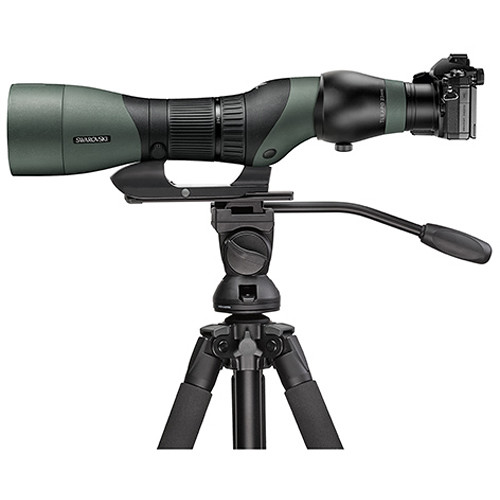 Swarovski Optik's TLS APO 23mm Digiscoping Lens weighs 560 grams. The optic is lightweight, which makes it portable and easy to handle. It is less expensive too. The design of the TLS APO adapter incorporates a slide-down mount system on its adapter sleeve. This feature enables the user to easily switch between the modular eyepiece of the spotting scope and the camera rig.
TOP 10 KEY FEATURES:
| | |
| --- | --- |
| Focal length: | 23 mm |
| Effective Focal Length: | 1150 – 2300 mm with ATS/ STS 65 and 80 |
| Focusing Type: | Auto |
| Compatibility: | ATS, STS, STM, ATM, and STR spotting scopes, and Cameras with Micro Four Thirds sensors |
| MAdaptor type for mounting camera: | T2 |
| Designed For: | Viewing and photography |
| Lens Type | Apochromatic |
| Functionality: | Works with Straight and Angled eyepiece modules |
| Weight: | 1.2 lbs. (including package) |
| Device type: | Digiscoping Adapter |
Included in the box:
Swarovski TLS APO 23mm Digiscoping Lens compatible with ATS/STS/ATM/STM/STR Spotting Scopes
Eyecup
Retaining Collar
Payment & Security
Payment methods
Your payment information is processed securely. We do not store credit card details nor have access to your credit card information.
---
Security