Description
Plantronics CS520 Wireless Headset System is ideal for office space and call conferencing because of its Extended Battery Life, SoundGuard Technology, & Call Conferencing Capabilities!
Plantronics CS520 Wireless Headset System is a wonderful way of communicating in an office space because of its superb audio quality that eliminated interference and renders a noise-reduced experience. It has a 9-hour battery life and comes with a lightweight headset that is comfortable for long hours.
---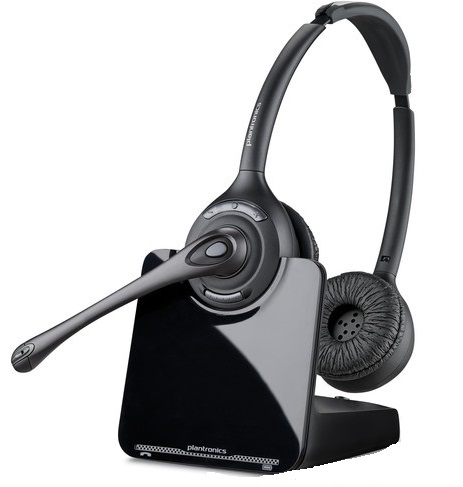 Our Take on the Plantronics CS520 Wireless Headset System:
CS520 allows the hands-free reach of up to 350 feet and is perfect for long working hours due to its extended battery life. Further, the SoundGuard technology prevents your ears from harm as the sound levels are topped at 180 dBA. Additionally, the Anti-Startle technology can detect and subdue the sudden increase in signal level, protecting your ears even more.
---
The call quality is exceptional in the system because of wideband audio technology. Further, the signal processing is also enhanced, rendering a natural and clearer sound. You can even conference by docking in up to three extra headsets, making never-imagined collaborative communication possible. Further, you can pair it up with an Electronic Hookswitch Cable for remote call- answering.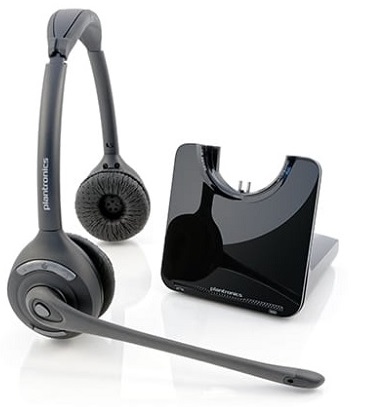 ---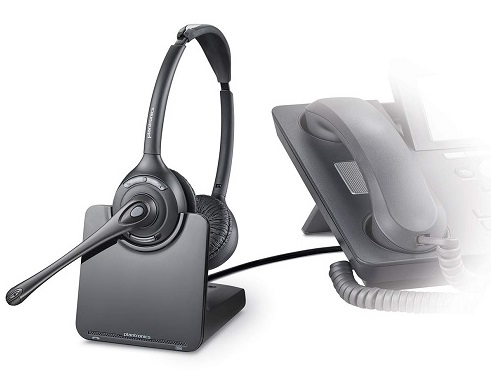 The most attractive aspect of this headset system is its easy set-up and intuitive use. You can connect the headset to multiple desk phones via a telephone interface cable. Further, there is a physical button on the headset for answering calls, adding to call-answering convenience. Additionally, there is an auto-answer feature that enables answering the call by simply lifting the handset.
TOP 10 KEY FEATURES:
| | |
| --- | --- |
| Earpiece Design: | On-Ear |
| Listening Mode: | Binaural |
| Speaker Frequency Response: | 100 Hz to 6800 Hz |
| Wireless Range: | 350' |
| Wireless Technology: | DECT 6.0 |
| Talk Time: | 9 Hours |
| Hearing Protection: | SoundGuard Technology |
| Call Conferencing: | Dock 3 Additional Headsets |
| Sound Quality: | Noise-Cancelling Microphone |
| User-Friendly Features: | Call Answering Button, Handset Lifter |
Included in the box:
Plantronics CS520 Wireless Headset System
Base
Headband
Eartips and Earloops
Fit Kit Instruction Card
Telephone Interface Cable
Power Supply
Payment & Security
Plantronics CS520 Wireless Headset System