Description
Panasonic AG-UX90 is an ideal camcorder for high-resolution as well as professional recordings that will always amaze your viewers. It features a 1.0-Type MOS Sensor, Variable Rate Recording of up to 60 fps, 5-Axis Hybrid Image Stabilizer, 25.4 to 367.5mm Lens, 15x Optical Zoom, to mention but a few.
It can record up to UHD 3840 x 2160 video as well as 8-mode gamma. With its big 1.0-type MOS sensor, you can be sure of the flawless creation of striking pictures using the wide-angle lens. When using the 15x optical zoom, the focal length ranges between 25.4 and 367.5 millimeters. You will like its 5-axis Hybrid Image Stabilizer, which regulates your footage during accidental shaking of the camera. The lens has three rings so that you can manually control focus, iris, and zoom accurately.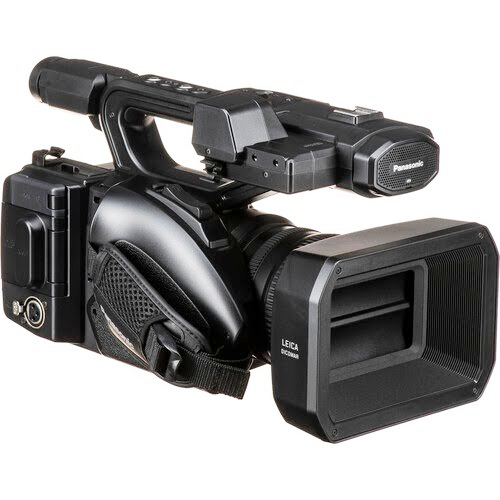 ---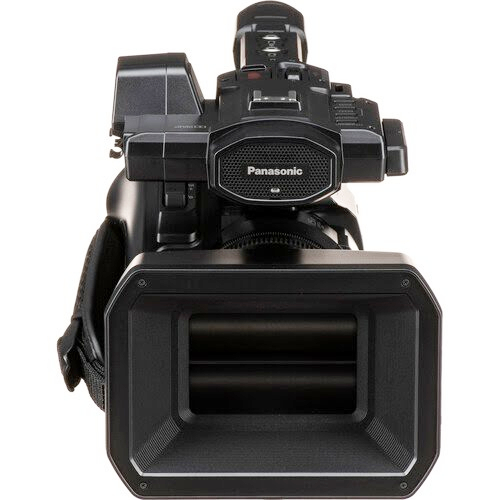 Our Take on the AG-UX90:
With its three shutter modes - System, Slow, and Syncro - the Panasonic AG-UX90 UHD 4K Camcorder is certainly one of the best cameras you will find around. This shutter system makes it possible for you to operate at a speed of between 1/60 and 1/8000 per second. There is a 3-step variable gain switch that gives you more power over shutter and brightness. Its frame rates can reach 60 fps while you will get access to the pre-recording function for optimum effectiveness. The recording functions of this camera are UHD 4K/FHD/HD/SD resolutions, MP4, AVCHD, and MOV formats.
---
Also, there are two SD slots, which makes recording to SDHC/SDXC media easier, with support for the UHS-I format remaining intact. With support for rollover recording, you can easily change to the second slot as soon as the first card becomes full for uninterrupted recording. Also, you can record to external media through the USB 3.0 output, and it supports HDMI/composite video/audio output, dual-XLR input, as well as 3.5mm stereo headphone output. That is why you can be sure of conveniently shooting high-fidelity pictures at all times.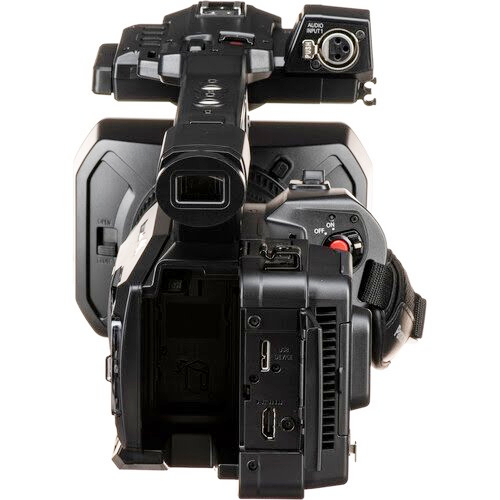 ---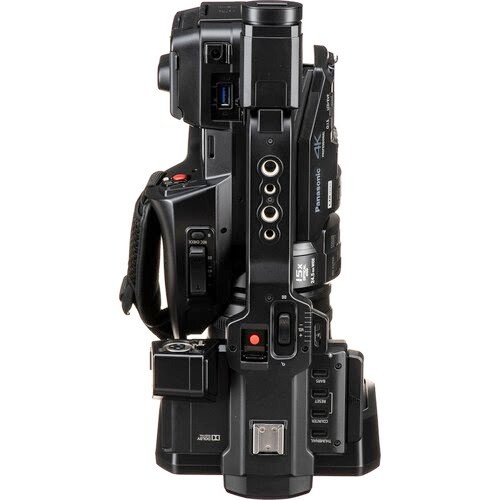 What's more, the AG-UX90 boasts of many auto-assist features that will make your job easier. Some of these features are high-speed 4K autofocus, one-touch AF, automatic white balance, focus preset transition, and manual focus assist. You will also find image adjustment presets like skin and master-detail, 16-axis color correction, as well as six preset files for maximum effectiveness. Also, when it comes to viewing your settings or previewing your video, you have a choice between the .24-type OLED viewfinder or the 3.5-type HD display. This camera supports infrared shooting as well as wireless transmission.
Specifications:
| | |
| --- | --- |
| Image Sensor : | 1-Chip 1" MOS Sensor |
| Sensor Resolution: | 3840 x 2160 (8.59 MP) |
| Gain: | 0 to 30 dB (Native) |
| Minimum Illumination: | 1.3 Lux at 1/30 Shutter Speed |
| White Balance Range: | 2000 to 15,000K |
| Focal Length: | 8.8 to 132mm |
| Optical Zoom Ratio: | 15x |
| Max Digital Zoom: | 10x |
| Maximum Aperture: | f/2.8 |
| Minimum Aperture: | f/4.5 |
Included in the box:
Panasonic AG-UX90 Camcorder
7.28V 43Wh Lithium-Ion Battery for DVX200 and CX10 (5900mAh)
Battery Charger
AC Adapter
Power Cord
Microphone Holder Kit
Eyecup
Lens Hood
INPUT Terminal Cap
Payment & Security
Panasonic AG-UX90 4K Professional Camcorder