Description
JBL Under Armour Wireless In-Ear Headphones with Heart-Rate Monitor (White) with Built-In Rechargeable Battery, On-Board Microphone, TwistLock Ergonomic Eartips, Inline 3-Button Remote, Touch Sensor, 5.8mm Dynamic Drivers, and Up to 5 Hours of Audio
JBL Under Armour Wireless In-Ear Headphones is designed for people who love doing physical activity without disturbing their love for music. You may call it a headphone designed for athletes. You can use it while doing running, cycling, rock climbing and other activity where it can come in contact with sweat. The headphone has sweat-proof IPX5 design making it ideal for use in case of light to heavy physical exercise. JBL has provided Rechargeable lithium-ion battery that can last up to five hours once fully charged.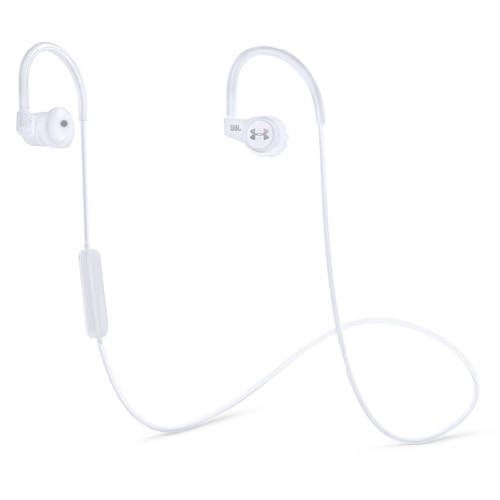 ---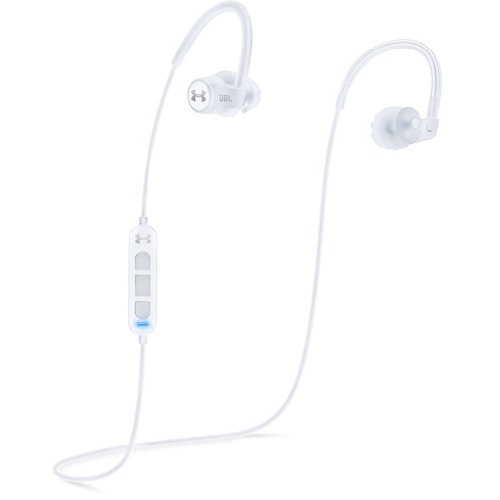 Our Take on JBL Under Armour Wireless In-Ear Headphones with Heart-Rate Monitor (White):
JBL Under Armour Wireless In-Ear Headphones has on-board heart-rate tracker so you can take care of your heart in case of high-intensity exercise. Similar to other products from JBL, this headphone has three-button remote control. These buttons provide you user-friendly control that elevates your music listening experience. You get play/pause, volume adjustment, skip track parameters, and answer/reject options with the headphone. You get these universal controls over the android and iPhone devices. Need to make or receive a call? You can use the headphone for that purpose too. It has on-board microphone that transmits high-quality voice to the other person over the network.
---
JBL Under Armour Wireless In-Ear Headphones comes with earbuds that offer patented TwistLock ergonomic eartips. These patented eartips add another dimension of security and comfort in your use. The buds will never slip out of the ears, no matter what you are doing. You need to use your hands to dislodge them after use. JBL has provided a carrying case that makes the headphone highly portable. With or without the carrying case, the headphone looks stunning and makes you stylish.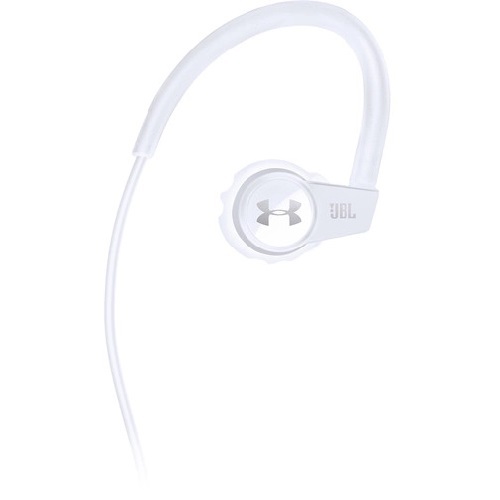 ---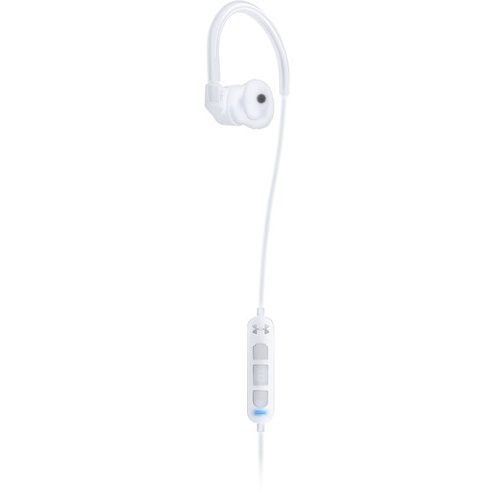 JBL Under Armour Wireless In-Ear Headphones provides 12-month premium membership to the MapMyFitness application. This app helps you keep track of your health along with monitoring the workout progress. The headphone provides a whole lot of Bluetooth profile support such as BT 4.2, A2DP v1.3, AVRCP v1.6, HFP v1.6, and HSP v1.2. It is capable of producing a full frequency response from 10 Hz to 22 kHz. Gift this headphone, or use it for yourself, we are sure you will fall in love with that. You will love its excellent sound quality and heart rate monitoring features. You get the flexibility to turn off heart rate monitoring features in case you do not need it.
TOP 10 KEY FEATURES:
| | |
| --- | --- |
| Driver Size: | 5.8 mm |
| Frequency Response: | 10 Hz to 22 kHz |
| Transmitter Power: | 4 dBm |
| Frequency: | 2.4 GHz (2402 to 2480 MHz) |
| Charging Port: | Micro-USB |
| Battery Type: | Lithium-Ion |
| Bluetooth Description: | Bluetooth 4.2 |
| Battery Backup: | Up to 5 Hours |
| Heart-Rate Tracking: | Yes |
| Touch Sensor: | Yes |
Included in the box:
JBL Under Armour Wireless In-Ear Headphones with Heart-Rate Monitor (White)
4 Sets of Ergonomic Eartips
Carrying Case
12-Month Premium Membership to MapMyFitness App
Payment & Security
JBL Under Armour Wireless In-Ear Headphones with Heart-Rate Monitor - White