---
FREE Shipping on this item.
Please be advised that orders may take 1-2 days to process before shipping.
Description
DJI Ronin-S is a smaller version of the Ronin gimbal stabilizer perfect for DSLR as well as mirrorless cameras. It features an Eight-Pound Payload Capacity, Trigger and Mode Buttons for Control, Offset Roll Motor for Screen Visibility, One-Handed Operation, Battery Grip Lasting up to 12 Hours, Camera Control via Included Cables, Focus Wheel Inclusion, Additional Functions via Android/iOS App, just to mention a few.
Accurate gimbal control guarantees perfect shots, just the way you want them, thanks to the front trigger, the rear mode button, as well as the joystick. When you hold the front trigger, it locks the gimbal, and when tapped twice, it re-centers the gimbal. When you tap the front trigger three times, it engages the Selfie mode. If you want to engage three customizable operation profiles, you only need to press the mode button, and each profile has a changeable speed as well as a response so that you can seamlessly shoot in various scenarios.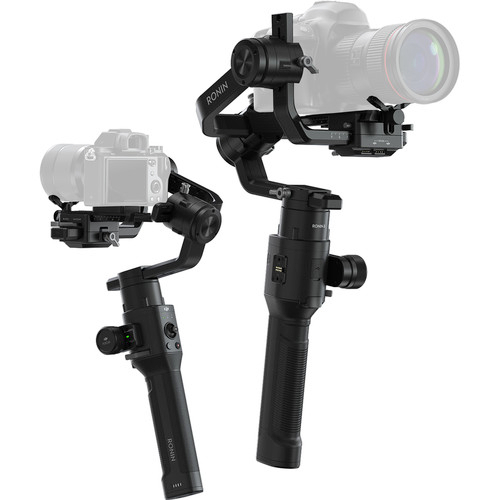 ---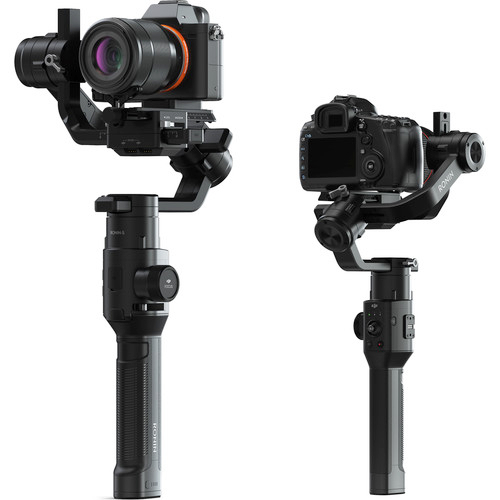 Our Take on the DJI Ronin-S:
The DJI Ronin-S enhances operation flexibility, and that is why it is an ideal device for event, documentary, and feature film workflows. It comes with a grip, which has an in-built battery that guarantees a runtime of about 12 hours. You can use the Sport mode to record fast-moving subjects with a maximum speed of about 45 mph. There is a sliding mounting plate to attach your camera and balance your works. Lens support and riser are included so that you will be able to get the most satisfactory result.
---
Also, there is the inclusion of USB Type-C and Type-B cables for camera control functions such as start/stop, focus pulling, and so on. You can use the included 24W USB charger to charge the gimbal quickly so that there won't be any downtime. There is an included case for protecting the gimbal and its accessories during transportation and storage. With the DJI Ronin app for Android and iOS, you can take time-lapse and motion-lapse pictures to boost your creativity.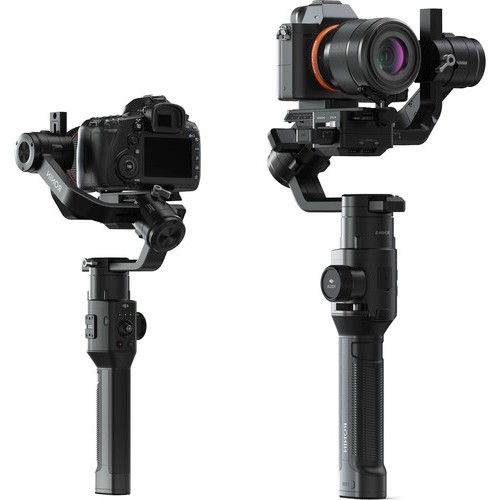 ---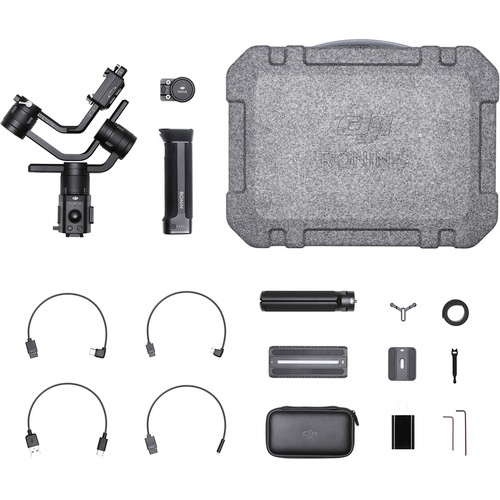 Besides, there is the inclusion of a focus wheel for focus pulling with certain camera systems if the lenses are compatible. You can offset the roll motor so that the camera can be held above the roll axis to keep the LCD screen of the camera unblocked. Also, you can customize and save up to two response types to enhance the flexibility of your shooting time.
TOP 10 KEY FEATURES:
| | |
| --- | --- |
| Ports: | 1 x USB Type-C (Power / Control) Input |
| Battery Type: | 1 x Built-In |
| Capacity (mAh): | 2400 mAh |
| Capacity (Wh): | 34.56 Wh |
| Battery Runtime: | 12 Hours |
| Battery Chemistry: | Lithium-Ion |
| Operating Current: | 0.16 A |
| Mounting: | 1 x 1/4"-20 Female, 1 x 3/8"-16 Female |
| Dimensions: | 23.23 x 11.54 x 10.08" / 590 x 293 x 256 mm |
| Weight: | 4.1 lb / 1.86 kg |
Included in the box:
DJI Ronin-S Gimbal
Grip with Built-In Battery
Camera Mounting Plate
Focus Wheel
RSS IR Control Cable
USB-C Camera Control Cable
USB Micro-B Camera Control Cable
USB Type-C Cable
Lens Support
Payment & Security