Description
PoE + optimized deployment for access points is one of the main advantages of the new SF220-48P. Charging and data transfer via one network cable.
In today's rapidly changing business environment, company owners are becoming more aware of the LAN infrastructure. Investing in intellectual property is an important platform for increasing productivity. A faster, secure LAN is more important to people than ever. Implementation of parvilny principles helps them stay ahead of competitors and grow their business. Therefore, the Cisco SF220-48P-K9-NA switch is in great demand. Get the best value for money on a tight budget. These are the main advantages of this renowned manufacturer. But this is not the only reason to buy this model.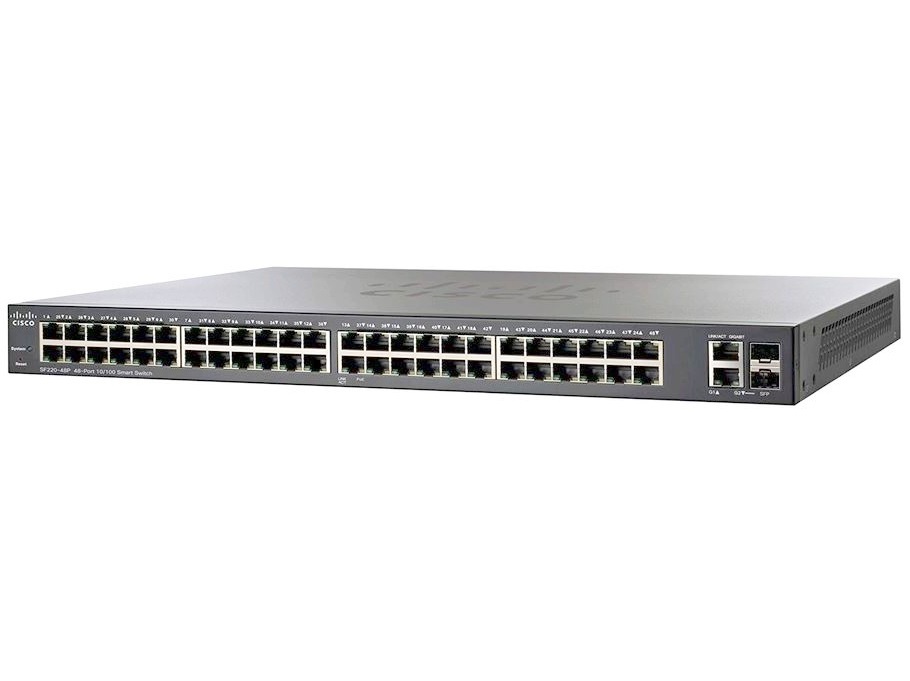 ---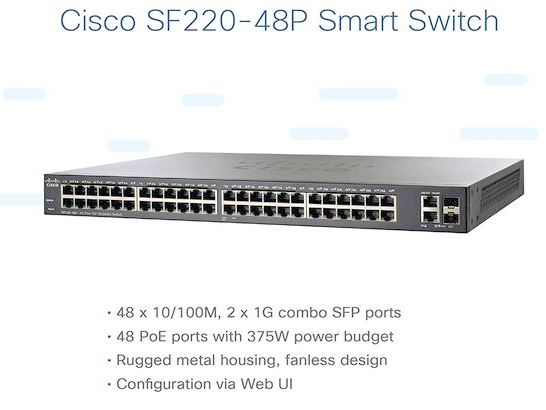 Our Take on the Cisco SF220-48P:
The Cisco SF220-48P-K9-NA is a 48-port intelligently configurable switch. New system supports Fast Ethernet (10/100) technology with L2. The equipment is characterized by high performance. This manufacturer offers a set of special features such as VLAN, QoS and more. Other technical advantages of this model:
The system is built on the basis of ports and 802.1Q based on the VLAN network
Provides 802.1x authentication, DHCP port-based security filtering by MAC filtering, ACL to allow or deny traffic
Manufacturer declares support for video phones, PTZ cameras, wireless access points using one cable
PoE activity LEDs, port baud rates
---
Installation and configuration of this hardware is simplified with browser-based tools. This manufacturer leads the way with comprehensive features created for businesses. At the same time, smart switches of this brand remain available. This model is used by thousands of people. This switch is part of Cisco's line of optimized SMBs. The SF220-48P-K9-NA is a middle-cost smart switch. This brand offers security, performance and ease of use. With this equipment you will be able to build a reliable corporate network. Any system administrator will confirm the superiority of this equipment to you.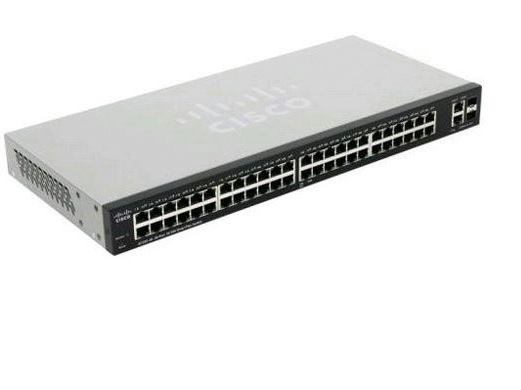 ---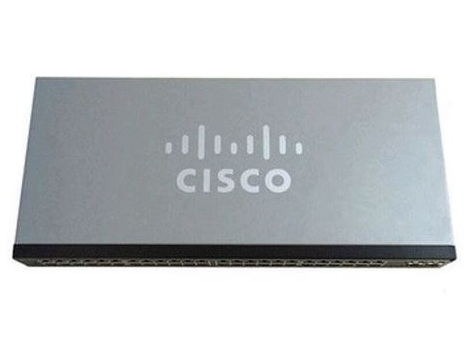 The Cisco 220 switches strike a balance between control and efficiency, giving users the best. Offering high performance and reliability, the brand's models provide a higher level of safety. People will be able to build a secure, fast LAN at an affordable cost. All Cisco 220 models will provide new control capabilities. Many of our customers have chosen this equipment because of the increased security required for enterprise-class voice services. All Cisco 220 switches offer multiple security features, advanced threat protection, access control lists (ACLs), 802.1x, and more. With this equipment, people can be sure they have the protection they need.
TOP 10 KEY FEATURES:
| | |
| --- | --- |
| Capacity: | 4000 active VLANs |
| Product Dimensions: | 21.46 x 18.74 x 4.25 inches |
| Voltage: | 100 Volts |
| Wireless Type: | 802.11ab |
| Flash Memory Size: | 32 |
| Item Weight: | 14.2 pounds |
| UL 60950: | Yes |
| FCC Part 15 A: | Yes |
| CSA 22.2: | Yes |
| Power Supply: | Internal |
Included in the box:
Payment & Security
Cisco 48 Port Smart Plus Switch - SF22048K9NA