---
FREE Shipping on this item.
Please be advised that orders may take 1-2 days to process before shipping.
Description
Canon EF-M 28mm f/3.5 Macro IS STM Lens is a compact prime that is best suited for macro photography and magnificent close-up shots. Its sleek lenses deliver a high degree of sharpness and clarity in the picture quality that make your shots stand out!
The Canon EF-M 28mm f/3.5 Macro IS STM lens is the perfect go-to for all your close-up shot requirements. its maximum magnification and minimum focusing act as the perfect balance to accommodate the close subjects in the frame. The Ultra Depression helps you control chromatic aberrations, besides two aspherical elements that take care of any spherical distortion. One of the aspherical components is double-sided, which gives high levels of clarity and sharpness to the images. The narrow lens body acts as a barrier and prevents shadows when taking close-up shots. The best part about the Canon lens is that it is quite compact which makes it suitable to be carried easily while traveling and convenient for storage.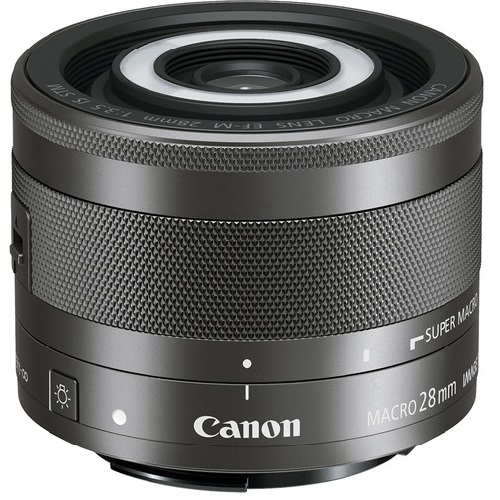 ---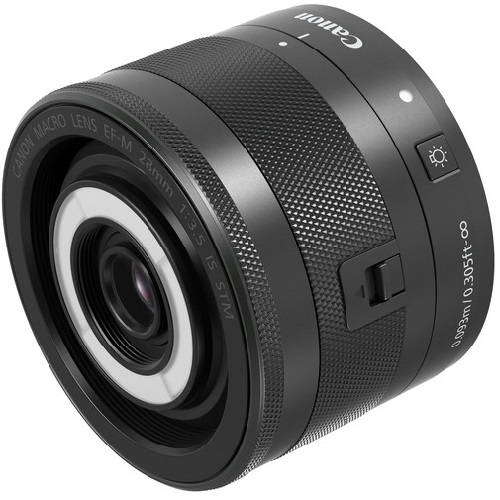 Our Take on the Canon EF-M 28mm f/3.5 Macro IS STM Lens:
The close-packed prime designed for macro photography serves as the best option for all your close-up shots. It has a Hybrid IS image stabilization system that brings all the sturdiness that your shaky hands need in difficult lighting situations. Along with stability, it also comes with a screw-type stepping motor that helps you capture both your still images and video demands with a fast, smooth and best autofocus performance.
---
Though you can use the Canon EF-M 28mm f/3.5 Macro IS STM lens for Autofocus functioning, you can override the AF motor any time to make manual adjustments by activating the dedicated focus ring. It allows you to do manual fine-tuning over the autofocus function. Another thing that makes this lens stand out is its lightweight factor and retractable design. When you use the Super Macro setting, this Canon lens provides a maximum magnification of 1.2x if you choose to shoot a greater-than-life size image at an average focusing distance 3.7". The lens unit weighs around 130g which makes it best suitable to carry for all your backpack adventure trips.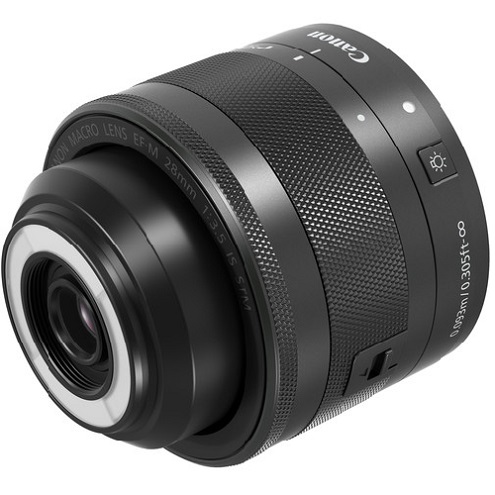 ---
When working at close distances the front-facing Macro Lite LED of the Canon EF-M 28mm f/3.5 Macro IS STM lens acts as an extra source of light and helps you illuminate the subject from either the right or the left side or even from both sides. The full-time manual focus mode (AF+MF) lets you switch completely to manual mode from the auto mode whenever you need to do fine adjustments. What's more, the lens hood is threaded to accept 43mm filters. The lens unit is a really good investment as it's highly travel-friendly and works like magic for your camera shots.
TOP 10 KEY FEATURES:
| | |
| --- | --- |
| Focal length: | 28mm |
| Maximum Aperture: | f/3.5 |
| Minimum Aperture: | f/22 |
| Format Compatibility : | APS-C |
| The angle of View: | 51.55 |
| Minimum focus distance: | 3.66"/9.3 cm |
| Maximum Magnification: | 1.2x |
| Macro Reproduction Ratio: | 1.2:1 |
| Focus Type: | Autofocus |
| Image Stabilization: | Yes |
Included in the box:
Canon EF-M 28mm f/3.5 Macro IS STM lens
ES - 22 Lens Hood
28mm Lens Cap
EB Lens Dust Cap for EF-M Lenses
Payment & Security