Description
Blackmagic UltraStudio 4K Extreme supports consumer and video formats up to DCI 4K in resolution. It features 12G-SDI and 6G-SDI Inputs and Outputs, HDMI 2.0 Input and Output, XLR and RCA Analog Audio Input, AES/EBU Audio In and Out, Dual Channel 3D Support Over SDI, Cages for Fiber Optic Connectors, Thunderbolt Interface with Loop-Through, among others.
It features the RGB Colorspace, which guarantees perfect fill as well as key output for exterior keying of animation and graphics. With its solid aluminum build, you can be certain of maximum effectiveness. It integrates perfectly into your studio, thanks to chassis that blends with a 2RU rack space with rack-ear integration. Even though this device is operated from the host system, there is an in-built preview screen as well as front panel buttons that enable convenient operation.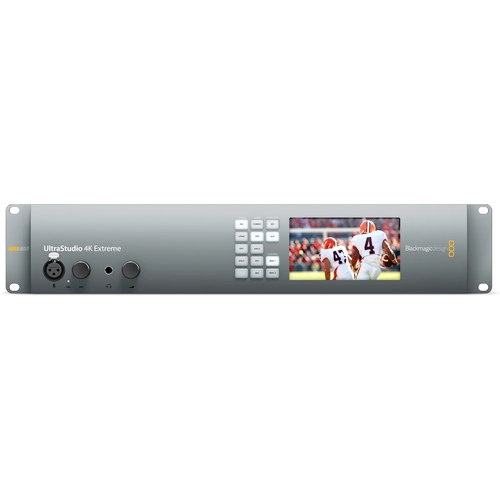 ---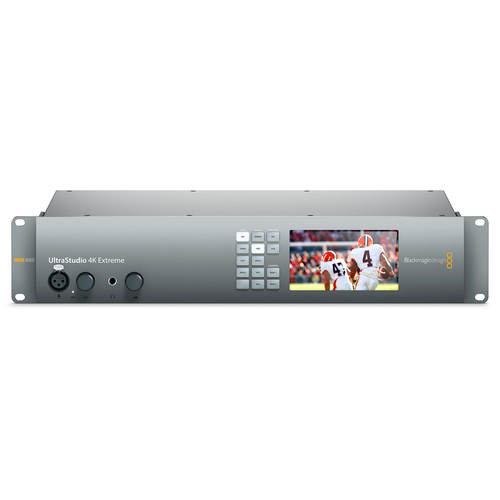 Our Take on the Blackmagic UltraStudio 4K Extreme:
You will like the convenience of adjusting the volume and mic levels of this device through rotaries situated nearest to the inputs. You can enable or disable its +48V phantom power through software for optimum performance. An average of the SDI inputs, as well as outputs, are 12G-SDI compatible, hence, there is room for capturing 4K video and producing up to 25p for 4096 x 2160 and 60p for 3480 x 2160. The good news here is that you only need one BNC cable for the connection. Other SDI connectors are 6G-SDI compatible.
---
Also, the UltraStudio 4K Extreme is compatible with HDMI 2.0, hence, you won't have issues capturing 4K video and producing up to 25p for 4096 x 2160 and 60p for 3480 x 2160. Apart from the in-built HDMI and SDI, you can use this device for capturing and outputting distinct audio including analog XLR, RCA, and digital AES/EBU audio. There is input in front of the device for a microphone and a headphone jack.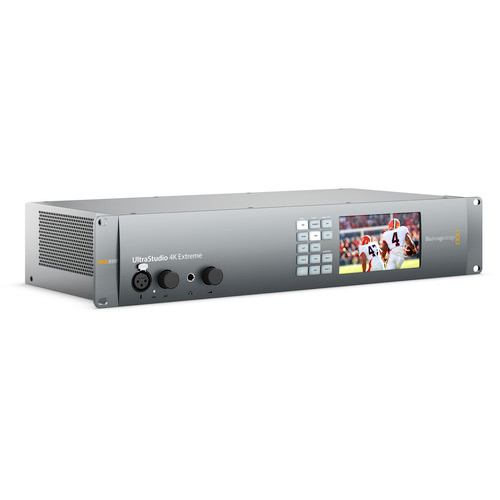 ---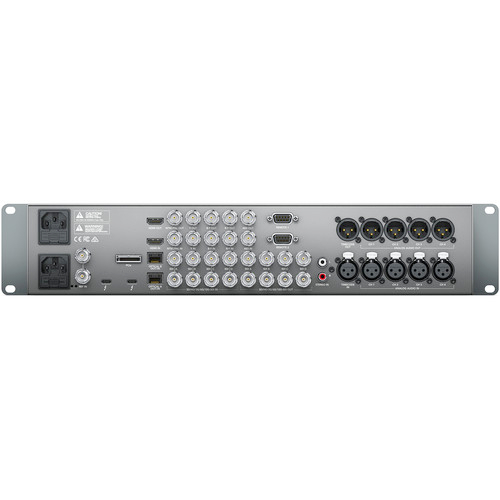 Besides, it comes with two fiber cages so that there can be separate connections of feasible fiber optic components. There are two serial I/O ports, which enable convenient sending and receiving of control signals from decks as well as other video devices. The ports utilize the Sony RS-422 protocol, and you can configure them separately for input or output. With its two connectivity options, Thunderbolt and PCIe Host Connectivity, you can capture high-quality video and output at 4K resolution.
Specifications:
| | |
| --- | --- |
| SDI Video Input: | 2 x 12G-SDI 2 x 6G-SDI |
| SDI Video Loop: | 4 x SDI (reclocked) |
| SDI Video Output: | 2 x 12G-SDI 2 x 6G-SDI |
| Analog Video Input: | 2 x 12G-SDI 2 x 6G-SDI |
| HDMI Video Input: | 1 x HDMI 2.0 type A connector |
| HDMI Video Output: | 1 x HDMI 2.0 type A connector |
| Analog Video Input: | 1 x Component (YUV) on 3 BNCs, 1 x Composite (NTSC/PAL) on 1 BNC |
| Analog Video Output: | 1 x Component (YUV) on 3 BNCs, 1 x Composite (NTSC/PAL) on 1 BNC |
| SDI Audio Input: | 16 Channels SDI-embedded (SD/HD/2K/4K resolutions) |
| SDI Audio Output: | 16 Channels SDI-embedded (SD/HD/2K/4K resolutions) |
Included in the box:
Blackmagic Design UltraStudio 4K Extreme
Software SD Card
Resolve Lite SD Card
Payment & Security
Blackmagic Design UltraStudio 4K Extreme BDLKULSR4KEXTR