Description
The proven DT 990 PRO is the best Beyerdynamic's headphones.
Looking for a new equipment for studio sound? If so, this open-back model will work for you. The wide stereo range and three-dimensional sound reproduction make time-tested DT 990 PRO the best choice for producers. This manufacturer never fails music lovers. This is because the company uses high-quality components and is always innovating.
The DT 990 PRO are circumaural headphones with open-back design. They provide exceptional spaciousness and detailed tonal depth. Their mild bass and treble boost ensure a pleasant sound. The bass is not overstated, but rather precise and the treble boost is powerfully present without sounding sharp.
The DT 990 PRO headphones are and always have been handcrafted in Germany. With their high-quality materials and meticulous workmanship, these studio headphones are a sound, long-term investment.Other technical benefits you should look out for are:
This manufacturer opted for an open design (noise escapes)
Balanced bass and treble with flexible adjustment
This equipment will last for years
Includes 3 m coiled cable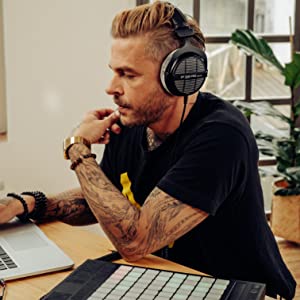 ---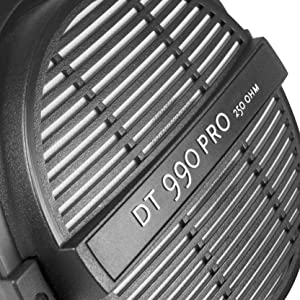 Our Take on the Beyerdynamic DT 990 PRO open Studio Headphone:
These open-back studio headphones are a reliable tool for any sound enthusiast. The wide stereo image and three-dimensional sound reproduction make the beyerdynamic DT 990 PRO headphones a loyal companion for producers.
Time-tested DT 990 PRO is an open design model that provides exceptional holding capacity and detailed depth of tone. The additional bass and treble boost ensures pleasant sound whether you prefer rock, jazz or any other style. The bass is also not exaggerated, quite clear.
The superiority of this system is clear from the very first seconds of the sound of the track. Beyerdynamic has created a product for the most demanding audiophiles and professionals. Reducing the weight of the diaphragm and voice coil allows for an impulse response on par with much more expensive electrostatic models. This is confirmed by many experts.
---
For decades now, professional users all around the world have placed their trust in our classic range: DT 770/880/990 PRO headphones.
These benchmark-setting studio headphones, available in three different models, boast extremely detailed resolution and very transparent sound.
The DT 990 PRO headphones are the range's open-back model offering impressive spaciousness.
DT 990 PRO is perfect for home hi-fi lovers too. Advanced system perfectly copes with any musical material, regardless of genre. Unlike the standard version 990, for the PRO version headphones, a matching pair is selected separately for each speaker. This has a significant effect on the sound.
Exceptional comfort is what people always have with the DT 990 PRO. The one-way cable does not interfere with frequently putting on and taking off your headphones. Soft, adjustable ear cushions provide added comfort. The manufacturer preferred a durable adjustable spring steel headband.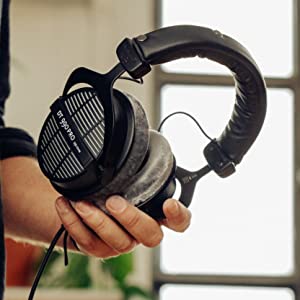 ---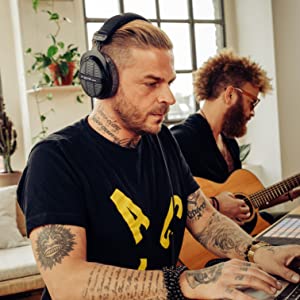 Outstanding tonal depth ensures that even small changes in the positioning of the acoustic source can be perceived while mixing.
The open, noise-free design delivers great surround sound and the widest soundstage that no closed-back headphones can match.
The single-sided cable allows the headphones to be put on and taken off frequently without cables getting tangled, and soft, adjustable ear cups provide for added comfort. The robust spring steel headband design ensures that the over-ear headphones offer a secure fit.
The durable spring steel headband design provides a secure fit over the on-ear model. This is the hallmark of this brand. The universal length of the connecting cable - 3 meters, provides convenient operation behind large studio equipment. The set includes Beyerdynamic's headphones with a 3.5 mm jack and a 6.3 mm adapter. If you order this product today, we will deliver within a few days. With the DT 990 PRO, you are unlikely to be disappointed.
TOP 10 KEY FEATURES:
| | |
| --- | --- |
| Fastening method: | headband |
| Minimum reproducible frequency: | 5 Hz |
| Maximum reproducible frequency: | 35000 Hz |
| Power: | 100 mW |
| Color: | Gray |
| Sensitivity: | 96 dB |
| Form Factor: | On Ear |
| Impedance: | 250 Ohm |
| Connectivity Technology: | Wired |
| Weight: | 250 g |
Included in the box:
Beyerdynamic DT 990 PRO open Studio Headphone)
Payment & Security
Beyerdynamic DT 990 PRO Over-Ear Studio Headphones in Black