Description
Apple Watch Series 6 (GPS, 44 mm, Gold Aluminum, Pink Sand Sport Band), with its host of advance features, proves an efficient health companion and also provides you with advanced connectivity and communication options to stay in touch with the world all the time!
Apple Watch Series 6 (GPS, 44 mm) features a variety of healthcare options that assist the users in maintaining their healthy habits. It also provides personal health information like oxygen levels of blood, respiratory conditions, and heartbeat rates. It keeps the users constantly aware of their health conditions. Also, facilities like detecting hand-washing habits help the users improve their health habits for a better living. With a 32GB built-in storage for apps, it enables the users to engage in vast activities like listening to music, podcasts, navigating, sending texts, and more.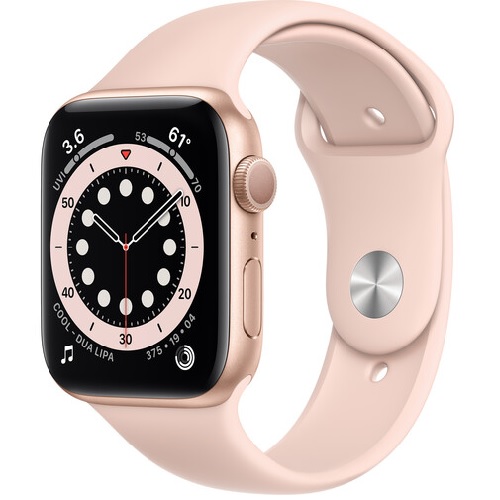 ---
Our Take on the Apple Watch Series 6 (GPS, 44 mm):
Apple Watch Series 6 (GPS, 44 mm) features new sensors that can measure the oxygen level of your blood. It also estimates the oxygen absorption capability of blood that can be essential in assuming the respiratory conditions. The device enables the users to take pulse oximetry SpO2 readings on-demand for 15 seconds, or in the background, even while sleeping. There is also a VO2 Max score that provides information about maximum oxygen consumption. The watch series can generate an ECG waveform in about 30 seconds with the help of an optical heart rate monitor. It is made possible with the combining electrodes incorporated within the digital crown and black crystal. A simple touch on the digital crown with the finger helps generate the waveform within seconds. These measurements come in handy in numerous ways, such as identifying medical conditions, detecting low/high heart rate, and irregular rhythm. The sleep app monitors the trends of sleep that help its users to have better rest at night.
---
Apple Watch Series 6 (GPS, 44 mm) provides a 3-month free trial of Apple Fitness+ that gives access to experienced trainers. It helps the users to have a more focused and assisted workout. The metrics of the workouts can be shared between the range of Apple devices, like iPhone, iPad, and Apple TV. The Series 6 watch has accessibility to a wide range of watch faces. The users can select from faces that best suits their personality, style, or heritage. There are hobby-based faces as well. These give essential information for specific activities. A water speed face is available with features like surfing forecasts, conditions from Dawn Patrol, kayaking, plus data for sailing, and more. Visualization of the day/night cycle and information on stargazing conditions are available with SolarWatch & NightSky faces. Weather forecasts, barometric pressure, humidity, and more details are available in CARROT weather faces. Lumy watch faces help the photographers to track sunsets, sunrises, lightning conditions, and weather. Considering the connectivity among family, the watches of all members can be paired with just one iPhone. It allows everyone keeps in touch via phone, text, or walkie-talkie. The watch faces are curved and feature an always-on LTPO OLED Retina display. Thus the screen is visible even under direct sunlight.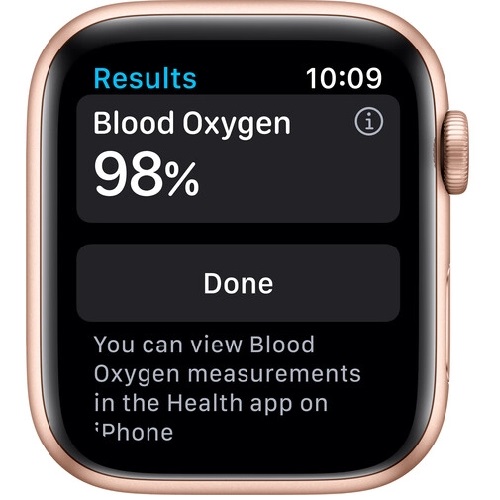 ---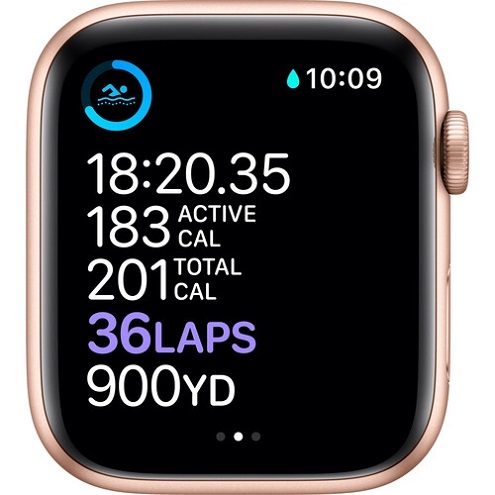 Apple Watch Series 6 (GPS, 44 mm) makes use of an accelerometer and gyroscope to detect a fall. The device delivers an on-screen prompt when a fall is detected, enables easy access to emergency services, or dismiss it. The device will place an automatic call to the emergency contact with 60 seconds of unresponsiveness. The Emergency SOS of the device calls 911, notifies the emergency contacts, sends the live location, and displays the medical badge in case of an emergency. The activity rings of the device help you track the movements all day. The Move ring tracks the active calories burnt. The Exercise ring keeps track of all the brisk activities like walking/jumping at a fast pace. A Stand ring design is to track the standing time throughout the day, as sitting for too long can create health issues. The device facilitates a GPS guide and provides continuous updates on elevation as well. It withstands almost all weather conditions with its up to 164' water-resistant feature.
TOP 10 KEY FEATURES:
| | |
| --- | --- |
| Chipset: | Apple S6 Dual Core |
| Display Technology: | OLED |
| Water Crystal Material: | Sapphire Crystal |
| Display Resolution: | 324 x 394 |
| Wi-Fi: | Wi-Fi 4 (802.11n) |
| Bluetooth: | 5 |
| Battery Life: | Normal Use: Up to 18 hours |
| Water Rating: | 5 ATM |
| Storage Capacity: | 32GB |
| Case Materials: | Aluminum, Ceramic |
Included in the box:
Apple Watch Series 6 (GPS, 44 mm, Gold Aluminum, Pink Sand Sport Band)
Magnetic Charging Cable (3.3')
3-Months Apple Fitness+
Payment & Security
Apple Watch Series 6 (GPS, 44mm) - Gold Aluminum Case with Pink Sand Sport Band