Description
Looking for elegant and secured protection for your iPhone 11 Pro? Apple Leather Folio Case for iPhone 11 Pro (Black) can be the best choice to ensure both safety and convenience while using your device.
Apple Leather Folio Case for iPhone 11 Pro with its classy black color is an ideal choice that ensures the safety of your expensive iPhone 11 Pro. It provides an elegant look to your device as well. The interior design of the Leather Folio Case enables it to be multi-purpose. With its advanced design and intensive testing processes, the Leather Folio Case protects your iPhone from bumps, scratches, unexpected falls, and drops on everyday use.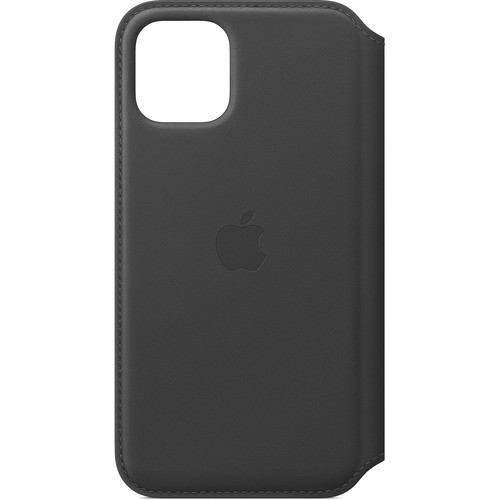 ---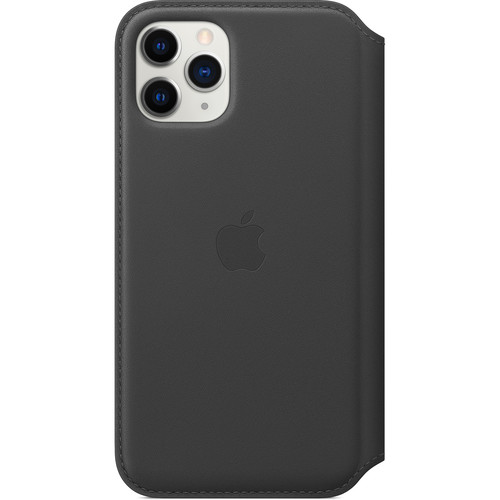 Our Take on the Apple Leather Folio Case for iPhone 11 Pro:
Apple Leather Folio Case specifically designed for iPhone 11 Pro, fits perfectly with the device. No more worries about damages to the display due to unexpected falls or knocks as the case features a front flap closure. It assures protection to the device from all sides. The case also fits perfectly over the buttons that enable convenient access to the iPhone. It allows your iPhone to wake automatically when the front flap is opened and sleep when it is closed. Hence, no hassle of pressing buttons anymore.
---
Apple Leather Folio Case for iPhone 11 Pro features an interior pocket combined with a folio design. You can keep your paper currencies, credit cards, or debit cards in the interior pockets. The case also features a folio design with several pockets stacked on the front flap. There is no need to carry a wallet anymore, as you can use your mobile case as your wallet. The Leather Folio Case is made from specially tanned and finished European leather. The carefully designed manufacturing process and the quality of the leather provide the case a sophisticated look. It also features a microfiber interior lining. This synthetic microfiber lining has a diameter of fewer than ten micrometers and is extremely soft. The microfiber lining features characteristics such as softness, toughness, absorption, and water repellence. These characteristics take the safety of the device to the next level.
---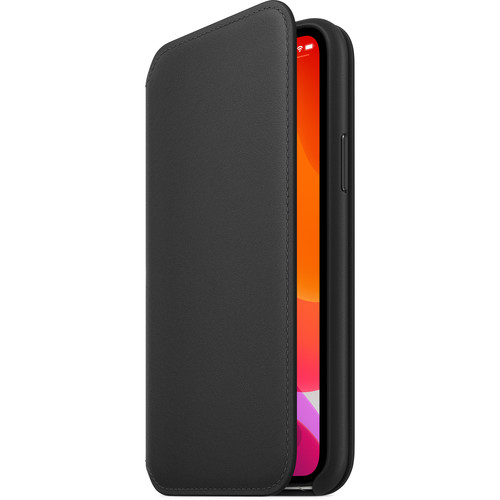 Apple Leather Folio Case for iPhone 11 Pro is extremely durable with its tested leather and microfiber lining. The lightweight of the case makes it easily portable. It enables the user to have more convenient access to their device. In addition to being easily portable and extremely durable, the case facilitates another more practical and efficient feature. The Leather Folio Case supports Qi wireless charging. Hence it is compatible with wireless charging, and there is no need to remove the case while transferring power to the device by inductive charging.
TOP 10 KEY FEATURES:
| | |
| --- | --- |
| Specified for: | Apple iPhone 11 Pro |
| Materials: | Leather |
| Closure Type: | Front Flap |
| Interior: | Microfiber Lining |
| Interior Design: | Pockets with Folio Design |
| Protection from: | Scratches, falls, and knocks |
| Firm grip: | Yes |
| Fit: | Covers all sides and Perfect fit upon side buttons |
| Wireless charging: | Compatible with Qi wireless charging |
| Package weight: | 0.3 lb |
Included in the box:
Apple Leather Folio Case specified for iPhone 11 Pro (Black)
Payment & Security
Apple Silicone Case (for iPhone 11 Pro Max) - Black