Description
GoPro MAX 360 takes photographic and video shooting to the next level. With a wide focal length of 8.9 millimeters, photo resolution of up to 5760 x 2880, and other magnificent features, it is the right camera for taking dazzling shots at all times.
It enables 360° view when capturing with the opposite lenses with a video resolution of up to 4992 x 2496 while the still photo resolution stands at 5760 x 2880. It supports diverse modes so that creation of video as well as photos will be a stroll in the park. For example, the PowerPano mode has the capacity of taking 270° still photos that are free from deformity. You will experience perfect flexibility in editing and convenience of sharing, thanks to its automatic stitching of photos and video. If required, you can use one lens to shoot the typical GoPro HERO-style wide-angle action picture.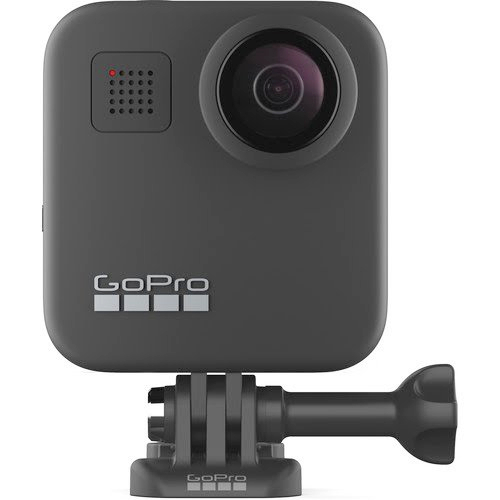 ---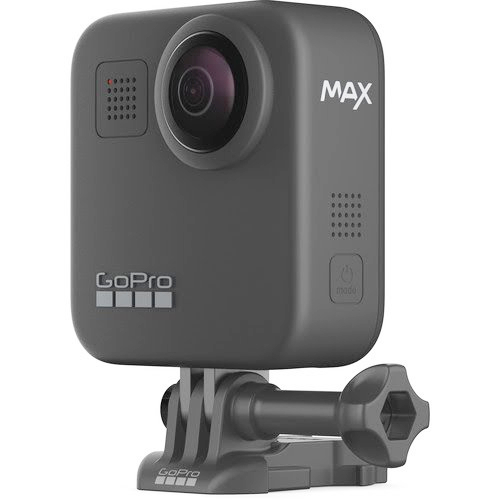 Our Take on the GoPro MAX 360:
If you are looking for a camera with a variable speed function, you should check out the GoPro MAX 360. It has the TimeWarp mode, which makes it possible for you to shoot in standard HERO mode that comes with a variable speed function. With just one tap, you can reduce and increase speed without much hassle. It supports the HEVC video format, hence, you can record small files without compromising on high image quality to reduce pressure on your SD card. In terms of lens sizes, there are four to choose from - Narrow, Linear, Wide, and Max SuperView.
---
Also, there is the HyperSmooth feature that guarantees easy stabilization for action pictures. Its horizon leveling ensures super-steady footage whether you are shooting in HERO or 360 modes. Also, spherical audio gets recorded so that there can be a perfect complement for its spherical video. You can use six microphones to record sounds from every direction to boost performance. It supports live streaming to social media in 1080p, just like the HERO7 and HERO8 Black. It is waterproof up to 16 feet, making it possible for you to shoot effectively when the weather is unfriendly.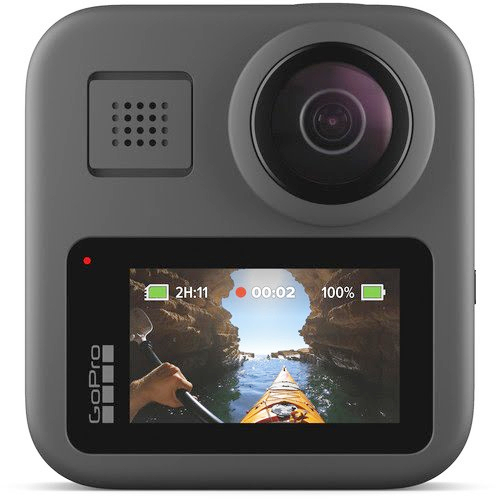 ---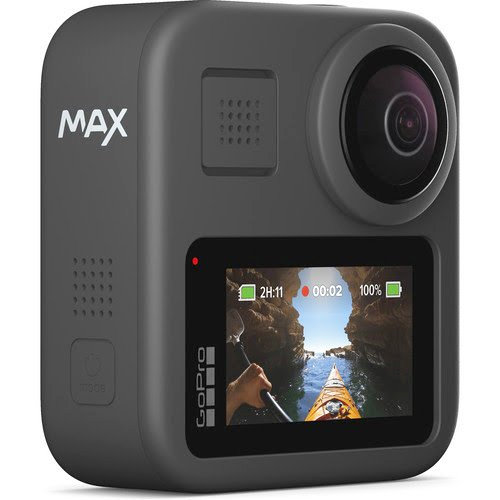 What's more, the GoPro MAX 360 camera comes with a first-class touchscreen that makes manipulation easy and quick. However, if you are too busy with your hands, you can speak to the MAX, and it will carry out your command. It understands 14 voice commands spread across ten languages. You will like its USB Type-C output, which makes it easier for you to send your video to your laptop or desktop. With its 1600mAh rechargeable lithium-ion battery, you can be sure of adequate runtime for all your shooting tasks.
Specifications:
| | |
| --- | --- |
| Stitching Resolution: | 5.7K (Photo) 5K (Video) |
| Number of Lenses: | 2 |
| Focal Length: | 8.9mm |
| Angle of View: | 360° |
| Photo ISO Range: | 100 to 800 |
| Video ISO Range: | 400 to 6400 |
| Waterproof Depth Rating: | 16.0' / 4.8 m (Camera) |
| Battery Type: | Lithium-Ion |
| Battery Capacity: | 1600 mAh |
| Weight: | 5.75 oz / 163 g |
Included in the box:
GoPro MAX 360 Camera
Rechargeable Li-Ion Battery
Lens Caps (Pair)
Curved Adhesive Mount
Protective Lens
Mounting Buckle with Thumbscrew
USB Type-C Cable
Microfiber Bag
Payment & Security
GoPro MAX 360 (CHDHZ-201)