Description
Cuisinart SS-12 Coffee Center Brew Basics, black/silver with LCD, any single-cup pod compatibility, Brew Pause, 3 Single Serve options (8 oz, 10 oz, and 12 oz. cup sizes), Rotary dial for Standy Clock adjustment, Auto Off, shutoff time, and Clean Function
Cuisinart SS-12 Coffee Center Brew Basics is a fully programmable coffee maker that gives you a whole range of functionality. It makes you coffee with less hassle. Bring it home and put it in the kitchen, we are sure, it will add another dimension to your interior decoration. It looks great and comes with a great color combination of black/silver. Its coffee maker gives you the freshest and most delicious coffee in no time.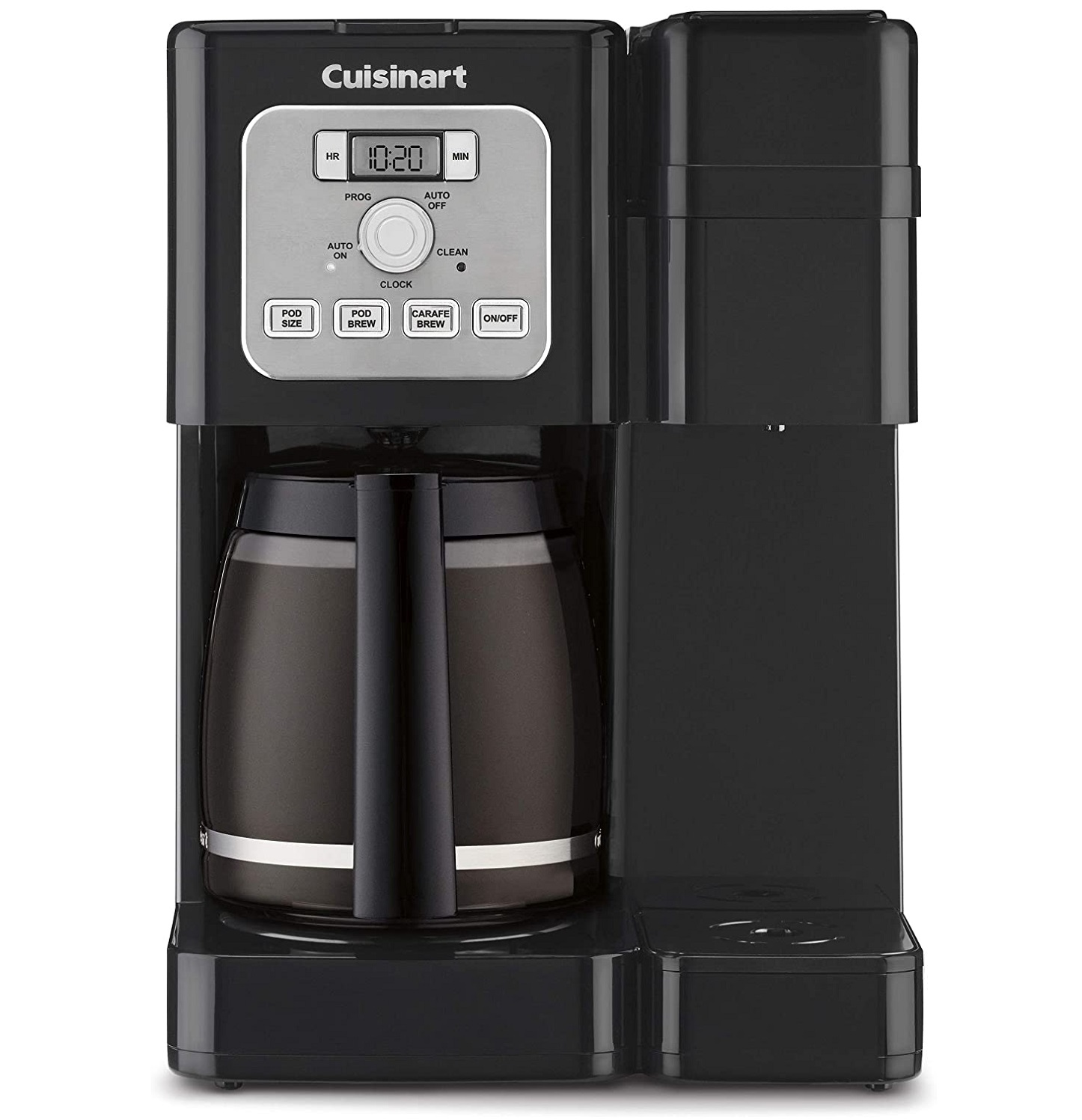 ---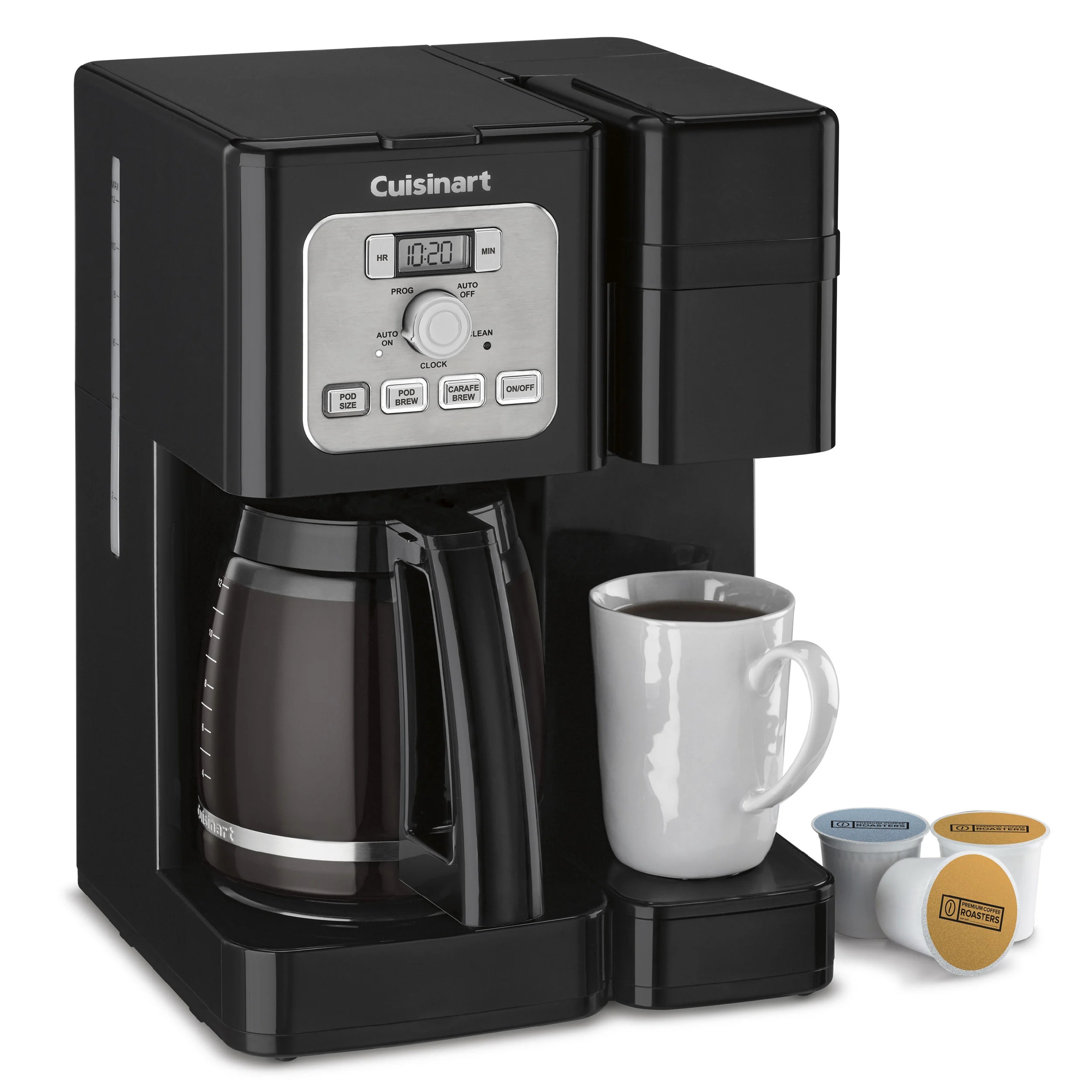 Our Take on the Cuisinart SS-12 Coffee Center Brew Basics, black/silver:
Cuisinart SS-12 Coffee Center Brew Basics is compatible with any single-cup pod, including Keurig's K-Cup®. It has an inbuilt water purifier that makes your water potable in case it is not purified. The water reservoir can hold water up to 64 oz for Drip Coffee. For easy control and water level viewing, you get an LCD that is located on the control panel. The panel gives you various setting options including a 24-Hr Programmable clock and "Add water" icon. You may use the Brew Pause option for removing the carafe to pour a cup in the middle of the brew. So until the coffee maker is completing its final work, you can enjoy some sip of coffee.
---
Cuisinart SS-12 Coffee Center Brew Basics can keep the water warm from 0 to 4 hours. Cleaning the machine is easy with the auto-clean function, even manual cleaning is easy. Do not immerse the coffee maker into the water or any other liquid for cleaning. You may use soap, damp, and nonabrasive clothes for cleaning the outer body. Additional features like Rotary dial, Auto Off, Shutoff time, and clean function make it very comfortable in use. You get complete value for your money with this smart machine.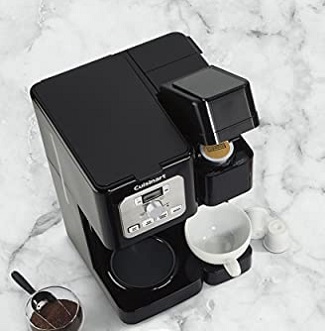 ---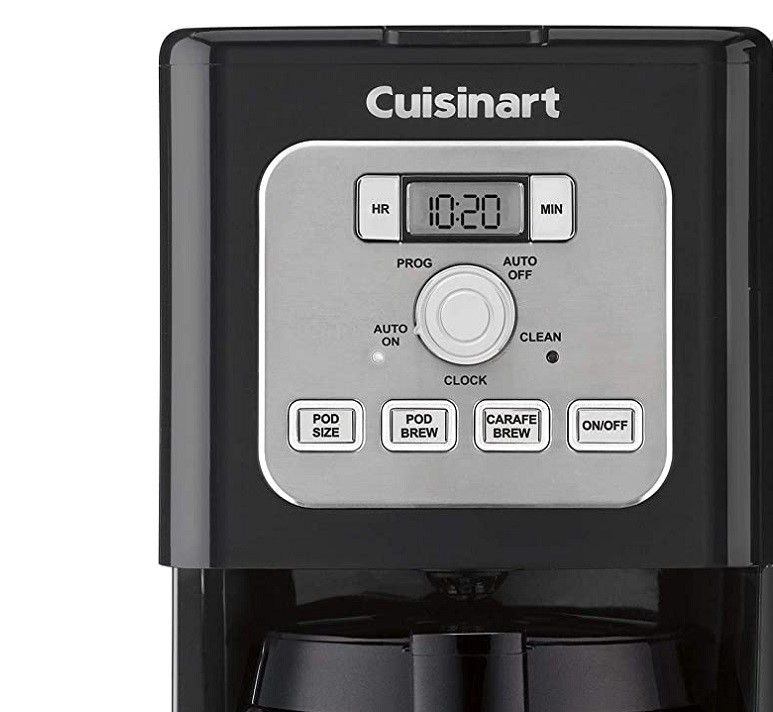 Cuisinart SS-12 Coffee Center Brew Basics gives you the flexibility to choose the amount with a full-service option. In a single glass carafe, you get 12 fresh cups. You get 8-, 10-, and 12-oz sized cups in minutes on a single-serve side. So basically, you get two options to choose from: full-service option and single-serve side. The full-service option makes it a great product for small office settings, home parties, restaurants, and other places. In case you have this coffee maker, you need not think about any other ways in the case of a small to moderate party or functions in your home.
TOP 10 KEY FEATURES:
| | |
| --- | --- |
| Capacity: | 12 Cups |
| No. of single-serve brewing options: | 3 (8, 10 & 12 oz.) |
| Warm Water holding: | 0 to 4 Hours |
| Add water icon: | Yes |
| LCD Display: | Yes |
| Clock Type: | 24-Hr Programmable |
| Water reservoirs capacity: | 64 oz for Drip Coffee & 40oz for Single Serve |
| Inbuilt water filter: | Yes (Charcoal Water Filter) |
| Product Dimension: | 10.3 x 9.75 x 14.5 inches |
| Weight: | 13.5 Pounds |
Included in the box:
Cuisinart SS-12 Coffee Center Brew Basics, black/silver
Payment & Security
Cuisinart SS-12 Coffee Center Brew Basics, Black/Silver