Description
The JBL Charge 4 Portable Bluetooth Speaker (Black) comes with wireless Bluetooth streaming, can pair up to 2 mobile devices at once, possesses twin JBL bass radiators, and a rechargeable lithium-ion battery. It's also IPX7 waterproof-rated for your outdoor party, even in the rain!
The JBL Charge 4 Portable Bluetooth Speaker can be a great companion for your indoor and outdoor music adventures. It includes twin JBL bass radiators for enhanced bass and proprietary drivers for the ultimate sound performance. You can connect up to 2 Bluetooth devices and link JBL Connect+ compatible speakers for an amplified sound experience. The device is also waterproof and has a rugged fabric housing for increased protection on the move.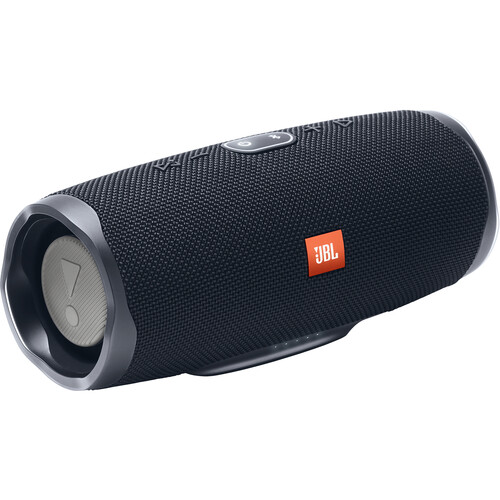 ---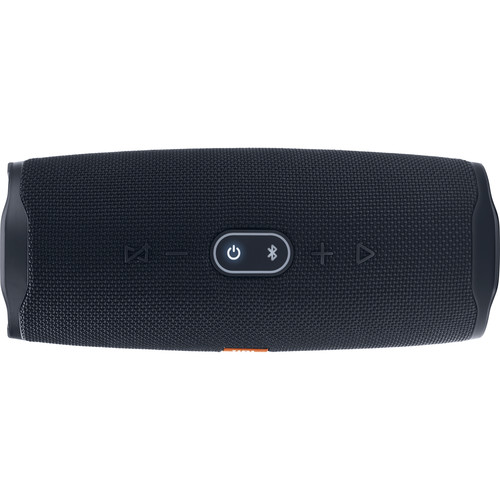 Our Take on the JBL Charge 4 Portable Bluetooth Speaker (Black):
JBL Charge 4 Portable Bluetooth Speaker enables you to simultaneously connect up to 2 smartphones, tablets, or other Bluetooth-enabled devices for better enjoyment of your party. You can also connect several JBL Connect+ compatible speakers to create your musical ecosystem for an improved experience with increased amplification. The dual bass radiators incorporated into the device give you the ultimate bass performance. The Bluetooth speaker provides you with a 20 hour non-stop stereo performance, thanks to the 7800 mAh lithium-ion polymer battery power. The battery can even charge other devices, such as your smartphone and tablets, using the USB connection port provided with the speaker that can supply 5 Volts DC output power at 2.3 Amperes.
---
The technical frequency response of the JBL Charge 4 Portable Bluetooth Speaker is in the range of 60 Hz to 20 kHz, and the signal-to-noise ratio is greater than 80 dB. Besides listening to music, you can also use the device to make and receive hands-free phone calls with the help of an in-built microphone. You get a crystal-clear voice with the touch of a button as the speakerphone is designed with noise and echo-canceling technology. So you don't have to go back to your phone to attend to any calls while enjoying the music.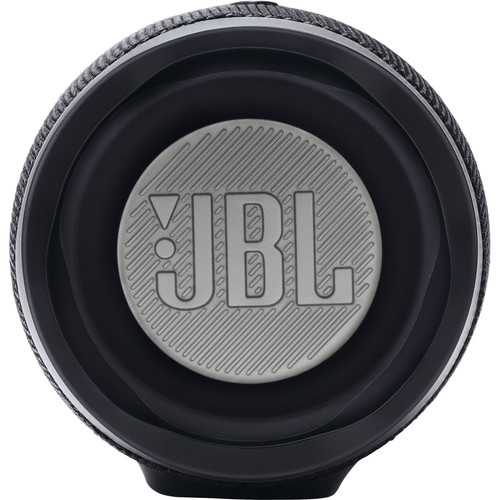 ---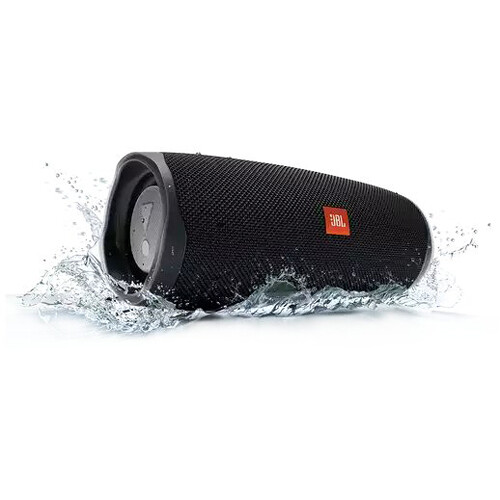 The JBL Charge 4 Portable Bluetooth Speaker is waterproof with an IPX7 rating, making it all the more attractive to be used for your outdoor parties without any concern about the rains. It can also withstand liquid spills and stay unharmed even if it is submerged in water. The fabric material in the design is also highly durable, besides a rubber housing that is tough enough to withstand your adventures on the move. A USB adapter and a type C USB cable come with the speaker unit. The speaker weighs 2.1 pounds and has compact dimensions of 8.66 x 3.74 x 3.66".
TOP 10 KEY FEATURES:
| | |
| --- | --- |
| Power Output: | 30 W |
| Passive Radiators: | 2 |
| Frequency Response: | 60 Hz to 20 kHz |
| Signal to Noise Ratio: | >80 dB |
| Bluetooth: | 4.2 |
| NFC: | No |
| Transmitter Power: | 20 dBm |
| Connectivity: | Inputs: 1 x 1/8" / 3.5 mm Stereo (Audio) & Outputs: 1 x USB Type-C (Power) |
| USB Power Output: | 5 VDC at 2.3 A |
| Battery: | 7800 mAh Lithium-Ion Polymer (LiPo) |
Included in the box:
JBL Charge 4 Portable Bluetooth Speaker (Black)
USB Type-C Cable
Payment & Security
JBL Charge 4 Portable Bluetooth Speaker Midnight Black JBLCHARGE4BLKAM