Description
Electro-Harmonix Pitch Fork is ideal for all transpose and pitch shift needs of musicians because of its +/- 3 Octave Range, Up Down & Dual Shift Modes, & 11-Position Shift Knob!
The EHX Pitch Fork is the perfect tool for transposing an instrument's pitch over a three-octave range, high or low. Further, it comes with three shift modes that allow transpose up, down, or in both directions simultaneously. You can select a fixed interval for the pitch shift or allow it to vary using the control voltage or expression pedal continuously.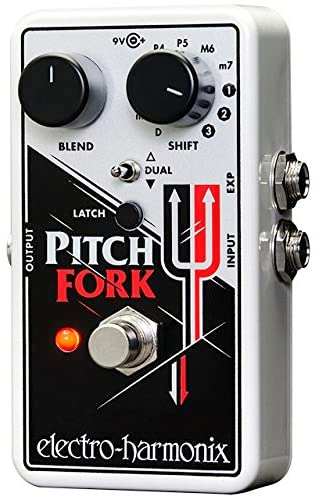 ---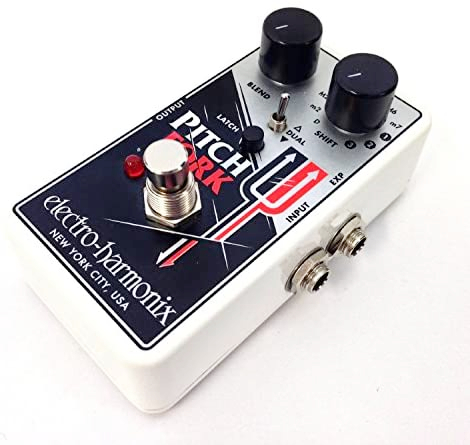 Our Take on the Electro-Harmonix Pitch Fork:
You can select Latch via the latch button. You can even control the behavior of the footswitch and EXP input by choosing the momentary mode. You can achieve a mix of effect on and buffered bypass through the footswitch in Latch mode every time you press it. Further, the EXP input continuously varies pitch. However, In Momentary mode, whenever you press the footswitch, the effect is on, while when you release it, it goes into bypass.
---
You can control the pitch shift from unity to any set interval through the Shift knob in the latch mode. And pitch varies continuously throughout the expression pedal's range. Whenever you press the footswitch, the pitch shift occurs between the bypass and the set interval. The time taken to the interval note is referred to as the glissando rate. EHX Pitchfork can have a glissando rate of 2-4 milliseconds.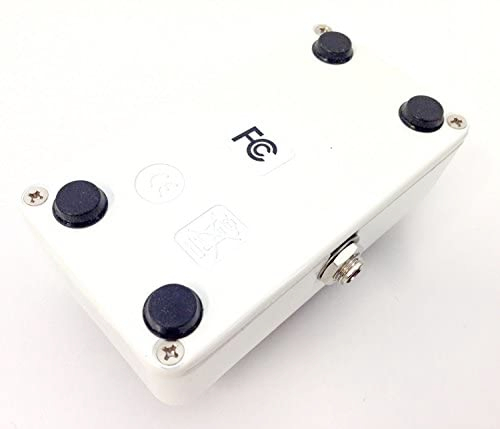 ---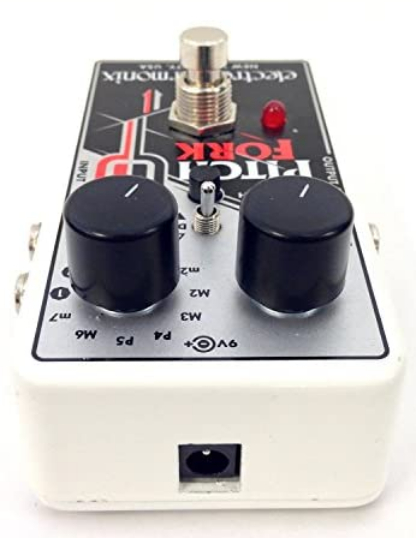 The device is easy to use with intuitive and straightforward controls. The 11-position Shift switch and the three-position toggle switch provide a wide range of octave and pitch transpose. In Dual mode, two pitch-shifted signals are output. Further, the Blend knob controls the dry signal and the effected signal. Additionally, you can control pitch and glissando through the expression pedal and the EXP jack.
TOP 10 KEY FEATURES:
| | |
| --- | --- |
| Circuit: | Digital |
| Bypass: | Buffered Bypass |
| Audio: | Mono |
| Power Supply: | 9.6VDC-200mA power adapter |
| Current Draw: | 30mA |
| Dimensions : | 4.5 x 2.75 x 2.1" |
| Number of Strings: | 8 |
| Transpose Range: | +/- Three-Octave Range |
| Transpose Modes: | Three Shift Modes: Up, Down & Dual |
| User-Friendly Features: | 11-position Shift knob |
Included in the box:
Electro-Harmonix Pitch Fork
Power adapter
Payment & Security
Electro-Harmonix Pitch Fork Guitar Pitch Effect Pedal