---
FREE Shipping on this item.
Please be advised that orders may take 1-2 days to process before shipping.
Description
EHX MEL9 Tape Replay Machine, 9.6DC-200 PSU included with 8 strings, Dry Volume Control, Attack & Sustain control, 5-Note Polyphony, 9 x Emulated Mellotron Sounds and Guitar, bass and keyboards compatibility
EHX MEL9 Tape Replay Machine is a useful product that alters musical sounds through audio signal processing. In the current time, we have lots of free software, powerful plug-ins, and advanced gear. Still, the machine holds its own fan base among music creators all over the world. The product will take you to the 60s and 70s when tape-based keyboard sounds were quite popular. The product may be called a vintage one, but do not forget to note that it is still available for sale. You can use it for nine sounds (Orchestra, Low Choir, Strings, Flute, Saxophone, Brass, Clarinet, High Choir, and Cello). When you try these different sounds in live events, we are sure your audience will love to enjoy the different sounds from a single platform. Out of all the nine sounds, orchestra and choir are way ahead of others in quality. Add these sounds to your Pedalboard, and let the other guessing, about the source of these different sounds.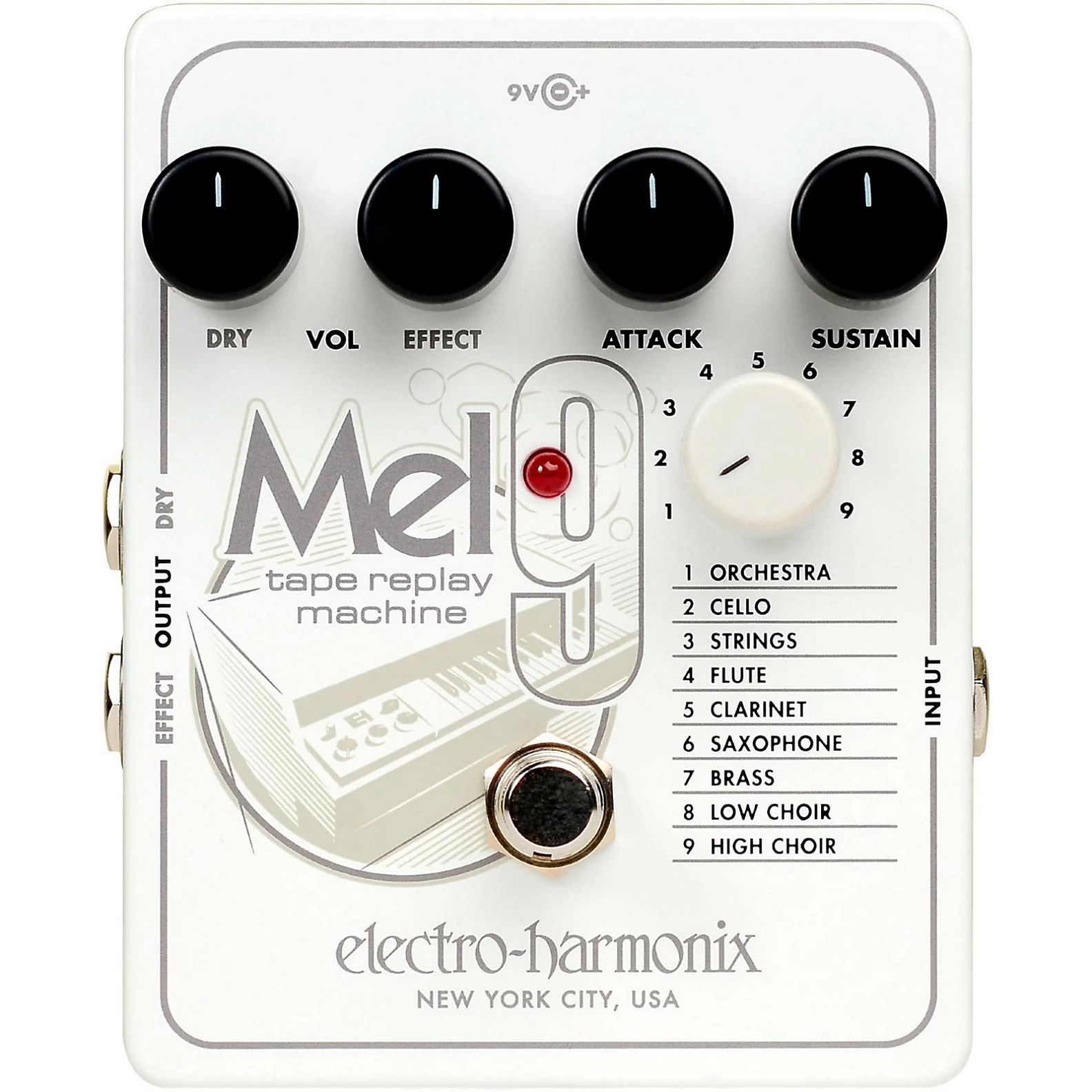 ---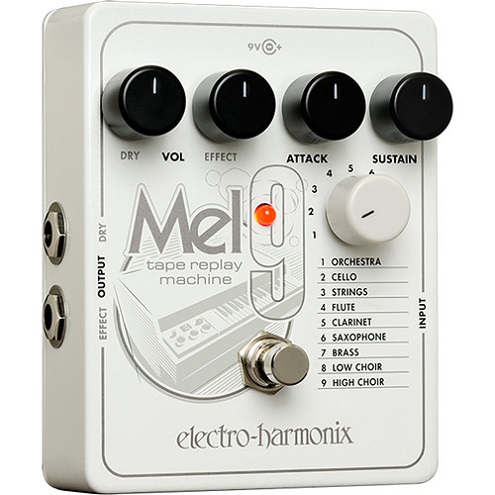 Our Take on the EHX MEL9 Tape Replay Machine, 9.6DC-200 PSU included:
EHX MEL9 Tape Replay Machine has the capability to track guitar slides, bends, whammy dive bombs, and more, thus, giving a great listening experience to the listeners. You also get the flexibility to control the sounds of breath in (crescendos) and breath out (decrescendos). It has attack and sustain controls that enables you to set volume settings and delay durations.
---
EHX MEL9 Tape Replay Machine is a compatible product with guitar, bass, and keyboards. You get to mix your dry and effected signals into two separate units with this product. Once you use this product, you add a completely new vibe to your musical instruments. Its dynamic and responsive sound pick-up is superior. However, it does loose track slightly with very soft notes. If you want a big sound palette, you just need to send dry out to one amp and the effect out to another. It will provide a quick and big sound palette.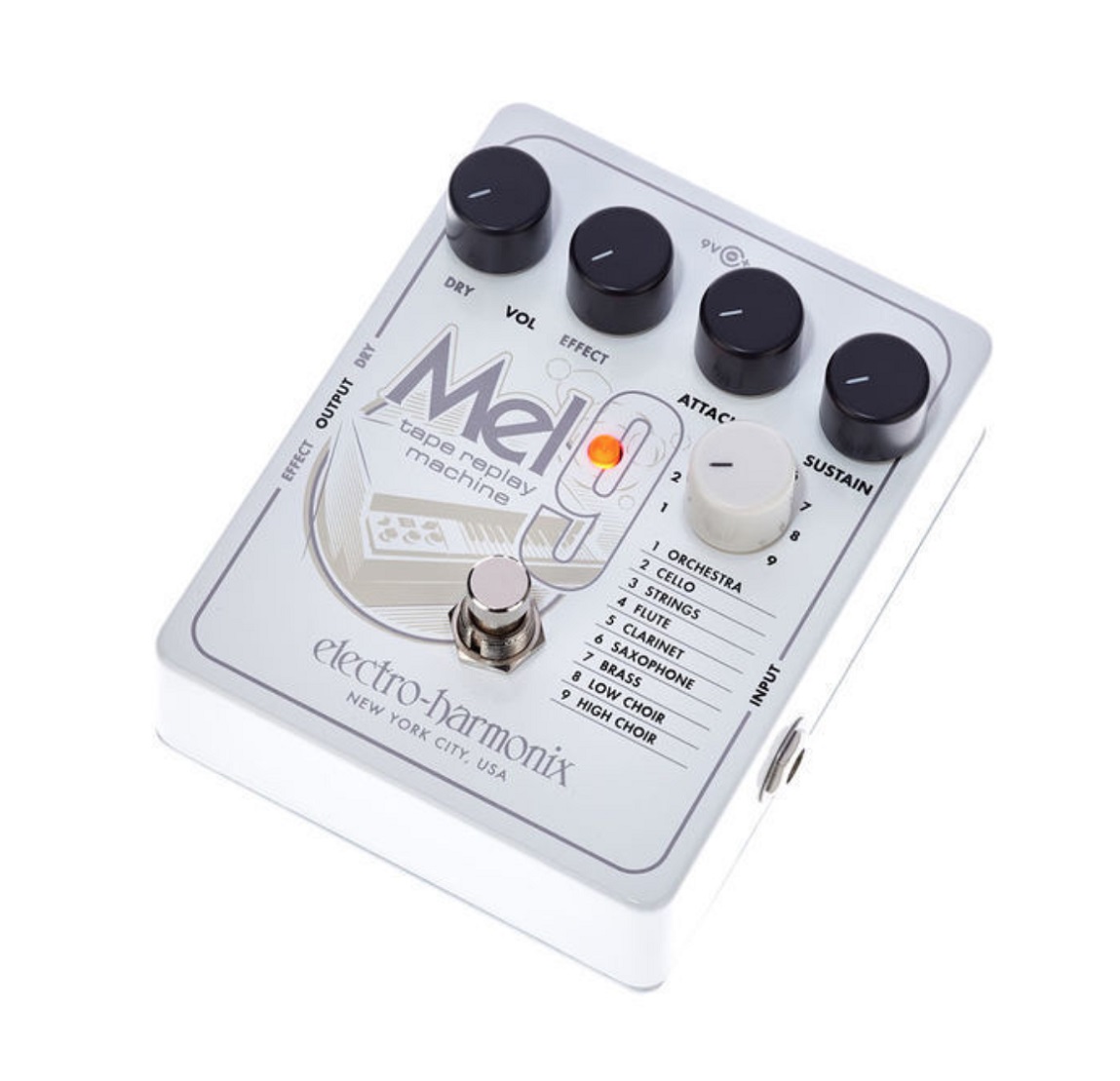 ---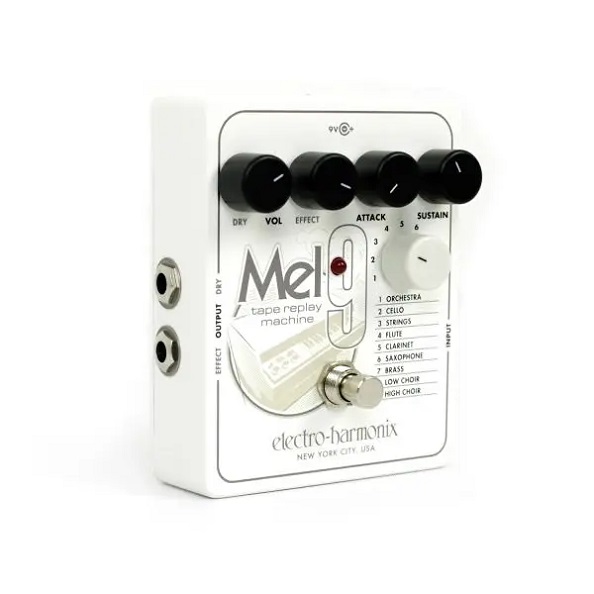 EHX MEL9 Tape Replay Machine provides 5-notes polyphony. If you love to make different innovative sounds, pick this machine and we are sure, you will be able to create a great listening ambiance for your audience. This MEL9 pedal and your musical instruments are enough to create creepy sounds. You do not require any MIDI devices to cramp your style. Furthermore, you get 9 x Emulated Mellotron Sounds after hooking up a stereo-spread using two amps. You get 2 volume knobs, 1 x 9-position effect knob (chooses effect type), one attack knob, and one sustain knob in the machine.
TOP 10 KEY FEATURES:
| | |
| --- | --- |
| No. of Strings: | 8 |
| Weight: | 1.6 pounds |
| Product Dimensions: | 7.25 x 6.2 x 3.25 inches |
| Power Source: | 9.6 VDC, 200 mA |
| Voltage: | 9 V |
| Dry Volume Control: | Yes |
| Attack and Sustain controls: | Yes |
| No. of Controls: | 2 (Dry & Effect) |
| No. of Attack Knobs: | 1 |
| No. of Sustain Knobs: | 1 |
Included in the box:
EHX MEL9 Tape Replay Machine, 9.6DC-200 PSU included
Payment & Security