Description
Apple 13.3" MacBook Air M1 Chip with Retina Display (Late 2020, Silver) is a great choice for anyone who wants to take their projects and gaming to new levels.
Apple 13" MacBook Air, with Apple's very first M1 chip, is ideal for anyone who wants a comfy, yet classy digital experience. The new technologies are used to ensure fast performance while doing projects or using graphics-intensive apps and games. The device facilitates a silent, fan-less design and a longer battery life. The brilliant technologies incorporated with the display provide smooth and vibrant image quality to the device.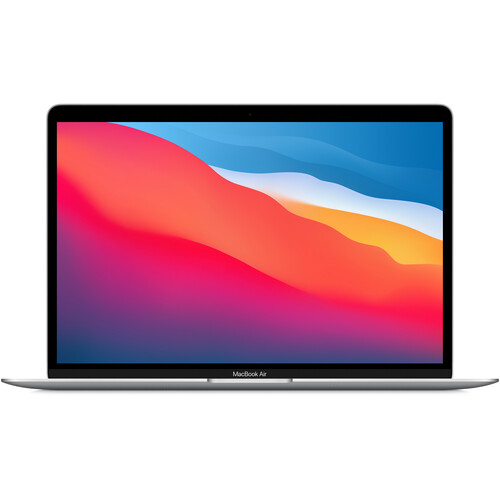 ---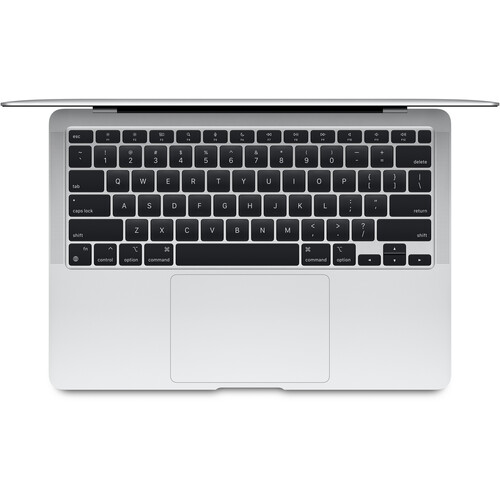 Our Take on the Apple13.3" MacBook Air M1 Chip with Retina Display:
Apple 13.3" MacBook Air features Apple's first chip specifically designed for Mac. The chip integrates 8-core GPU, 8-core CPU, 16-core Neural Engine, I/O, and more into a single system on a chip (SoC). The chip makes the device more power-efficient with the 5 nm process technology. It features four high-performance cores. Each core is designed to run a single task and handle the multithreaded workloads. Also, four efficiency cores are built to handle the lighter workloads with only a tenth of the power. It makes the Apple M1 function 3.5 times faster than the previous generation. Eighteen hours of video playback and fifteen hours of wireless web browsing are also possible with the enhanced battery life. A 13.3" Retina IPS Display with True Tone technology provides a more natural viewing experience while designing and editing with the device. The screen has a resolution of 2560 x 1600 with an aspect ratio of 16:10. The IPS display facilitates about 48% more color than its previous generation. It also features pixels four times as many as an HD display, with a 227 ppi resolution. The glass goes edge-to-edge with the screen.
---
Apple 13.3" MacBook Air M1 Chip has impressive software features when compared to the previous generations. Exporting projects to the web with iMovie is 3x faster and integrating 3D effects into videos in Final Cut Pro is 5x faster. Also, playback and editing multiple streams of full quality without dropping a frame is possible with Final Cut Pro for the first time. You can use Smart Conform and other ML-based features in Final Cut Pro to frame a clip up to 4.3x faster. It is possible to export photos to Lightroom as twice as fast. The device can also support FaceTime and other video calls up to as twice as long on a single charge.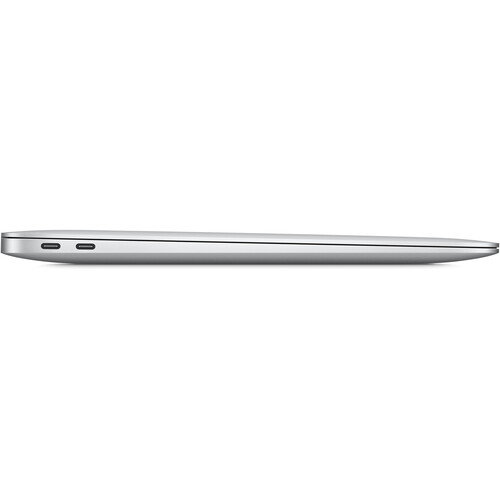 ---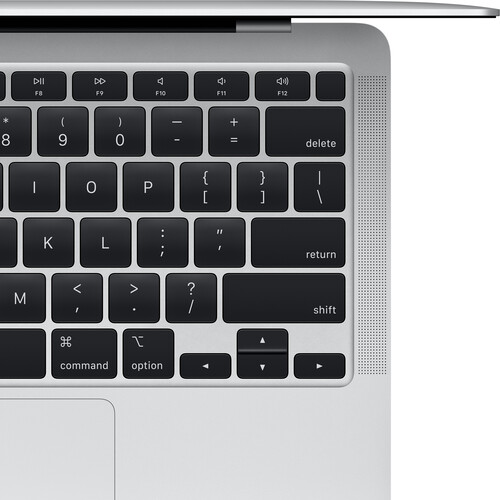 Apple 13.3" MacBook Air M1 Chip provides advanced security and convenience with the Touch ID. The integrated sensors enable the user to unlock the MacBook easily with the fingerprint. Online shopping is safer with this feature since there is no need to share billing info or card details. The device features a Magic keyboard that delivers 1 mm of key travel. An Esc key and inverted "T" arrangement for arrow keys are also available. With the convenient features, the Magic keyboard provides an elegant, simple, and fast experience. The hardware interface 'Thunderbolt 3' utilizes the reversible Type-C USB connector. It features a maximum throughput of 40 GB/s with its compatible devices. It also supports USB4, allowing more peripherals to connect. The device supports Wi-Fi 6 (802.11ac) and Bluetooth 5.0.
TOP 10 KEY FEATURES:
| | |
| --- | --- |
| Chipset: | Apple M1 |
| GPU: | Apple (8Core) |
| Aspect Ratio: | 16:10 |
| Resolution: | 2560 x 1600 |
| Total Installed Capacity: | 512GB |
| USB Type-C Ports: | Thunderbolt 3 / USB4 - 2 nos. |
| Audio: | 1/8" / 3.5 mm Headphone Output |
| Wi-Fi: | Wi-Fi 6 (802.11ac) |
| Operating Temperature: | 50 to 95°F / 10 to 35°C |
| Operating Humidity: | 0 to 90% |
Included in the box:
Apple 13.3" MacBook Air M1 Chip with Retina Display (Late 2020, Silver)
30W USB Type-C Power Adapter
USB Type-C Charge Cable (2 m)
Payment & Security
Apple MacBook Air with Apple M1 Chip (13-inch, 8GB RAM, 512GB SSD Storage) - Silver (Latest Model)