Description
FUJIFILM INSTAX Mini 11 (Charcoal Gray) has an upgraded automatic exposure function that eradicates manual adjustment when taking shots in various lighting circumstances. Its other highlights include the FUJINON 60mm Lens with Selfie Mirror, Automatic Exposure with Automatic Flash, Dedicated Selfie/Close-Up Shooting Mode, Acceptance of INSTAX Mini Instant Film, Optical Viewfinder with Target Spot, among others.
This instant film camera has an in-built flash so that you won't have issues working in areas with poor lighting conditions. With a lens of 60mm focal length, and f/12.7 aperture, you can be confident of taking perfect shots at all times. You don't need a lens attachment for close focusing between 11.8 and 19.7 inches, you only need to broaden the barrel of the lens to the Selfie Mode position. There is an in-built frontal mirror on the lens that makes it easier for you to take splendid selfies.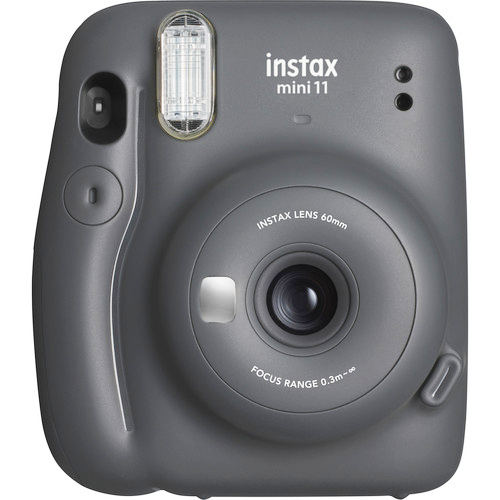 ---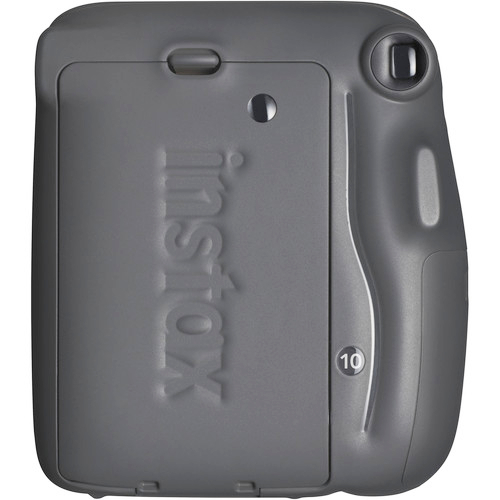 Our Take on the FUJIFILM INSTAX Mini 11 (Charcoal Gray):
If you truly desire a pocket-friendly instant camera for capturing clean images, including credit-card sized pictures, you can check out the charcoal gray FUJIFILM INSTAX Mini 11 Instant Film Camera. It has a minimum focusing distance of 30 centimeters, which is better than its predecessor's (Mini 9) 50 centimeters. This will reduce film wastage and make the capturing of better selfies a reality. You can customize its shutter button so that you will be able to get the most satisfactory results. Its shutter speed range stands between 1/2 and 1/250 sec, which is advanced over the Mini 9 that has a fixed shutter speed of sports a fixed shutter speed of 1/60 sec. This guarantees optimum flexibility in various shooting settings.
---
Besides, you will like the compactness of this camera as it is a bit larger than your purse, hence, you can easily squeeze it into your shoulder bag or large jacket pocket. It features the auto-exposure mode that scans the surrounding light when you press the shutter release for maximum optimization of a shutter speed as well as flash output. This reduces film wastage associated with hit and miss, which are the attributes of many instant cameras. It weighs just 293 grams without batteries, film, and strap, making it fun to hold for those amazing shots you have always dreamed of.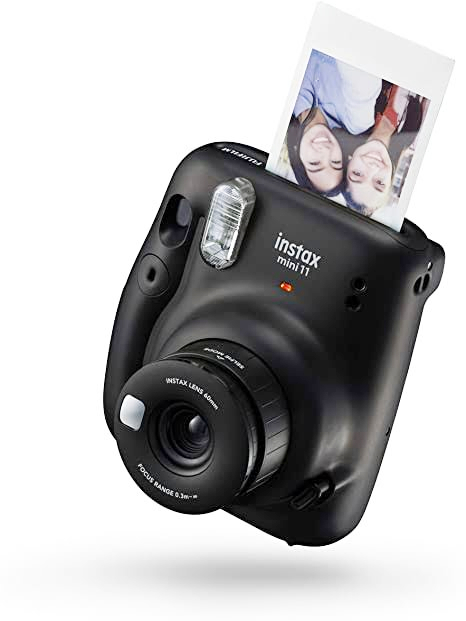 ---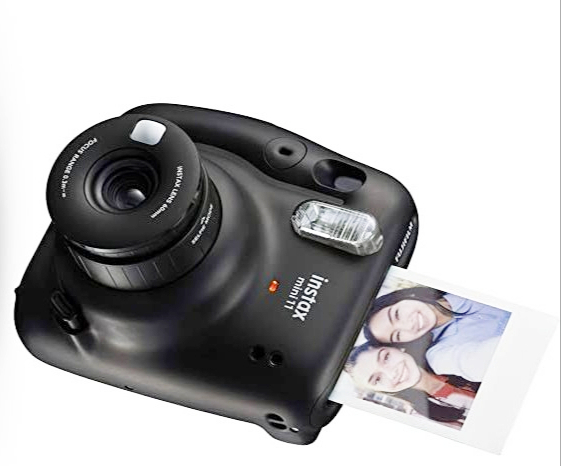 The FUJIFILM INSTAX Mini 11 (Charcoal Gray) gets its power from two standard AA alkaline batteries for optimum effectiveness. There is a counter that lets you know the definite quantity of unexpended shots. Its dimensions stand at 107.6mm × 121.2mm × 67.3mm, giving credence to its compactness.
Specifications:
| | |
| --- | --- |
| Focal Length: | 60mm |
| Aperture: | f/12.7 |
| Minimum Focus Distance: | 11.81" / 30 cm |
| Viewfinder Magnification: | Approx. 0.37x |
| Exposure Modes: | Automatic |
| Shutter Speed: | 1/2 to 1/250 Sec |
| Effective Flash Range: | 0.98 to 8.86' / 0.3 to 2.7 m |
| Flash Modes: | Auto |
| Recycle Time: | 0 to 6.5 Sec (Full Power) |
| Battery Type: | 2 x AA |
Included in the box:
FUJIFILM INSTAX Mini 11 Instant Film Camera (Charcoal Gray)
Glow-in-the-Dark Shutter Button Cover
Jewel-Like Shutter Button Cover
Wrist Strap
Payment & Security
Fujifilm Instax Mini 11 Instant Camera - Charcoal Grey