Description
Nintendo Mario Kart 8 Deluxe (Nintendo Switch) with Revamped Battle Mode, Brand New Courses, Three Additional Vehicles, Up to 8-Players option in Online mode, Wii U version, and 1080p Graphics in TV Mode
Nintendo Mario Kart 8 Deluxe (Nintendo Switch) brings the entire best piece from the previous Mario Kart game series with added features. For people who love variety in their video gaming, this is one of the best games with so many characters. We can call it a beautiful blend of the old and new characters. Mario Kart 8 Deluxe is a classic that provides the best Nintendo characters in the game. All those new characters are immediately available for playing with Nintendo Switch.
---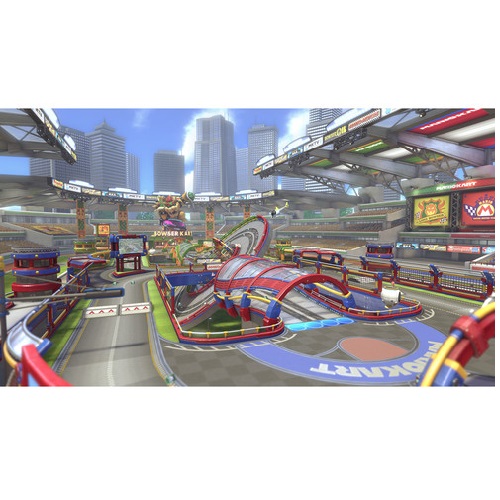 Our Take on Nintendo Mario Kart 8 Deluxe (Nintendo Switch):
Nintendo Mario Kart 8 Deluxe (Nintendo Switch) gives you the flexibility to play the game anytime, anywhere. Catch up with your friends and enjoy the revised battle mode on old and new retuning battle courses. You can play locally in TV Mode at 1080p resolution with up to 4 Multiplayer. The game has all your favorite characters from the previous games such as King Boo, Bowser Jr., and Dry Bones. These characters are returned in a whole new guest character.
---
Nintendo Mario Kart 8 Deluxe (Nintendo Switch) is rated as E (Everyone), which means you can play with your family without any discomfort and hesitation. Nintendo has provided balloons to pop up in the Battle mode. That makes the game more interesting as you can compete with your friends in Bob-omb Blast and Balloon Battle. The game has various courses such as Urchin Underpass, GCN Luigi's Mansion, SNES Battle Course 1, Battle Stadium, etc. Players get an option to choose a new Smart Steering feature that makes driving and staying on the track easy even at 200cc. A novice player can also enjoy these features for added racing experience. The game has three newly added vehicles out of which two are inspired by Splatoon. While playing it, a player can carry two items at the same time.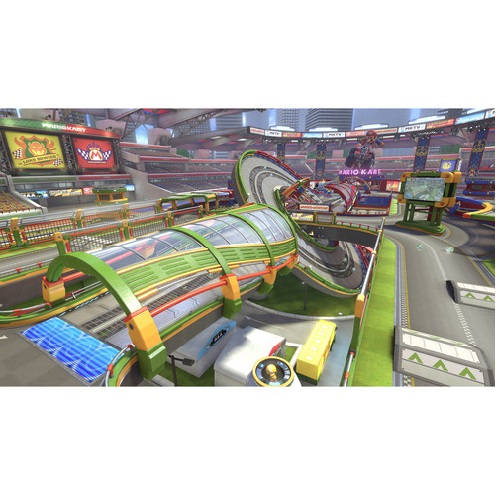 ---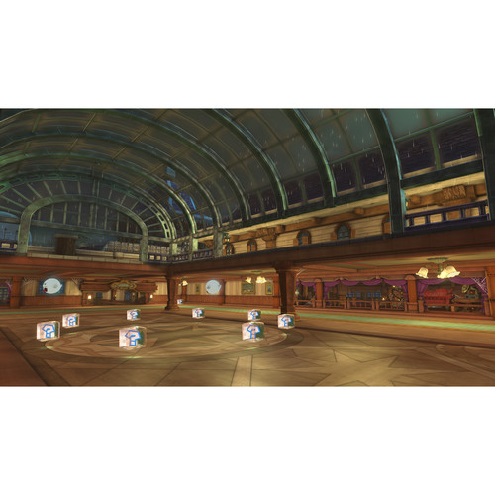 Nintendo Mario Kart 8 Deluxe (Nintendo Switch) can be played in local wireless multiplayer mode with a maximum of 8 players. It is advised to get additional wheel holders for the controllers in the game that makes it more interesting. The game has great depth and racking gives you goosebumps like you are actually racing in real life. The game supports 3 languages that are Spanish, English, and French. Based on your preference, you can play the game in TV Mode, Handheld Mode, or Tablet Mode. Whether you are a pro or just started falling in love with video games, it has something exciting for all.
TOP 10 KEY FEATURES:
| | |
| --- | --- |
| Platform: | Nintendo Switch |
| ESRB Rating: | E (Everyone) |
| Developer: | Nintendo |
| Publisher: | Nintendo |
| No. of Additional Vehicles: | 3 |
| Graphics Quality: | 1080p Graphics in TV Mode |
| Multiplayer Option: | Yes (Up to 8-Players in Online Mode) |
| Language Support: | English, Spanish and French |
| Game File Size: | 6.9 GB |
| Genre: | Racing, Multiplayer, Other |
Included in the box:
Nintendo Mario Kart 8 Deluxe (Nintendo Switch)
Payment & Security
Mario Kart 8 Deluxe - Nintendo Switch