Description
GoPro HERO10 Black features a 23MP GP2 Chip Sensor for capturing high-fidelity pictures. It comes with other plush features like HyperSmooth 4.0 digital image stabilization, Vertical Portrait Mode for Social Media, 33' Waterproof without a Housing, Touch Zoom Framing via an Intuitive 2.3" LCD, 14 Voice Commands, Time-Lapse & Night-Lapse Capture, Selfie-Friendly Controls, Lives Streaming, & Much More!
GoPro HERO10 Black is an excellent product for adventure and social media lovers. It gives you a whole range of features along with special attention to provide an exceptional social media video and photo experience. You get direct Full HD 1080p live streaming to Facebook and vertical portrait mode for social media. The live stream video is also saved on your SD card. For portrait orientation, you need to flip the camera to the side. It is lightweight and provides waterproof capability up to 33'. So next time, while going on swimming, surfing, snorkeling, or other water sports, do not forget to carry it. Take into the water and do a whole range of underwater photography and videography.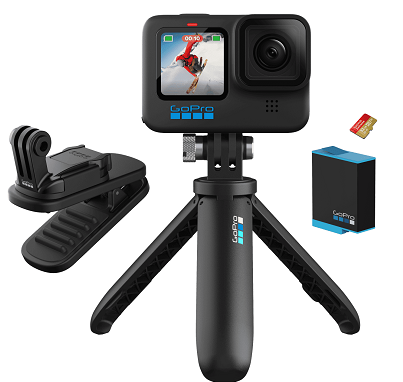 ---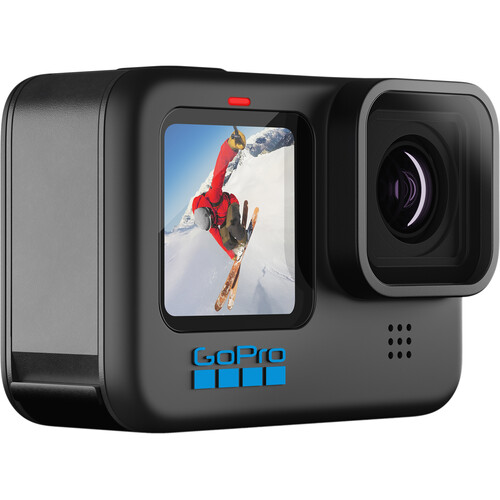 Our Take on the GoPro HERO10 Black + Accessories Bundle:
GoPro HERO10 offers gimbal-like smoothness without the bulk load of the gimbal. The camera automatically predicts your movement and does the required correction in the camera shake for a smooth image. It comes with SuperPhoto features that apply local tone mapping, noise reduction, HDR, and others settings for optimized shots. When it comes to video capturing, it offers super-stabilized time-lapse along with a feature to increase speed up to 30x. The features enable you to share longer activities in shareable moments. The camera shoots 5120 x 2880 resolution videos at 60 fps. You may also shoot videos in Super 8x Slo-Mo at a new-and-improved 2.7K resolution. Your videos will save on your SD card. It has a single slot for media/memory cards that supports microSD, SDHC, and SDXC type storage.
---
GoPro HERO10 Black offers a good hands-free operation after connection with the GoPro application. Download the GoPro in your iOS, Android, Mac, or Windows, take a photo or start recording, and share images with 14 voice commands. An advanced mode like Face, Scene detection, or Smile helps you choose the best frame for yourself. You even get the Hindsight feature that captures up to 30 seconds before you actually hit record to ensure you don't miss even a moment. Photos get saved in the JPEG format that you may share with any Wi-Fi compatible device. You can even go for the GoPro subscription that enables you to automatically store your captures on the cloud in real-time. The screen is 2.3" Intuitive type that gives you streamlined settings and three main capture modes.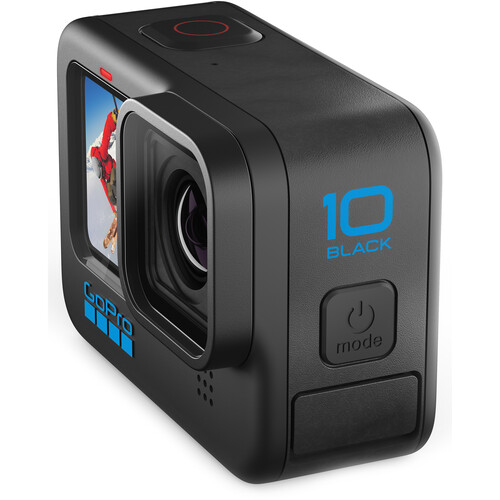 ---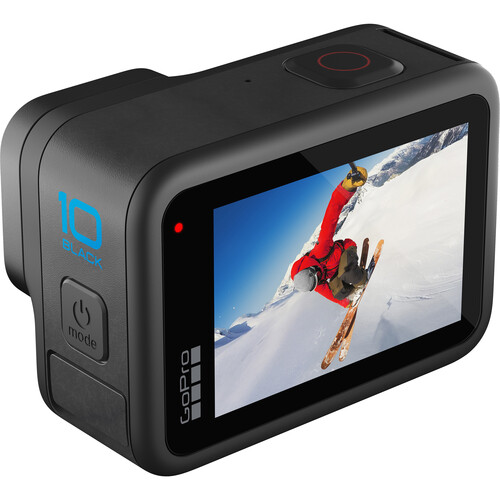 GoPro HERO10 Black comes with 3 built-in microphones possessing advanced wind noise suppression Technology. It filters handling noise, wind speed, vibration, and other unwanted sounds for clearer and superior audio for all your video captures. The camera comes with an in-built, flip-out 2-prong mount that makes it compatible with a wide variety of GoPro mounting accessories. It has a long-lasting 1720mAh battery that gives good backup on a single charge. Additionally, its powerful GP2 engine allows incredibly snappy performance, highly responsive control, and a 2x frame rate and for fastest and ultra-smooth captures.
With this bundle, you get a 32 GB memory card to better store your captures. Further, you even a get camera case, table tripod, spare battery, and magnetic swivel clip. All these keep your camera protected, provide desired stability, and long-lasting battery backup for outdoor photography.
TOP 10 KEY FEATURES:
| | |
| --- | --- |
| Sensor Type: | CMOS Sensor |
| Sensor Resolution: | Effective: 23 Megapixel |
| Fixed Focus: | Yes |
| Media/Memory Card Slot: | Single Slot: microSD/microSDHC/microSDXC |
| Best Video Format: | 5120 x 2880 at 24/25/30/60 fps (100 Mb/s MP4 via H.264/AVC, H.265/HEVC) |
| Slow Motion Mode: | 120 fps Recorded at 3840 x 2160p & 240 fps Recorded at 2704 x 1520p |
| IP Streaming: | MP4: 1920 x 1080 |
| Primary Display: | 2.27" Fixed Touchscreen LCD |
| Secondary Display: | Front: 1.4" LCD Live-View Monitor |
| Burst Photo: | 30 Photos / 1 Second |
Included in the box:
GoPro HERO10 Black
1720mAh Rechargeable Li-Ion Battery
Curved Adhesive Mount
Mounting Buckle + Thumbscrew
USB Type-C Cable
Carry Case
32GB Memory Card
Table Tripod
Spare Battery
Magnetic Swivel Clip
Payment & Security
GoPro HERO10 Black + Accessories Bundle