58007
Yamaha 120-Watt Soundbar Speaker System (Model: YAS101)

Arrives in 5 days

Same Day
Not available in your area
Enter Your ZIP Code (required)
Availability may vary by location
SRP $249.99
Savings $50.00
Your Price $199.99
CatalogEntryPriceDisplay.jspf 491
modelNum:
partNumber:
DisplayModelOrDP: M
Please enter your ZIP Code and select a fulfillment type before adding to cart
6 Months Special Financing Available

On purchase of YAS101 with your h.h. gregg credit card made between 09/29/13 to 03/31/14. Subject to credit approval. Minimum monthly payments required. Click here for details.
Buy these together:
Polk Audio SurroundBAR® 3000 Instant Home Theater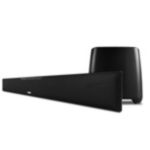 Flat panel TVs have taken the viewing experience to a new level. Now, match that with the quality sound of this lightweight SurroundBar 3000 Instant Home Theater (IHT), and your entire viewing experience comes alive.
Your Price $349.99

modelNum:
partNumber:
DisplayModelOrDP: M
Product Features
Piano Black Finish - Glossy and beautiful to Yamaha, piano black is a very special color
Integrated system with dual front speakers and subwoofer - Combines two 2-1/2" cone speakers with a dual-driver (3" cones) subwoofer, driven by a digital amp with a total output of 120 watts. Although compact, its excellent structural design provides a large volume enclosure for both the speakers and subwoofer. The result is powerful, high quality sound
Dual-driver subwoofer employs large magnets and large-diameter voice coils to realize dynamic and robust bass sound reproduction. This ensures that the overall sound has a rich sense of presence, making movie effect sounds more realistic
Bass reflex port that has a straight shape and adequate length to provide outstanding bass response together with the large volume cabinet. The duct outlet is shaped like a trumpet bell, which reduces wind noise for better sound clarity
Saran Net Grille - The grille protecting the speaker unit is a saran net that allows unimpeded sound flow. All sounds, including vocals and music, are clear and pleasant to listen to
Air Surround Xtreme reproduces 7.1-channel surround sound with high quality, excellent imaging and rich presence, far superior to that of any other soundbar. You'll experience an extremely realistic and impressive sound field, with clear dialogue in the front and dynamic sound action at the back and sides
Compatible with popular surround sound formats, such as Dolby Digital and DTS Digital Surround, so you get the full effect of multichannel movie sound
Clear Voice raises the level of dialogue and narrations while maintaining overall sound quality. Movies and TV shows, sports commentary and news broadcasts are more clearly audible
UniVolume maintains a consistent volume level between different channels, programs, commercials and input sources. It can be switched on and off
Audio delay control (Lip sync) -This technology adjusts the timing of the picture and dialogue
Subwoofer output jack lets you connect an additional subwoofer to enjoy even more powerful bass sound
Slim low-profile, one-body design allows for easily positioning in front of a TV so the soundbar straddles the TV stand. With the stand removed, the height can be adjusted. Because both speakers and subwoofers are built in, it fits more easily into available space than separate components
Can also be hung on the wall - If the TV is hanging on a wall, you can remove the stand and hang the YAS-101 on the wall as well
Built-in IR flasher on the back of the sound bar transmits the signal to the TV so operation is not affected
Simple to operate remote lets you turn the power on and off, adjust the volume and do other basic operations, and even lets you switch the surround modes. Together with the Learning function, you can use either the TV remote or the Yamaha remote for easy operation
Stylish design - The body is beautifully finished with an elegantly curved front surface. It adds a stylish accent to your entertainment area