Whirlpool 3.8 Cu. Ft. Cabrio® HE Top-Load Washer and 7.4 Cu. Ft. Cabrio® Electric Dryer
(Model: WTW5800PAIR)

Arrives in 5 days

Same Day
Not available in your area
Enter Your ZIP Code (required)
Availability may vary by location
SRP $1,399.98
Savings $500.00
Your Price $899.98
Please enter your ZIP Code and select a fulfillment type before adding to cart
Kit includes: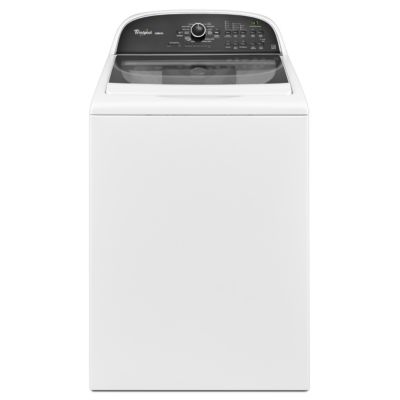 Whirlpool 3.8 Cu. Ft. Cabrio® HE Top-Load Washer (Model: WTW5800BW)
SRP $699.99
Savings $250.00
Your Price $449.99
6 Months Special Financing

On purchase of WTW5800BW with your h.h. gregg credit card made between 07/06/14 to 12/31/14. Subject to credit approval. Minimum monthly payments required. Click here for details.
Product Features
Whirlpool does the hard work for you with this Top-Load Washer. Precision Dispense senses and adapts to each load, adding detergent, bleach or fabric softener at just the right time. Adaptive Wash technology adapts the size of load to the right amount of water. Perfectly done, and no extra work for you!
3.8 cu. ft. capacity - Wash more than 2 baskets of laundry in one load. The washer's 3.8 cu. ft. capacity wash basket offers enough space to handle larger loads and bulky items
Care Control Temperature Management - Adjusts the cold and hot water inlets to reach temperatures that are warm enough to dissolve detergents. Water is kept from overheating to help reduce shrinking and/or color bleeding
Precision Dispense - Senses and adapts to each load, adding detergent, bleach or fabric softener at just the right time. A concentrated burst of detergent showers directly onto clothes to penetrate stains and pretreat soils
5 Adaptive Wash Actions - Up to 5 different adaptive wash actions provide a combination of powerful cleaning and gentle fabric care. They sense and adapt to the needs of each load, handling everything from heavily soiled jeans to delicate silks
Smooth Impeller - This washer's high-efficiency system features a specially designed low-profile plate at the bottom of the wash basket to give you more wash capacity and better fabric care
800 RPM maximum spin speed - Faster spin speeds in the washer remove more moisture from clothes, so they spend less time in the dryer
Clean Washer cycle with Affresh® - Deep-fill the washer to clean even those areas that aren't normally reached by low-water wash cycles. Add an affresh® Washer cleaner tablet for best results
Delicate cycle - Low-speed wash action helps you take better care of delicate fabrics. It also works well on waterproof items like shower curtains and raincoats
Smooth Spiral stainless steel wash basket - The stainless steel wash basket resists odors and rust and features a spiral design for greater fabric care and gentle cleaning performance. The smooth surface helps protect delicate fabrics from snagging
Deep Clean option adds increased wash action and extra rinsing to help break down deep soils
Quiet Wash noise reduction system - Keep operational sounds inside the washer and out of living areas with sound-absorbing materials around the wash basket
Quiet Spin technology offers a unique suspension system that senses and adapts to each load, making upper-floor installation possible
EasyView™ framed glass lid - see-through glass lid allows you to look inside and see the wash action while the load is in progress
Soak cycle - Choose this cycle for the added convenience of soaking heavily-soiled clothes right in the washer
Deep Water Wash cycle - Help break down heavy soils and eliminate pretreating with the Deep Clean Wash cycle. It allows for a deep water wash on select high-efficiency washers
Quick Wash cycle is designed to clean small loads rapidly
Super Wash cycle - Provides optimal cleaning for your heavily soiled fabrics and heavy, colorfast clothes. Faster spin speeds combine with Adaptive Wash technology to remove tough stains from sturdier fabrics
Bulky Items cycle - Easily cleans larger items like comforters, sleeping bags, down jackets or pillows
Delay Wash option - Sets the wash cycle to begin up to 12 hours later so you can take advantage of non-peak utility rates or wash at a more convenient time
Automatic Water Level Settings - Regulates the amount of water based on the size of the load. Only the amount needed to clean is used, increasing efficiency and helping the environment
Adjustable End-of-Cycle signal - Avoid leaving clean clothes in the washer with the adjustable end-of-cycle signal. Thanks to a helpful tone, you'll know when your wash cycle is finished. You can even turn it off
Meets CEE Tier 3 standards - CEE Tier 3 standard is based on the Consortium for Energy Efficiency qualifying product lists. Tier 3 is the highest efficiency and only the most efficient models meet it, making this one of the most water- and energy-efficient washers you can buy
Energy Star® qualified model - Energy Star® qualified models exceed government standards by over 20 percent to help conserve natural resources and save money on your utility bills
Designed, engineered and assembled in USA - Built with American pride and designed, engineered and assembled in the USA
View Energy Guide