Whirlpool 3.6 Cu. Ft. Top-Load Washer and 7 Cu. Ft. Electric Dryer
(Model: WTW4800BQPR)

Arrives in 5 days

Same Day
Not available in your area
Enter Your ZIP Code (required)
Availability may vary by location
SRP $1,099.99
Savings $300.00
Your Price $799.99
Please enter your ZIP Code and select a fulfillment type before adding to cart
Kit includes: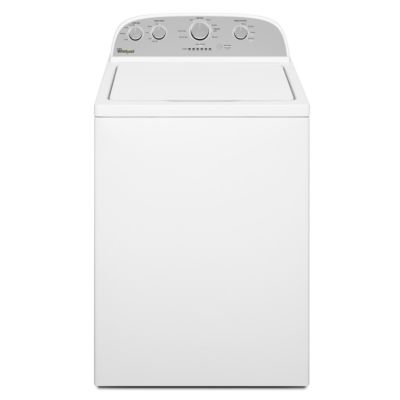 Whirlpool 3.5 Cu. Ft. Top-Load Washer (Model: WTW4800BQ)
SRP $549.99
Savings $60.00
Your Price $489.99
6 Months Special Financing

On purchase of WTW4800BQ with your h.h. gregg credit card made between 07/06/14 to 03/31/16. Subject to credit approval. Minimum monthly payments required. Click here for details.
Product Features
This Whirlpool 3.5 cu. ft. Top-Load Washer features Care Control temperature management system that helps make sure the water is warm enough to dissolve detergent, but not hot enough to damage your clothes.
3.5 cu. ft. capacity - Wash up to 2 baskets of laundry in one load. 3.6 cu. ft. capacity Cabrio® washers give you the extra space you need for larger loads and bulky items like comforters. The wash basket adapts to both large and small loads for optimal fabric care
Care Control Temperature Management - Adjusts the cold and hot water inlets to reach temperatures that are warm enough to dissolve detergents. Water is kept from overheating to help reduce shrinking and/or color bleeding
Fabric Sense™ wash system - Once you select a cycle and fabric type, the washer automatically matches it to the optimal wash temperature, cycle time and agitation speed for customized care and cleaning
Smooth Motion Agitator - Specially designed ridges gently bring laundry to the bottom of the wash basket where cleaning takes place. It can effectively roll over and clean twice the average size load
Quiet Spin technology offers a unique suspension system that senses each load, making upper-floor installation possible
700 RPM maximum spin speed - Faster spin speeds in the washer remove more moisture from clothes, so they spend less time in the dryer
Clean Washer cycle with Affresh® - Deep-fill the washer to clean even those areas that aren't normally reached by low-water wash cycles. Add an affresh® Washer cleaner tablet for best results
Delicate cycle - Low-speed wash action helps you take better care of delicate fabrics. It also works well on waterproof items like shower curtains and raincoats
Designed, engineered and assembled in the USA - Whirlpool® Cabrio® washers are built with American pride and designed, engineered and assembled in the USA
View Energy Guide