202556
Sony 55" 4K Ultra High Definition TV (Model: XBR55X900A)

Arrives in 5 days

Same Day
Not available in your area
Enter Your ZIP Code (required)
Availability may vary by location
SRP $4,998.00
Savings $1,500.00
Your Price $3,498.00
CatalogEntryPriceDisplay.jspf 491
modelNum:
partNumber:
DisplayModelOrDP: M
Please enter your ZIP Code and select a fulfillment type before adding to cart
48 Months Special Financing Available

On purchase of XBR55X900A with your h.h. gregg credit card made between 11/24/13 to 12/31/13. Subject to credit approval. Minimum monthly payments required. Click here for details.
Buy these together:
Sony 55" 4K Ultra High Definition TV with 4K Ultra HD Media Player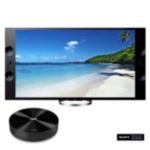 This Sony 55" Class 4K Ultra HD TV (54.6" actual diagonal size) provides breathtaking natural details that are depicted in richer, fuller color with even more stunning contrast. Plus it comes with savings on 4K Ultra HD Media Player FMPX1.
SRP $5,698.00
Savings $1,700.00
Your Price $3,998.00
CatalogEntryPriceDisplay.jspf 491
modelNum:
partNumber:
DisplayModelOrDP: M
The new Sony 4K Ultra HD TV delivers 4x the resolution of 1080p, for exceptional color and stunning detail. Check out the video to learn more:




Product Features
4K is the highest resolution Sony has ever produced for TV on this 55" Class Ultra TV (54.6" actual diagonal size). With four times the resolution of Full HD, the 4K screen contains no less than 8 million individual pixels (3,840 x 2,160). And advanced picture processing ensures every single one of those pixels displays images with superb quality. At a closer, more comfortable distance, the TV screen fills your field of vision – it's like experiencing the action in real life.
55" Class LED 16:9 widescreen HDTV (54.6" actual diagonal size)
Clarity quadrupled - Get acquainted with the highest resolution picture Sony has ever produced on a TV. With four times more resolution than Full HD, the 4K Ultra HD screen contains over 8 million individual pixels (3,840 x 2,160). Advanced picture processing ensures that every one of those pixels displays images with superb brightness and authentic detail
4K X-Reality™ PRO chip enhances HD (or lower resolution) images by analyzing and refining images with beautifully natural detail and astounding color. The latest Reality Creation database and Super Resolution processing breathes new life into everything you see with phenomenal 4K (3,840 x 2,160) resolution
TRILUMINOS Display technology creates incredibly true, natural shades of colors— just the way you want them. Hard-to-reproduce reds, aqua blues and emerald greens are displayed beautifully, so landscapes and seascapes look more vivid. Faces look better, too, with natural skin tones
Magnetic Fluid Speaker technology allows a thinner, more efficient loudspeaker that offers faithful reproduction of high-fidelity sound. The frontfacing speaker system directs sound right at you with 65 watts of power3. S-Force® Front Surround 3D simulates 5.1 sound, with an enlarged sweet spot that everyone in the room can enjoy
Dynamic Edge LED backlighting with local dimming delivers pitch-black night scenes and illuminates bright scenes. Rather than illuminating the entire screen, contrast is boosted in just the right areas for a more realistic picture
Your smartphone, now on TV - Movies, music and apps from your smartphone can now be viewed big on your TV. With three ways to connect Android phones and tablets to the X900, Sony is helping you add value to the entertainment you already own
Wi-Fi connectivity - Wirelessly stream beautiful, HD entertainment straight from the internet or your home network using built-in Wi-Fi® connectivity and open the door to the endless entertainment of the Sony Entertainment Network, where thousands of movies, TV shows, online videos, games and music are always at your fingertips. By connecting to the Internet you can access Full HD 1080p entertainment, 3D content and made-for-TV apps like Netflix®, Pandora®, YouTube™, Facebook® and more
3D immersion - There's 3D, then there's 3D with 4K (3,840 x 2,160). Life-like 3D images emerge from the 4K screen screen with realism that makes your heart race. The level of detail is absolutely stunning —i t's the closest thing to a 3D theater in your living room. Light, comfortable, passive 3D glasses offer superb image quality and a noticeable step above anything you've ever experienced at home
Twice the fun: 2 player games with no split screen - Say goodbye to split screen. Now you and a friend can both experience your own big-screen view of the action as you play nail-biting games on your PlayStation®3 system. SimulView™ gaming presents two separate Full HD pictures: each player watches independently through light easy to wear optional Simulview glasses that don't need batteries
Control your TV with your smartphone or tablet - Get more from watching television with TV SideView. Control the TV or browse the channel guide with your smartphone, Xperia™ Tablet or other tablet device (Android or iOS), all without interfering with what you're watching on the TV. Learn more about the show you're watching right now, like cast and episode details. Search what's available to watch on TV, internet videos and apps like Netflix®
Photos are better with 4K - See more details in your DSLR photos (8MP+) with 4K resolution (3,840 x 2,160). View, share and edit photo memories with PlayMemories Studio™ software and your PlayStation®3 system on the TV screen. Scroll effortlessly through your image collection. Pinpoint images by date and time, smiles or location. Everything's smooth and speedy, thanks to the immense processing power of the PlayStation®3 system
Onboard manual - You will never lose your TV manual again. The iManual is available through the menu system on the TV – always there if you need it
Enjoy Full HD 3D with 4 pairs of passive glasses
View Energy Guide