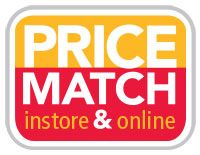 h.h. gregg Price Match Guarantee

If you find a current lower advertised price on the same, in-stock brand and model, we will match the competitor's advertised price. No need to bring the ad with you, our highly trained sales associates are happy to look it up for you in-store at the time of purchase or up to 90 days after your purchase. To apply the Price Match Guarantee to purchases made on hhgregg.com, please call 1-866-974-7344 Monday through Friday 8am-7pm EST, Saturday 10am-7pm, Sunday 10am-6pm, or use the Contact Us form.

Our price guarantee applies to local brick and mortar competitors as well as the following major online retailers: abt.com, amazon.com, apple.com, bestbuy.com, bhphotovideo.com, BrandSmartUSA.com, rakuten.com, crutchfield.com, dell.com, frys.com, hp.com, homedepot.com, lowes.com, newegg.com, officedepot.com, officemax.com, pcrichard.com, sears.com, staples.com, target.com, Tigerdirect.com, and walmart.com.

h.h. gregg's price guarantee does not apply to: Verizon wireless phones, items for sale Thanksgiving day through Cyber Week, membership club or warehouse pricing, free or bonus offers, gift cards, product bundles, out-of-stock items, open-box items, clearance items, refurbished/used items, one-of-a-kind items, items advertised as limited quantity, outlet center pricing, pricing errors, or offers that include financing, delivery, installation or rebates.