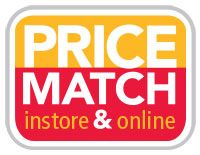 hhgregg Price Match Guarantee
FIND A LOWER PRICE AND WE'LL MATCH IT.
Our Promise:
· At the time of purchase, if you find a current lower advertised price on the identical, in-stock product from a local retail competitor's store or one of the major online retailers listed below, we will match the competitor's pre-tax price.
· We match online prices (including any costs for shipping and handling, but not delivery) of the following major online retailers only: abt.com, amazon.com, apple.com, bestbuy.com, bhphotovideo.com, BrandSmartUSA.com, rakuten.com, crutchfield.com, dell.com, frys.com, hp.com, homedepot.com, lowes.com, newegg.com, officedepot.com, officemax.com, pcrichard.com, sears.com, staples.com, target.com, Tigerdirect.com and walmart.com.
· We match hhgregg.com prices on in-store purchases and in-store prices on hhgregg.com purchases..
· If we lower our price during the 30 day period after your purchase, we will match our lower price.
· Our Price Promise is limited to one price match per identical item, per customer.
· To apply the Price Promise to a purchase made in store, please go to the hhgregg store where the purchase was made with your receipt and tell us about the lower price. hhgregg's highly trained associates will be happy to look it up for you in the store.
· To apply the Price Promise to purchases made on hhgregg.com, please call 1-866-974-7344 Monday through Friday 8am-7pm EST, Saturday 10am-7pm, Sunday 10am-6pm, or use the Contact Us form on hhgregg.com.
Our Promise Excludes:
· hhgregg.com products which are offered online only and not in stores.
· Purchases at Fine Lines departments/stores..
· Products shipped from or sold by third-party sellers (Marketplace sellers) online..
· Competitors' service prices.
· Purchases of computers and tablets (except that if we lower our price during the 30 day period after your purchase, we will match our lower price).
· Membership club or warehouse pricing, free, bonus, gift card, mail-in or coupon offers, product bundles, out-of-stock, floor sample, open-box, clearance, refurbished/used, one-of-a-kind or discontinued items, items advertised as limited quantity or while quantities last, outlet center pricing, close-out/liquidation pricing, daily deals, special hour sale event items, door busters, credit card offers, pricing errors, offers that include financing, delivery, installation or rebates, rent/lease to own items, and items for sale at hhgregg or any competitor from the Sunday before Thanksgiving Day through the second Saturday after Thanksgiving Day.