207534
Seiki 19" 720p LED HDTV (Model: SE19HY10)

Arrives in 5 days

Same Day
Not available in your area
Enter Your ZIP Code (required)
Availability may vary by location
Clearance
SRP $119.95
Savings $30.00
Your Price $89.95
CatalogEntryPriceDisplay.jspf 504
modelNum:
partNumber:
DisplayModelOrDP: M

Please enter your ZIP Code and select a fulfillment type before adding to cart
Buy these together:
Proscan 19" 720p LED HDTV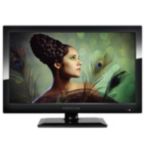 Need a TV for the office, the kitchen, the workshop? Or just need a TV? This Proscan 19" 720p HDTV will keep you tuned to all your favorite programs whenever you want to watch them.
Product Features
Enjoy high definition television with the 1366 x 768 resolution. It has 600:1 dynamic contrast ratio and 5 milliseconds response time with one HDMI input.
1366 x 768 resolution
16:9 widescreen aspect ratio
600:1 dynamic contrast ratio
180 cd/m² brightness
5 milliseconds response time
One HDMI input
Built-in video noise reduction
Over-the-air ATSC/NTSC RF input support
60 Hz refresh rate
Supports V-chip parental controls, closed captioning and Favorite channel
Remote control
View Energy Guide