333036
Polk Audio SurroundBAR® 9500 Bluetooth Home Theater (Model: SURBAR9500BT)

Arrives in 5 days

Same Day
Not available in your area
Enter Your ZIP Code (required)
Availability may vary by location
Your Price $799.99

modelNum:
partNumber:
DisplayModelOrDP: M
Please enter your ZIP Code and select a fulfillment type before adding to cart
12 Months Special Financing

On purchase of SURBAR9500BT with your h.h. gregg credit card made between 02/23/14 to 03/31/14. Subject to credit approval. Minimum monthly payments required. Click here for details.
Buy these together:
Polk Audio SurroundBAR® 9500 Bluetooth Home Theater with FREE Indoor / Outdoor Multi-Application All-Weather Speakers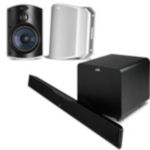 This PolkAudio SurroundBar SurroundBar SURBAR9500BT is the perfect for the new generation of TVs, while its wireless subwoofer tucks away anywhere you want it to. And its Bluetooth capability lets you stream music from any compatible smartphone, tablet or computer. Plus enjoy all the sound with the FREE All-Weather Speakers ATRIUM4W!
SRP $999.99
Savings $200.00
Your Price $799.99

modelNum:
partNumber:
DisplayModelOrDP: M
Product Features
You won't find a cleaner, less cluttered sound system for your TV. Hook up the SurroundBar 9500BT in minutes, turn it on, then be prepared to thrill to a system that performs like full-range speakers. Everything you watch becomes richer, fuller, more alive thanks to Polk's electronic SDA® Surround and Polk Digital Logic® that together create a truly enveloping listening experience. Plus Polk Audio's new Wavefront Reconstruction Center (WRC) creates a more realistic center channel experience for greater intelligibility of vocals and midrange clarity. Plus enjoy all the sound with the FREE All-Weather Speakers ATRIUM4W!
Extremely shallow depth and sleek design blends seamlessly with today's contemporary TV designs
SmartBar™ programming enables you to program the SurroundBar to your TV's original IR remote control (Backup remote control included)
Enjoy a Rich, Enveloping Listening Experience, better than any built-in TV speakers, thanks to Polk Digital Logic with SDA applied to Front and Surround channels
Discrete Amplification of All 8 Channels with electronic crossovers means each driver is tailored for better efficiency, lower distortion and better dynamics, closely matching that of a full-range system
OCA — Optimized Center Array creates a more realistic center channel experience for greater intelligibility of vocals and mid-range clarity. OCA also creates greater SPL, dynamic range and better off-axis response
Play All Your Digital-Encoded Source Material - Dolby® Digital 5.1, DTS 5.1, Dolby ProLogic II
Energy Star® certified
Powerful wireless subwoofer can be placed anywhere in the room within 50' of the SurroundBar
Bluetooth® wireless technology aptX® and AAC delivers high quality sound from your smartphone, tablet, computer or other compatible device
6' Optical Cable included for the quickest, easiest hookup from your TV to the SurroundBar 9500BT
Built-in keyhole slots for wall-mounting ensure a wide range of placement options
Simple, touch-sensitive keypad controls on the bar include programming function for your existing remote control
Compact 150 watt wireless subwoofer features 8-inch poly-composite Dynamic Balance® woofer
Includes SurroundBar, Subwoofer, Remote control (battery included), Subwoofer power cord, 24-volt Power Supply, 6-foot digital (optical) cable, 1/8" to 1/8" analog cable