322501
Polk Audio SurroundBAR® 6500 Bluetooth Home Theater (Model: SURBAR6500BT)

Arrives in 5 days

Same Day
Not available in your area
Enter Your ZIP Code (required)
Availability may vary by location
Your Price $499.99

modelNum:
partNumber:
DisplayModelOrDP: M
Please enter your ZIP Code and select a fulfillment type before adding to cart
6 Months Special Financing

On purchase of SURBAR6500BT with your h.h. gregg credit card made between 09/29/13 to 03/31/14. Subject to credit approval. Minimum monthly payments required. Click here for details.
Buy these together:
Polk Audio SurroundBAR® 6500 Bluetooth Home Theater with FREE Indoor / Outdoor Multi-Application All-Weather SpeakersK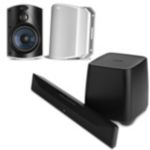 Polk Audio's SurroundBar® SURBAR6500BT is a sleek, lean, self-powered single-speaker surround solution yet. And it comes with Bluetooth wireless technology with aptX®. Plus enjoy all the sound with the FREE All-Weather Speakers ATRIUM4W!
SRP $699.99
Savings $200.00
Your Price $499.99

modelNum:
partNumber:
DisplayModelOrDP: M
Product Features
The next generation SurroundBar® 6500 BT home theater system offers high performance sound thanks to Polk's patented SDA® surround technology. It's a single-speaker surround sound solution for wafer-thin flat-panel TVs.And it's an ideal music system, too, because of Bluetooth wireless technology with apt-X . The system includes on-board digital processing and a separate compact wireless subwoofer you can put anywhere for enhanced bass effects.
Polk's patented SDA surround technology delivers a vivid 5-channel sound field from a single source; no rear speakers or special room characteristics are required
Polk Digital Logic® technology, a proprietary DSP program, automatically calibrates and optimizes your SurroundBar for any room shape or system setup
On-board Dolby Digital processing - connect directly to your TV, DVD or Blu-Ray player, or gaming console
Installs anywhere easily, with the simple secure wall-mount bracket or shelf cradle
Extruded aluminum enclosure is designed to eliminate performance-robbing cabinet resonances
Anti-diffraction grille and bezel design create surprisingly open, spacious imaging
SmartBar™ programming enables the SurroundBar 6000 to easily learn volume up/down and mute from your existing TV remote control. You'll use only one remote for the SurroundBar and your TV
Easy plug-and-play connections, with no complex setup or calibration needed. It works right out of the box
Compact 80 Watt wireless subwoofer features 7-inch downward firing poly-composite Dynamic Balance® woofer and flared J-port for big bass with low distortion
State-of-the-art lossless wireless technology delivers absolutely instantaneous subwoofer response