10655
Polk Audio 100-Watt 10" Monitor Series Powered Subwoofer (Model: PSW108)

Arrives in 5 days

Same Day
Not available in your area
Enter Your ZIP Code (required)
Availability may vary by location
Your Price $199.99

modelNum:
partNumber:
DisplayModelOrDP: M
Please enter your ZIP Code and select a fulfillment type before adding to cart
6 Months Special Financing Available

On purchase of PSW108 with your h.h. gregg credit card made between 09/29/13 to 03/31/14. Subject to credit approval. Minimum monthly payments required. Click here for details.
Buy these together:
Energy 100-Watt 10" Subwoofer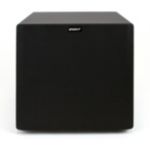 The Energy Power™ 10 Sub, kicks out robust bass with a 10" driver with 100 watts of power. With line and speaker level inputs, they can connect to almost any surround or stereo system with flexibitlity and ease. Pair the Energy Power 10 Sub with the immersive sound of any of our speakers and experience home audio entertainment like never before.
Product Features
10" diameter Dynamic Balance Polymer Composite Woofer Driver for "tight", musical bass
100 dynamic power output and 50 watts continuous average output
Non-resonant MDF construction with 3/4" baffle and internal bracing for deep bass impact with superior detail, accuracy and musicalitylessens turbulence, noise and distortion, pouring out a tidal wave of precise, thunderous bass
State-of-the-art laser-based Klippel measurement technology perfectly centers the subwoofer's voice coil in its magnetic field for improved linearity and deep, precise bass
Built-in High Current Amplifiers supply all the good, clean power you need for big bass
Line and Speaker level inputs ensure easy hookup compatibility with virtually any system
Amplifier features Adjustable Low-Pass Crossover, Phase Switch and Subwoofer Volume Control to more easily control your bass output and the sub's blending characteristics with your front stage speakers
Signal-sensing "smart amp" Auto on/off circuitry knows when to turn itself on and off
Overall frequency: 35Hz - 200Hz
Variable 80Hz - 200Hz crossover