189009
Pioneer 400-Watt (FTC) 5.1 Home Theater Receiver (Model: VSX523)

Arrives in 5 days

Same Day
Not available in your area
Enter Your ZIP Code (required)
Availability may vary by location
Your Price $249.99

modelNum:
partNumber:
DisplayModelOrDP: M
Please enter your ZIP Code and select a fulfillment type before adding to cart
6 Months Special Financing

On purchase of VSX523 with your h.h. gregg credit card made between 09/29/13 to 03/31/14. Subject to credit approval. Minimum monthly payments required. Click here for details.
Buy these together:
Yamaha 350-Watt 5.1 Home Theater Receiver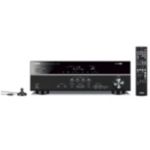 This Yamaha receiver is designed for ease-of-use and full-scale AV entertainment with outstanding Yamaha sound quality from a discrete amp circuit design. Convenient functions like YPAO™, SCENE buttons and front USB input for iPhone®/iPod® and USB thumb drives are included.


SRP $249.95
Savings $24.96
Your Price $224.99
CatalogEntryPriceDisplay.jspf 504
modelNum:
partNumber:
DisplayModelOrDP: M

Product Features
This receiver is equipped with Dolby and DTS high-definition surround sound decoding, as well as an on-screen display. It features four HDMI inputs and one HDMI output that support 4K and 3D pass-through, Audio Return Channel (ARC), Deep Color (36-bit) and x.v. Color. Plus, there are multiple advanced surround modes and an AM/FM tuner with 30 station presets.
400 watts FTC into 5 channels - 80 x 5 into 8 ohms, 20 Hz-20 kHz, THD, 0.08%; 700 watts, 140 watts x 5, 6 ohms 1kHz, 1% THD 1 channel driven
4K ultra-HD compatible - 4K x 2K resolution, usually referred to as simply "4K Ultra HD", is the latest high definition video display format, with four times the resolution of 1080p. This receiver is ready to pass through 4K Ultra HD video signals to a compatible display, meaning it can support home theater systems dedicated to producing the highest quality picture available today
Apple connectivity - Front USB input now supports music playback and control for the new iPhone® 5 and iPad mini. It effortlessly brings all your entertainment sources together. Plug in a thumb drive into the front panel USB port and play back all your favorite music files, like MP3, WMA and AAC files
4 HDMI® inputs provide connectivity for all your sources like Blu-ray DiscTM players, cable boxes, and gaming consoles. All four HDMI inputs support both 3D and new 4k Ultra HD content. Convenience features, such as, HDMI Standby Through is also supported allowing for your sources (cable box etc.) to pass through the receiver to the television even when it is in standby mode
Energy-saving ECO Mode goes far beyond the conventional wisdom about "green" electronics, with a standby power consumption of only 0.1 watt when enabled. Our ECO Mode offers all of the convenience features of today's modern AV receivers, including Network Standby and HDMI CEC support, while reducing power consumption in both on and standby modes
Supports the latest high-definition audio formats like Dolby® TrueHD® and DTS-HD® Master Audio to give your Blu-ray Disc soundtracks unsurpassed audio quality. Pioneer also includes all Dolby and DTS surround formats best suited for the wide variety of available entertainment sources, including online streaming services, such as Netflix® and Vudu®
Multi-Channel Acoustic Calibration system (MCACC) provides an optimized multi-channel listening experience by measuring every speaker's connection, noting its size and distance from the listening point, sound levels and timbre in order to calibrate, customize and maximize performance specifically for your room