202002
Onkyo 665-Watt 7.2 Home Theater Receiver (Model: TXNR626)

Arrives in 5 days

Same Day
Not available in your area
Enter Your ZIP Code (required)
Availability may vary by location
Your Price $499.99

modelNum:
partNumber:
DisplayModelOrDP: M
Please enter your ZIP Code and select a fulfillment type before adding to cart
12 Months Special Financing Available

On purchase of TXNR626 with your h.h. gregg credit card made between 09/29/13 to 03/31/14. Subject to credit approval. Minimum monthly payments required. Click here for details.
Buy these together:
Pioneer 560-Watt (FTC) 3D 7.1 Multi-Zone Home Theater Receiver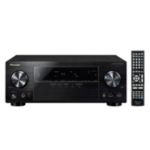 This Pioneer receiver is the perfect power player, with advanced new technologies such as 4K Ultra HD, 6 HDMI® inputs, and an energy saving Eco Mode, for your home theater system.

SRP $499.99
Savings $200.00
Your Price $299.99

modelNum:
partNumber:
DisplayModelOrDP: M
Product Features
This receiver has everything you need in an A/V receiver. There's wireless-ready networking with an expanded choice of Internet streaming services to browse from your smartphone. You can send a range of audio formats from computer and NAS to the home theater, or stream music stored on iPhone® and Android devices using Onkyo's remote app.
660 watts - 95 watts x 7 into 8 ohms (20-20,000 Hz) at 0.08% THD, 2 channels driven, FTC
Wi-Fi and Bluetooth Streaming Technology - This receiver connects to the wireless home network without LAN cables or adapters. Send a huge range of hi-res, lossless, and compressed files to your home theater from smartphone, PC, tablet, NAS, and online sources using our remote app to control playback. Or, pair up and stream high quality wireless audio using built-in Bluetooth technology
Music Streaming and Internet Radio Services - The receiver comes preloaded with popular music streaming and internet radio services including Spotify, Last. fm, and TuneIn Radio. They're easily selectable using the receiver's GUI or the remote control app. Explore more than 10,000 radio stations and enjoy albums and playlists with theater-fidelity sound
HDMI for High Resolution Playback - Qdeo™ technology from Marvell upscales standard video to silky-smooth 1080p (for regular HDTVs) and to an incredible 4k on compatible displays. Also, this receiver will passthrough 4K resolution from source devices
Supports 4K Video Content - With 4K televisions, media players, and projectors hitting the market, it's reassuring to know your A/V receiver is compatible with this new technology. Passthrough of native 4K from source devices to an appropriate display is supported
Supports 4K Video Upscaling via Qdeo™ Technology - This receiver uses Qdeo™ technology from Marvell to upscale standard video sources to brilliantly smooth 1080p (for regular HDTVs) and to an incredible 4K on compatible displays
MHL™ for Mobile Phones and Tablets - A frontside HDMI/MHL terminal is included to connect smartphones and other electronic devices. MHL allows you to display 1080p video and other media on your HDTV with 7.1 channels of surround sound
Quick and Easy Remote App Control - Onyko's remote apps for iPhone® and Android devices offer a convenient way to control your entertainment from anywhere within wireless range. The app offers a clear interface for managing content, settings, and playback across multiple zones
Hassle-Free Video Switching - Switching between games, movies, and cable TV should be easy. InstaPrevue™ technology names your HDMI devices and displays video thumbnails of available content. Now you can switch sources without having to remember what device is connected where
6 HDMI® inputs and 2 HDMI® outputs provide support for 3D Video and Audio Return Channel - 6 HDMI Inputs Let You Watch Pretty Much Anything Qdeo™ technology from Marvell upscales standard video to silky-smooth 1080p (for regular HDTVs) and to an incredible 4k on compatible displays. Also, this receiver will passthrough 4K resolution from source devices (like a Bluray player) to an appropriate display. This receiver's six HDMI inputs take surround sound formats from Dolby® TrueHD and DTS-HD Master Audio™, and supports 3D video. The two outputs have Audio Return Channel, so you can boost your TV's sound through your receiver
Overlaid Menus for Quick Adjustments - Touch the Quick Set-Up button on your remote to overlay menus in-program. You can now access useful settings without interruption to your viewing. The Home Menu, meanwhile, offers simple icons for choosing a media source, and more detailed system adjustment
WRAT: Wide Range Amplifier Technology: The Foundation of Onkyo Sound - From the quietest passages to booming explosions, Onkyo's exclusive technology enhances the audio of your movies, music and games like never before
Powered Zone 2 And Zone 2 Line-Out - You can play music in the main room and Zone 2, or play a different audio source in either room. Controllable with Onkyo Remote Apps for iPhone and Android phone, and Kindle Fire
Audyssey MultEQ® - MultEQ equalizes your system to suit the unique shape of your room. Measuring six listening positions, MultEQ applies filters to satellites and subwoofers to create a perfectly balanced soundstage
Audyssey Dynamic EQ® maintains a consistent bass response, tonal balance, and surround-sound effect at different volume levels, so you can enjoy the natural dynamics of your content regardless of the volume
Audyssey Dynamic Volume® automatically compensates for volume fluctuations in different audio content — for example, during commercial breaks — while optimizing the dynamic range
Hybrid Standby Power-Saving Mode - HDMI passthrough and network connectivity are maintained while the receiver is powered down. This facilitates use of your TV and other devices without turning on the receiver
Phase-Matching Bass Enhancement - Onkyo's PM Bass optimizes low frequencies while preserving mid-range clarity. It counters phase shifting (which can affect sound quality) by synchronizing frequency timing. The result is deep, well-defined bass that won't overwhelm vocals or strings
Dolby® Pro Logic® IIz for Expanded Surround Sound - Dolby Pro Logic IIz adds a vertical dimension to the soundstage, expanding the surround sound from 5.1-channel or stereo sources to 7.1 channels. Front Height channels carry ambient, non-directional audio to immerse you further into movies and games
High Quality Digital-to-Analog Converter - This receiver employs an eight-channel 192 kHz/24-bit TI Burr-Brown DAC for excellent dynamic performance and improved jitter tolerance, which translates into clearer, more expressive sound from your speakers
Multi-Zone Audio and Bi-Amping Capability - This receiver features Powered Zone 2 banana-plug speaker terminals and Zone 2 line-outs. This means you can power audio in another room equipped with stereo speakers, using the remote app to manage playback across both zones. You can also assign surround channels to bi-amp your front monitors