97003
Nikon 24.2 Megapixel Digital SLR Camera with 18-55mm Zoom Lens (Model: D3200KIT)

Arrives in 5 days

Same Day
Not available in your area
Enter Your ZIP Code (required)
Availability may vary by location
SRP $699.99
Savings $200.00
Your Price $499.99
CatalogEntryPriceDisplay.jspf 504
modelNum:
partNumber:
DisplayModelOrDP: M

Please enter your ZIP Code and select a fulfillment type before adding to cart
6 Months Special Financing

On purchase of D3200KIT with your h.h. gregg credit card made between 09/29/13 to 03/31/14. Subject to credit approval. Minimum monthly payments required. Click here for details.
Buy these together:
Nikon 24.2 Megapixel Digital SLR Camera with 2 Lenses, Camera Case and 8GB SD Card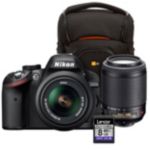 You're ready to start taking great photos with this Nikon Camera bundle. Take your photos and videos to the next level with D3200KIT that includes 24.2 Megapixel Digital SLR Camera with 18-55mm Zoom Lens. Also, 3.6x Zoom 55-200mm f/4-5.6G IF-ED Lens 2166 is perfect for portraits and action. Case Logic case SLRC201 is waterproof. Plus, you get 8GB SD Card LSD8GBBSCL10.
SRP $1,014.96
Savings $5.00
Your Price $1,009.96
CatalogEntryPriceDisplay.jspf 504
modelNum:
partNumber:
DisplayModelOrDP: M

Product Features
24.2 effective megapixels. Nikon-developed DX-format CMOS image sensor
Comes equipped with the AF-S DX Zoom-NIKKOR 18-55mm, a versatile, high performance VR image stabilized lens
Compact and light body with reliable holding that enables sharp pictures with minimal camera shake
Image-processing engine EXPEED 3 – the same as that used by the Nikon D4 FX-format flagship camera – achieves high speed, multiple functions and high performance
Sharp pictures can be taken with minimal blur even for dark indoor or sports scenes. Wide ISO sensitivity range at standard setting is from ISO 100 to 6400. Can be set to ISO 12800 equivalent
Scene Recognition System enables beautiful pictures with sharp focus and appropriate brightness and color by recognizing the subject and scene conditions prior to capture
Easier-to-use Guide Mode that shows you how to take great pictures
11-point Autofocusing System is as fast as it is precise. Check your focus points, track your subject or shoot carefree right from the viewfinder
High-speed continuous shooting at approx. 4 fps to capture decisive moments reliably
Large and easy-to-view, high-definition, approximate 921k-dot, 3", wide-viewing-angle LCD monitor
The variety of Scene Modes ensures the most appropriate camera settings according to shooting situations, such as Child and Landscapes
Scene Auto Selector selects the optimal scene mode automatically according to the shooting scene or subject
WU-1a Wireless Mobile Adapter (optional) transmits taken images to smart devices wirelessly
Variety of in-camera image-editing functions such as Selective color, Miniature effect, and Trim