172169
Nikon 24.1 Megapixel D-SLR Camera with 18-55mm VR Lens (Model: D5200KIT)

Arrives in 5 days

Same Day
Not available in your area
Enter Your ZIP Code (required)
Availability may vary by location
SRP $899.99
Savings $100.00
Your Price $799.99
Please enter your ZIP Code and select a fulfillment type before adding to cart
12 Months Special Financing Available
On purchase of D5200KIT with your h.h. gregg credit card made between 05/19/13 to 06/01/13. Subject to credit approval. Minimum monthly payments required. Click here for details.
Buy these together:
Nikon 24.1 Megapixel D-SLR Camera with 18-55mm VR Lens, 55-200mm VR Lens, Starter Kit and 8GB SD Card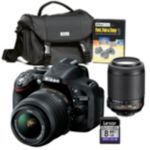 If you are searching for a new, unique angle on your creative potential, the Nikon D5200KIT is the ideal companion for the next phase of your journey. Designed to inspire, the D5200 lets you shoot pictures and video from more perspectives using a vari-angle LCD monitor. Plus enjoy the special value that comes with this bundled package that add a 55-200mm VR lens 2166, starter kit 9793 and 8GB SD Card LSD8GBBS200X
.
SRP $1,239.96
Savings $57.55
Your Price $1,182.41
Product Features
Within its remarkably small and lightweight body, the D5200 is packed with high-performance imaging technology. Expect incredibly sharp pictures and video from a cutting-edge image sensor with a resolution of 24.1 effective megapixels.
Newly developed Nikon DX-format CMOS sensor with 24.1 effective megapixels - The high pixel count of 24.1 effective megapixels delivers high-definition images with fine details of the subject enabling expression with sharpness and depth. The image maintains high resolution even if it is trimmed and printed in large size after shooting.
High-density 39-point AF system features superior subject-tracking and subject-identification performance in combination with Scene Recognition System - The D5200 employs a Multi-CAM 4800DX autofocus sensor module. 39 focus points track even a fast-moving subject precisely. Furthermore, performance of auto-area AF and 3D-tracking is improved in combination with the Scene Recognition System that utilizes a 2016-pixel RGB sensor
Vari-angle LCD monitor that offers flexible shooting - Incorporates a vari-angle LCD monitor that enables you to set the angle you want. Compared with viewfinder shooting, you can shoot in a variety of angles from high or low with a stable posture. This expands flexibility of composition and further enhances your creativity
Special Effects that enable you to enjoy various creative expressions in still images and movies by setting prior to shoot
High-speed, multifunctional and high-performance image-processing engine "EXPEED 3" - Processes multiple tasks in parallel at high speed while maintaining high precision to bring out the full potential of the 24.1 megapixels for both still images and movies. The image processing of the EXPEED 3 is excellent at color reproduction, gradation processing and image quality at high sensitivity
Wide sensitivity range of ISO 100 to 6400 (expandable to ISO 25600 equivalent) that delivers sharp images with reduced image blur even in low-lit situations or sports scenes
High-speed continuous shooting at approximately 5 fps that surely captures decisive moments
Easy-to-see, 3-inch approx. 921k-dot (VGA), 170° viewing angle, movable vari-angle LCD monitor that realizes comfortable live view shooting
Stereo microphone employed , Full HD (1920 x 1080) D-Movie with selectable 60i/50i frame rate allows you to record movie with sharpness, clarity and fluid motion easily
Easy-to-understand and easy-to-operate, new GUI that effectively utilizes graphic processing
Energy-saving design that achieves approx. 500 shots per charge (based on CIPA standards)
16 options of Scene Modes that enable selection of the most appropriate mode according to the shooting scene or subject
Variety of image-editing functions that allow you to retouch images easily after shooting, such as NEF (RAW) processing, Trim and Fisheye
Accurate results even in difficult light: 2016-pixel RGB sensor and Scene Recognition System - Designed to help you capture images as your eyes see them. Thanks to Nikon's exclusive Scene Recognition System and an incredibly accurate 2016-pixel RGB sensor, the camera analyzes the color and brightness information in each scene at a high level of precision
Amazing detail in both highlights and shadows: HDR (High Dynamic Range) and Active D-Lighting - Capture scenes with a wide dynamic range, but when the contrast between the scene's brightest and darkest areas is extremely high, the camera provides two solutions: HDR and Active D-Lighting. With adjustable intensity levels, both give you beautiful pictures that capture an extended range of light and shadow
Auto focus for video shooting -Full-time-servo AF (AF-F) and subject-tracking AF keep your subjects sharp, even when they are in motion. Face-priority AF can instantly detect up to a maximum of 35 faces in a scene