12007
Nikon 16.2 Megapixel D-SLR Camera with 18-55mm Lens (Model: D5100KIT)

Arrives in 5 days

Same Day
Not available in your area
Enter Your ZIP Code (required)
Availability may vary by location
Please enter your ZIP Code and select a fulfillment type before adding to cart
12 Months Special Financing Available
On purchase of D5100KIT with your h.h. gregg credit card made between 05/19/13 to 06/01/13. Subject to credit approval. Minimum monthly payments required. Click here for details.
Buy these together:
Nikon D-SLR Camera with 2 Lenses, Starter Kit and 8GB SD Card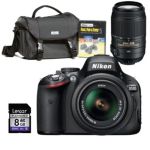 The Nikon D5100 and its included AF-S 18-55mm VR lens D5100KIT offer a host of new photographic and video tools. This bundle includes Telephoto Zoom Lens 2197, starter kit 9320A003 and 8GB SD Card LSD8GBBS200X.
SRP $1,189.96
Savings $73.34
Your Price $1,116.62
Product Features
16.2MP DX-format CMOS sensor and EXPEED 2 image processing engine delivers outstanding image quality
CMOS sensor offers a remarkably wide ISO range (ISO 100 to 6400) with reduced noise which enables you to shoot at faster shutter speeds and capture scenes and subjects with less blur
3", super sharp, 921,000-dot Vari-angle LCD monitor allows for versatile high quality viewing and playback. Explore every angle, with overhead shots, waist level candids, ground level and fun self portraits; you will never miss a shot
High-speed continuous shooting at approx. 4 frames per second so you'll never miss a moment
Selective Color isolates any color within the scene
Night Vision - Capture details in places too dark for your own eyes
High Key - Create bright, glowing images filled with atmosphere
Low Key emphasizes the mood of a scene
Miniature Effect makes a scene look like a miniature scale model
Color Sketch creates color outlines of the subject that are played back as a series of stills in a slide show
Full HD capability for exceptionally high-quality movie performance. Full-time autofocus takes the guess work out of tracking your subjects while in motion. Effortless moviemaking with the Live View and Movie start button
HDR (High Dynamic Range) - Combines two exposures to create an image revealing an extremely wide dynamic range, but with less noise and richer color gradation than ever before
Large optical viewfinder provides accurate and realistic composition so you'll get a precise view and focus in every situation
11-point AF system provides flexibility to compose the shot you want ensuring your subject is captured sharply wherever it's located in the frame
Working together with the Scene Recognition System, the camera can keep your main subject in focus even if the composition changes using Nikon's exclusive 3D-tracking
Built-in pop-up flash automatically brightens your subject even when shooting outdoors in bright sunlight. Expect natural looking results thanks to intelligent flash control
TECHNICAL SPECIFICATIONS
Lens mount - Nikon F bayonet mount
Picture angle - Effective picture angle 1.5x (Approx.) conversion factor (Nikon DX format)
Effective Pixels - 16.2 million
Sensor Size - 23.6 x 15.6mm
Image Sensor Format - DX
Image Sensor Type - CMOS
Total Pixels - 16.9 million
Dust-reduction system - Image sensor cleaning
Image Area (pixels) - DX-format, (L) 4928 x 3264, (M) 3696 x 2448, (S) 2464 x 1632
File Format - Compressed 14-bit NEF (RAW), JPEG (Baseline Compliant), MOV
Picture Control - Landscape, Monochrome, Neutral, Portrait, Standard, User-customizable setting, Vivid
Storage Media - SD, SDHC, SDXC
Secure Digital (SD) Card Slot
File System - Compliant with DCF (Design Rule for Camera File System) 2.0, DPOF (Digital Print Order Format), EXIF 2.3 (Exchangeable Image File Format for Digital Still Cameras
Viewfinder - Eye-level pentamirror single-lens reflex viewfinder
Viewfinder Frame Coverage - 95 percent approximate
Viewfinder Magnification - 0.78x approximate
17.9mm viewfinder eyepoint
Viewfinder Diopter Adjustment -1.7 to +0.7 m¯
Focusing Screen - Type B BriteView Clear Matte Mark VII screen
Reflex Mirror - Quick-return type
Lens Aperture - Instant-return type
Shutter type - Electronically controlled vertical-travel focal-plane
Shutter speed - 1/4000 to 30 sec. in steps of 1/3 EV
Fastest shutter speed - 1/4000 sec. in steps of 1/3, 1/2, 1 EV
Slowest shutter speed - 30 sec. in steps of 1/3, 1/2, 1 EV
Flash Sync Speed - Up to 1/200 seconds
Bulb shutter setting
Shutter Release Modes - Continuous, Delayed remote, Quick Response Remote Mode, Quiet shutter-release, Self-timer mode, Single-frame [S] mode
Top Continuous Shooting Speed at full resolution - 4 frames per second
Self-timer - 2, 5, 10, 20 sec. Timer duration electronically controlled
Exposure Metering System - TTL exposure metering using 420-pixel RGB sensor
Metering Method - Matrix: 3D color matrix metering II (type G and D lenses); color matrix metering II (other CPU lenses)
Metering Range - 0 to 20 EV (3D color matrix or center-weighted metering), 2 to 20 EV (spot metering)
Exposure Meter Coupling - CPU
Exposure Modes - Aperture-Priority (A), Manual (M), Auto, Auto (flash off), Advanced Scene Modes, Programmed Auto with flexible Program (P), Shutter-Priority Auto (S), Special Effects mode
Advanced Scene Modes - Autumn Colors, Beach/Snow, Blossom, Candlelight, Child, Close-up, Dusk/Dawn, Food, Landscape, Night Landscape, Night Portrait, Party/Indoor, Pet Portrait, Portrait, Sports, Sunset
Exposure Compensation ±5 EV in increments of 1/3 or 1/2 EV
Exposure Bracketing - 3 frames ±2 EV in 1/3 or 1/2 steps
Exposure Lock
Mirror Lock Up (for image sensor cleaning)
ISO Sensitivity - ISO 100 - 6400; Hi-0.3, Hi-0.7, Hi-1 (ISO 12,800); Hi-2 (ISO 25,600)
Lowest Standard ISO Sensitivity - 100
Highest Standard ISO Sensitivity - 6400
Highest Expanded ISO Sensitivity - HI-2 (ISO 25,600 equivalent)
Long Exposure Noise Reduction
High ISO Noise Reduction - Low, Normal, High, Off
Active D-Lighting
D-Lighting Bracketing - 2 exposures
Single-point AF Mode
Dynamic AF Mode - Number of AF points: 11 (3D-tracking)
Auto-area AF Mode
Autofocus System - Nikon Multi-CAM 1000 autofocus sensor module with TTL phase detection
Lens Servo - utofocus (AF): Single-servo AF (AF-S); continuous-servo AF (AF-C); auto AF-S/AF-C selection (AF-A); predictive focus tracking activated automatically according to subject status
Focus Point - Can be selected from 11 focus points
Focus Lock - Focus can be locked by pressing shutter-release button halfway (single-servo AF)
Focus Modes - Auto AF-S/AF-C selection (AF-A), Continuous-servo (AF-C), Face-Priority AF available in Live View and D-Movie only, Full-time Servo (AF-A) available in Live View only, Manual focus (M): Electronic rangefinder, Single-servo AF (AF-S)
Maximum Autofocus Areas/Points - 11
Autofocus Sensitivity -1 to +19 EV (ISO 100, 20°C/68°F)
Built-in Flash
Guide Number - Approximate 39/12, 43/13 with manual flash (ft/m), ISO 100, 68ºF/20ºC)
Flash Sync Modes - Front-curtain sync (normal), Slow sync, Rear-curtain sync, Red-eye reduction, Red-eye reduction with slow sync
Flash Control - Auto aperture: Available with SB-900/SB-800 and CPU lens; Distance priority manual: Available with SB-900, SB-800 and SB-700; i-TTL Balanced fill-flash, standard i-TTL flash for digital SLR
Non-TTL auto: Supported flash units include SB-900, SB-800, SB-80DX, SB-28DX, SB-28, SB-27, and SB-22S
Flash Compensation -3 to +1 EV in increments of 1/3 or 1/2 EV
Accessory Shoe
Nikon Creative Lighting System (CLS) - CLS Supported
White Balance - Auto, Cloudy, Direct Sunlight, Flash, Incandescent, Fluorescent (7 types), Shade, Preset manual
White Balance Bracketing - 3 exposures
Live View Shooting
Live View Lens servo - Autofocus (AF): Single-servo AF (AF-S); full-time-servo AF (AF-F)
Live View AF-area mode - Face-priority AF, Wide-area AF, Normal-area AF, Subject-tracking AF
Live View Scene Auto Selector - Auto mode
Movie - HD 1,920x1,080 / 30 fps; HD 1,920×1,080 / 24 fps; HD 1,280×720 / 30 fps; HD 1,280×720 / 24 fps; VGA 640×424 / 30 fps
Movie Metering - TTL exposure metering using main image sensor
Movie Maximum recording time - 20 minutes
Movie File Format - MOV
Movie Video Compression - H.264/MPEG-4 Advanced Video Coding
Movie Audio recording format - Linear PCM
Movie Audio - Built-in microphone, monaural, Optional external stereo mini-pin jack (3.5mm diameter)
Monitor Size - 3" diagonal
Monitor Resolution - 921,000 Dots
Monitor Type - Wide Viewing Angle, Vari-angle TFT-LCD
Monitor Angle of View - 170-degree wide-viewing angle
Monitor Adjustments - Brightness, 7 levels
Playback Functions - Auto image rotation, Full frame, Calendar, Highlight point display, Sound playback, Movie Playback, Slideshow, Histogram display, Shooting data, Thumbnail (4, 9 or 72 segments), Zoom
In-Camera Image Editing - Color Balance, Color Outline, Color Sketch, D-Lighting, Distortion Control, Edit Movie, Filter Effects, Fisheye, Image Overlay, Miniature Effect, Monochrome, Quick Retouch, Red-eye Correction, Resize, Side-by-Side Comparison
Image Comment
Interface - Audio/Video out, HDMI output: Type C mini-pin HDMI connector, Hi-speed USB, NTSC, Stereo Microphone input
WiFi Functionality - Eye-Fi Compatible
GP-1 GPS unit
Total custom settings - 20
My Menu with customization
Recent Settings
Supported Languages - Arabic, Chinese (Simplified and Traditional), Danish, Dutch, English, French, Spanish, Finnish, Italian, German, Indonesian, Japanese, Korean, Polish, Portuguese, Russian, Swedish, Czech, Norweigan, Thai, Turkish
Date, Time and Daylight Savings Time Settings
World Time Setting
Rechargeable Li-ion Battery
Battery Life (shots per charge) - 660 shots (CIPA)
AC Adapter - EH-5a AC Adapter
Battery Charger - MH-24 Quick Charger
Tripod Socket - 1/4 inch (ISO 1222)
Inside Package
Camera, 18-55mm Zoom, Rechargeable Li-ion Battery, QuickCharger, Eyepiece Cap, Rubber Eyecup, USB Cable, Audio Video Cable, Camera Strap, Body Cap, Accessory Shoe Cover, ViewNX 2 CD-ROM