11217
Nikon 14.2 Megapixel Digital SLR Camera with 18-55mm Zoom Lens (Model: D3100KIT)

Arrives in 5 days

Same Day
Not available in your area
Enter Your ZIP Code (required)
Availability may vary by location
SRP $499.99
Savings $70.00
Your Price $429.99
CatalogEntryPriceDisplay.jspf 491
modelNum:
partNumber:
DisplayModelOrDP: M
Please enter your ZIP Code and select a fulfillment type before adding to cart
6 Months Special Financing Available

On purchase of D3100KIT with your h.h. gregg credit card made between 09/29/13 to 03/31/14. Subject to credit approval. Minimum monthly payments required. Click here for details.
Buy these together:
Nikon 14.2 Megapixel Digital SLR Camera with 18-55mm Zoom Lens, 55-200mm Zoom Lens, Case and 8GB SD Card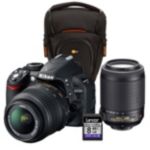 Nikon's affordable, compact and lightweight D3100 digital SLR D3100KIT delivers beautiful pictures thanks to its high-resolution 14 megapixel CMOS DX sensor, high-quality 3x Nikkor 18-55mm VR image stabilization zoom lens and the learn-as-you-grow Guide Mode. And there's more! It's bundled with Zoom lens 2166, Case Logic Case SLRC201 and 8GB SD Card LSD8GBBSCL10.
SRP $814.96
Savings $5.00
Your Price $809.96
CatalogEntryPriceDisplay.jspf 491
modelNum:
partNumber:
DisplayModelOrDP: M
Product Features
14.2 Megapixel DX-format CMOS Image Sensor delivers beautiful photographs and prints well beyond 20 x 30 inches
Includes 3x 18-55mm Zoom-NIKKOR VR Image Stabilization Lens with NIKKOR optical quality and fast, accurate autofocus - vivid color, striking contrast and crisp detail and VR image stabilization to ensure the sharpest hand-held pictures/movies
Full 1080p HD Cinematic Video with full-time autofocus and sound lets you record cinematic-quality movies in Full 1080p HD format (1920 x 1080 pixels)
Compact and Lightweight Design - Beautifully styled - Ready to go wherever life takes you
Easy-To-Use—Featuring Nikon's Guide Mode with intuitive controls and on-board assistance helping you take better pictures every step of the way
Split-second Shutter Response eliminates the frustration of shutter delay, capturing moments that other cameras miss
Fast 11-point Autofocus System delivers razor-sharp pictures
ISO sensitivity 100-3200, expandable to ISO 12800 equivalent delivers exceptional results, even in the most challenging low-light situations
3" monitor with One-Touch Live View shooting and movie capture
Scene Auto Selector lets the D3100 decide the best mode to match the shooting situation when using Live View
Built-in HDMI port lets you connect directly to your HDTV using an optional HDMI cable
EXPEED 2 Nikon's new image processing engine assures breathtakingly rich image quality, managing color, contrast, exposure, noise and speed
Scene Recognition System in Live View automatically optimizes exposure, autofocus, and white balance, allowing you to obtain beautiful photos without the hassle of making complicated camera adjustments yourself
Control Image and Movie Playback with most HDTV remote controls
6 Automatic Exposure Scene Modes Just set the Mode dial to Portrait, Landscape, Child, Sports, Close-up or Night Portrait for stunning results in otherwise challenging conditions
Active D-Lighting restores picture-enhancing detail in shadows and highlights
Picture Control lets you choose from Standard, Neutral, Vivid, Monochrome, Portrait, or Landscape to apply a personal look and feel to your pictures
Automatic Image Sensor Cleaning uses an ultrasonic process and exclusive Airflow Control combats the accumulation of dust in front of the image sensor, safeguarding image quality shot after shot
Built-in pop-up flash for those times when there isn't enough light
In-camera Image Editing allows creative freedom, without the need for a computer, offering easy editing functions
Technical information
Type - Single-lens reflex digital camera
Lens mount - Nikon F bayonet mount
Picture angle - Effective picture angle 1.5x (approximate) conversion factor (Nikon DX format)
Effective pixels - 14.2 million
Sensor size - 23.1 x 15.4mm
Image sensor format - DX
Image sensor type - CMOS
Total pixels - 14.8 million
Dust-reduction sytem - Image sensor cleaning, Airflow control system, Image dust off reference data (optional Capture NX 2 software required)
Image area (pixels) - DX-format, (L) 4608 x 3072, (M) 3456 x 2304, (S) 2304 x 1536
File format - NEF (RAW), JPEG: JPEG-Baseline compliant with fine (approximate 1:4), normal (approximate 1:8), or basic (approximate 1:16) compression; NEF (RAW) + JPEG: Single photograph recorded in both NEF (RAW) and JPEG formats
Picture control - Standard, Neutral, Vivid, Monochrome, Portrait, Landscape, Selected (picture control can be modified)
Storage media - SD, SDHC, SDXC memory cards
File system - Compliant with DCF (Design Rule for Camera File System) 2.0, DPOF (Digital Print Order Format), EXIF 2.21 (Exchangeable Image File Format for Digital Still Camera), PictBridge
Viewfinder - Eye-level pentamirror single-lens reflex viewfinder
Viewfinder frame coverage - 95 percent horizontal, 95 percent vertical approximate
Viewfinder magnification - 0.80x (50mm f/1.4 lens at infinitiy; -1.0m) approximate
Viewfinder eyepoint - 18mm (-1.0m)
Viewfinder diopter adjustment -1.7 to +0.5m
Focusing screen - Type B BriteView Clear Matte Mark VII screen
Reflex mirror - Quick-return type
Lens aperture - Instant-return type electronically controlled
Shutter type - Electronically controlled vertical-travel focal-plane
Shutter speed - 1/4000 to 30 seconds in steps of 1/3 EV bulb
Flash sync speed - Up to 1/200 seconds, Synchronizes with shutter at 1/200s or slower
Shutter release modes - Single-frame (S) mode, Continuous, Self-timer mode, Quiet Shutter release
Frame Advance Rate - Up to 3fps (manual focus, mode M or S, shutter speed 1/250 seconds or faster, and other settings at default values)
Self-timer - 2 seconds, 10 seconds timer duration electronically controlled
Exposure metering system - TTL exposure metering using 420-pixel RGB sensor
Metering method - Matrix: 3D color matrix metering II (type G and D lenses); color matrix metering II (other CPU lenses). Center weighted: Weight of 75 percent given to 8-mm circle in center of frame
Spot: Meters 3.5-mm circle (about 2.5 percent frame) centered on selected focus point
Metering range - 0 to 20 EV (Matrix or center-weighted metering at ISO 100 equivalent, f/1.4 lens, at 20ºC/68ºF), 2 to 20 EV (Spot metering at ISO 100 equivalent, f/1.4 lens at 20ºC/68ºF)
Exposure meter coupling - CPU
Exposure modes - Auto modes (auto, auto with flash off), Scene modes, Programmed auto with flexible Program (P), Shutter-Priority Auto (S), Aperture-Priority Auto (A), Manual (M)
Scene modes - Portrait, Landscape, Child, Sports, Close-up, Night Portrait
Exposure compensation ±5 EV in increments of 1/3EV
Exposure lock - Luminosity locked at detected value with AE-L/AF-L button
ISO sensitivity - ISO 100 to 3200 in steps of 1 EV, Can also be set to approximately 1 EV about ISO 3200 (ISO 6400 equivalent) or to approximately 2 EV about ISO 3200 (ISO 12800 equivalent), Auto ISO sensitivity control available
Active D-lighting - On, Off
Auto-area AF mode - Single area AF, Dynamic-area, Auto-area AF, 3D-tracking (11 points)
Autofocus system - Nikon Multi-CAM 1000 autofocus sensor module with TTL phase detection
Detection range -1 to 19 EV (ISO 100, 68ºF/20ºC)
Lens servo - Autofocus (AF): Single-servo AF (AF-S); continuous-servo AF (AF-C); auto AF-S/AF-C selection (AF-A); predictive focus tracking activated automatically according to subject status
Focus point - Can be selected from 11 focus points
Focus lock - Focus can be locked by pressing shutter-release button halfway (single-servo AF). Focus can be locked by pressing AE-L/AF-L button
Built-in flash - Auto, Portrait, Child, Close-up, Night portrait, Auto flash with auto pop-up (P), (S), (A), (M), Manual pop-up with button release
Guide number - 39/12, 43/13 with manual flash (ft/m, ISO 100, 68ºF/20ºC) approximate
Flash mode - Auto, Auto with red-eye reduction, Fill-flash, Auto slow sync, Auto slow sync with red-eye correction, Rear curtain with slow sync
Flash compensation -3 to +1 EV in increments of 1/3 EV
Flash-ready indicator - Lights when built-in flash or optional flash unit such as SB-900, SB-600, SB-400, SB-80DX, SB-28DX or SB-50DX is fully charged. Blinks for 3 seconds after flash is fired at full output
Nikon Creative Light System (CLS) - Advanced Wireless Lighting supported with SB-900, BS-800, SU-800 as commander; Flash Color Information Communications supported with built-in flash and all CLS-compatible flash units
White Balance - Auto, Incandescent, Fluorescent (7 types), Direct Sunlight, Flash, Cloudy, Shade, Preset Manual, All preset except manual with fine tuning
Live view shooting
Live view lens servo - Autofocus (AF): Single-servo AF (AF-S); full-time servo AF (AF-F), Manual focus
Live View AF-area mode - Face-priority AF, Wide-area AF, Normal-area AF, Subject-tracking AF
Live View autofocus - Contrast-detect AF anywhere in frame (camera selects focus point automatically when face-priority AF or subject-tracking AF is selected)
Live view scene auto selector - Auto mode, Auto (flash off) mode
Movie metering - TTL exposure metering using main image sensor
Movie metering method - Matrix
Movie frame size (pixels) and frame rate - 1920 x 1080 (24p): 24 fps (23.976 fps). 1280 x 720 (30p): 30 fps (29.97 fps). 1280 x 720 (25p): 25 fps. 1280 x 720 (24p): 24 fps (23.976 fps). 640 x 424 (24p): 24 fps (23.976 fps)
Movie maximum recording time - 10 minutes
Movie file format - MOV
Movie audio recording format - Linear PCM
Movie audio recording device - Built-in monaural microphone
Monitor size - 3 inches
Monitor resolution - 230,000 dots
Monitor type - TFT-LCD with brightness adjustment
Playback functions - Full frame, Calendar, Thumbnail (4, 9 or 72 images), Zoom, Movie Playback, Slideshow, Histogram display, Highlights, Auto image rotation, Image comment (up to 36 characters), Highlight point display
Interface - High speed USB, Video output: NTSC, PAL. Accessory terminal
Supported languages - Chinese (simplified and traditional), Dutch, English, Spanish, Finnish, French, Italian, German, Japanese, Korean, Polish, Portuguese, Russian, Swedish, Czech, Norwegian, Turkish
EN-EL14 rechargeable Li-ion battery
Inside Package
Camera, Lens, battery, battery charger, rubber eyecap, camera strap, accessory shoe cover, body cap, ViewNX 2 CD-ROM