LG 4.7 Cu. Ft. HE Top-Load Washer and 7.3 Cu. Ft. Electric Dryer
(Model: WT4970CWPR)

Arrives in 5 days

Same Day
Not available in your area
Enter Your ZIP Code (required)
Availability may vary by location
Please enter your ZIP Code and select a fulfillment type before adding to cart
Kit includes: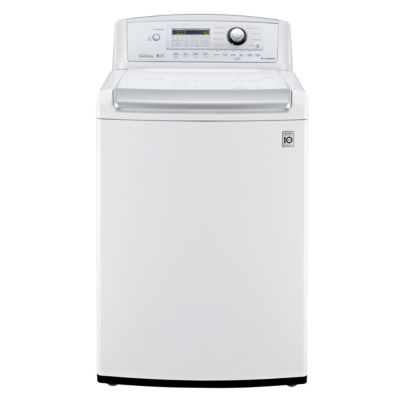 LG 4.7 Cu. Ft. HE Top-Load Washer (Model: WT4970CW)
SRP $799.99
Savings $200.00
Your Price $599.99
12 Months Special Financing

On purchase of WT4970CW with your h.h. gregg credit card made between 09/07/14 to 12/31/14. Subject to credit approval. Minimum monthly payments required. Click here for details.
Product Features
The oversized 4.7 cubic feet capacity tub makes room for piles of laundry. And LoDecibel™ Quiet Operation "tip-toes" through every load...as all those stains meet their match!
Ultra-large 4.7 cu. ft. capacity - Towers of towels, piles of sweatshirts and a mountain of jeans? Go for it. The ultra large tub lets you do more laundry in fewer loads. That's time saved and sore backs avoided
Direct Drive Motor with 10-year limited warranty - When you buy a washer, you want something reliable that you can count on. Because the Direct Drive Motor uses fewer moving parts and operates more efficiently, LG confidently backs the motor with a 10-year limited warranty
ColdWash™ technology - Using the cold cycle on your washer doesn't have to mean compromising, ColdWash™ technology uses cold water and enhanced washing motions to penetrate deep into fabrics, giving you cold water savings with warm water performance
NeveRust™ stainless steel drum - Just because you want your dryer to last for years doesn't mean you want it to look its age. NeveRust™ Stainless Steel Drum is built to keep drying your clothes more efficiently without showing wear and tear
8 washing cycles - Tub Clean, BrightWhites™, Bulky/Bedding, Heavy Duty, Permanent Press/Casual, Cotton/Normal, Speed Wash, Wool
5 temperature levels - Hot, Warm, Eco Warm, Cold, Tap Cold (All cold rinses)
Intelligent electronic controls with LED display and Dial-A-Cycle™ - Take the guesswork out of doing the laundry. With features like our LED Display indicators and intuitive Dial-A-Cycle™ controls, you'll find the right setting every time
SlamProof lid provides safety and convenience. Smart hinge prevents your hand from being injured by the heavy lid
WaveForce™ technology uses a rapid drum motion and waterfall-like jets to penetrate deep into fabrics and deliver and outstanding wash performance
SmartRinse™ jet spray system - Clean water is sprayed from inlet valve while spinning the tub. Water penetrates deep into clothes. Less water usage since the tub is not being filled with water, and less clothes damage due to no agitation
TrueBalance™ anti-vibration system - You shouldn't know your washer is on from the next room. The LG TrueBalance™ anti-vibration system is designed to minimize washer vibration for quiet performance in any room of the house, even on 2nd floor
LoDecibel™ quiet operation - LG washers are some of the quietest in the industry. The direct drive motor reduces unnecessary noise and vibration
SenseClean™ - The water level and wash time are set automatically based on the weight and size of each load for optimal washing care
Delay wash (up to 19 hours)
12 options - Rinse+Spin, Spin only, StainCare™ Soak, ColdWash™, Extra Rinse, Fabric Softener, Delay Wash, Child Lock, Custom Program, Signal on/off, Water Plus
5 spin speeds - Extra high (1100 maximum RPM), High, Medium, Low, No Spin
2 + 1-tray dispenser - Main wash, Fabric Softener + Liquid Bleach
Energy Star® qualified model
View Energy Guide