264560
JBL Charge Portable Wireless Bluetooth Speaker (Model: CHARGEGY)

Arrives in 5 days

Same Day
Not available in your area
Enter Your ZIP Code (required)
Availability may vary by location
Please enter your ZIP Code and select a fulfillment type before adding to cart
Buy these together:
Sony Bluetooth Wireless Speaker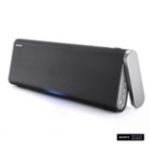 Turn up the fun with powerful sound and the simplest streaming solution available. What makes it so easy? NFC technology lets you pair your compatible device without a hassle — just tap and enjoy. Plus, this attractive, 20-watt speaker doubles as a speakerphone for use with Bluetooth® smartphones.




SRP $199.99
Savings $50.00
Your Price $149.99
CatalogEntryPriceDisplay.jspf 504
modelNum:
partNumber:
DisplayModelOrDP: M

Product Features
The JBL® Charge delivers unsurpassed portable audio performance from your mobile devices and tablets. It provides more than 12 hours of playback time from its built-in, high-capacity, 6000mAh Li-ion rechargeable battery, and it can even charge your other mobile devices on the go via its built-in USB port. With two 1-5/8-inch (41-millimeter) full-range drivers and a built-in bass port, it produces full-range JBL sound with exceptional bass. It also wirelessly streams audio from any Bluetooth®-equipped smartphone or tablet. The JBL Charge wireless speaker is a portable audio powerhouse for any environment.
High-capacity, 6000mAh Li-ion rechargeable battery - The JBL Charge stereo speaker has a massive, built-in, 6000mAh Li-ion rechargeable battery that provides more than 12 hours of playback time on a single charge. The battery is easily recharged from the speaker's built-in USB port, which saves you battery hassles and money
Recharges your external devices - The JBL Charge speaker's high-capacity battery has so much juice that you can even use it to recharge your other portable devices from the speaker's built-in USB port while you're on the go. So you don't need to carry an extra charger to keep your devices powered up
Bluetooth technology - Streams stereo music wirelessly from any Bluetooth-equipped device. This arrangement makes JBL sound available for a wide range of portable devices, including tablets
Built-in bass port - Some portable speakers produce less-than-impressive bass. Not the JBL Charge. It has a built-in bass port and generates bass that similar portable speakers simply can't equal
Full-range JBL sound - With two 1-5/8-inch (41-millimeter) JBL drivers and a 2 x 5-watt amplifier, the JBL Charge generates room-filling audio – impressive performance for a compact speaker that goes anywhere with you
Versatile, portable design - Plays from either a vertical or horizontal position, so you can place it in a variety of locations. And it fits easily into a backpack, so you can take it from one place to the next
LED indicator - A clearly visible LED lets you know when the built-in battery needs to be recharged, as well as when the speaker is in Bluetooth listening or pairing mode
Built for durability - With the JBL Charge speaker, strength isn't limited to audio performance. From its rugged case and grille to the rubber end rings and a rubber cap for its USB port, the JBL Charge has the durability that your active lifestyle demands