264560
JBL Charge Portable Wireless Bluetooth Speaker (Model: CHARGEGY)

Arrives in 5 days

Same Day
Not available in your area
Enter Your ZIP Code (required)
Availability may vary by location
SRP $149.99
Savings $30.00
Your Price $119.99
Please enter your ZIP Code and select a fulfillment type before adding to cart
Buy these together:
Sony Bluetooth Wireless Speaker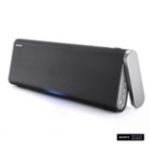 Turn up the fun with powerful sound and the simplest streaming solution available. What makes it so easy? NFC technology lets you pair your compatible device without a hassle — just tap and enjoy. Plus, this attractive, 20-watt speaker doubles as a speakerphone for use with Bluetooth® smartphones.




SRP $199.95
To see our price, add this item to your cart. You can always remove it later.
Why?