Frigidaire's Vibration Control System
Have you ever washed an unbalance load of laundry? If you have, you know that distinct and very loud thumping sound the machine makes as it clunks and rattles, inch by inch, around your laundry room. Not only is an unbalanced machine an annoyance, but it can also cause leaking and lead to damaged flooring surfaces and a damaged washing machine. With a little common sense and the help of modern technology like Frigidaire's balance control system, you can ensure your washing machine stays balanced during every load.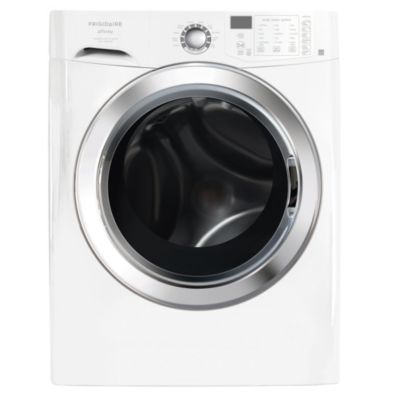 Tips for Preventing a Noisy or Unbalanced Washer

Washing machines become unbalanced when the laundry load is heavier on one side of the washing machine tub than on the other side.


Load clothing evenly in the tub without overloading.
If you are operating a top-loading washer, you should make sure that the machine's tub is level. You can usually determine if the tub is out of balance just by observing while it goes through a full cycle.
Make sure the washer is placed on a level surface. If any of the four corners of the machine are not making solid contact with the floor, vibration and unbalanced loads are highly likely to occur.


Frigidaire Affinity Washers Feature Vibration Control

Unfortunately, there are times when no amount of tinkering with an old machine can make it quieter and keep it from becoming unbalanced. The bad news is that it might be time to spend money on a new washer. The good news is that newer models operate more quietly and efficiently than older ones.

Frigidaire Affinity washing machines feature Frigidaire's vibration control system. With this innovative technology, the Affinity washing machine can keep even oversized loads balanced for smoother, quieter wash cycles. They are great for second-floor installation and installation in smaller homes where laundry room noise can interfere with your child's naptime or make family movie night a real drag.

The Frigidaire 3.81 cu. ft. Affinity Steam Washer has even more to offer than just vibration control. With 3.81 cu. ft. of space, the washer allows plenty of room for large wash loads. It comes with Ready Steam, which can make stain removal much, much easier. It also offers a 10-minute soak cycle for removing those really tough, set-in stains from your family's laundry. With a fresh water rinse option, the Affinity gets out traces of detergent as well as chemical additives that can be a problem for allergy sufferers. (By the way, the Affinity is NSF® certified for sanitization and allergens.)

With the Affinity's efficiency, you can get even more from your washer. Quick wash allows you to wash a full load in less than 25 minutes, and energy saver selections mean you can reduce energy consumption by as much as 40 percent, making the Frigidaire washer an Energy Star® qualified model.

With 10 wash cycles including heavy/bulky, allergy, whites, normal, sanitize, quick wash, rinse and spin, spin only, and delicates, you can find the perfect cycle for everything from kitchen towels to delicates.