Introducing the 16GB Sony Handcam® With Projector
The Sony 16GB Handycam® camcorder (Model HDRPJ10) truly is handy when it comes to sharing your family's memories. This camcorder has a high-contrast projector built right in, making it possible for you to create a mobile theater at the neighborhood block party, in grandma and grandpa's living room, or right in your own home.

The mobile theater projects images as large as 60" on any flat surface you can find. It also has powerful speakers so everyone can hear easily. Because it records in Full HD, you can make your own home video masterpieces.

Handycam® Features and Benefits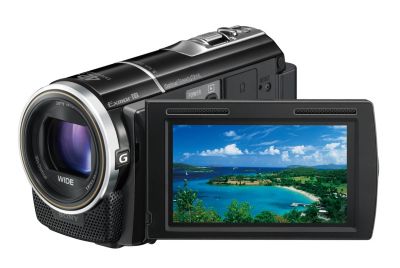 This camcorder has 1920 x 1080 full HD 60p recording capabilities and takes three megapixel still shots. It offers HDMI playback, giving you videos and images of incredible clarity. With 16GB of flash memory, you can capture and store up to 6 hours of video when you record in HD LP mode.

The biggest draw for buyers is likely to be the camcorder's built-in projection feature. The projector is high-contrast and integrated with the LCD panel, and it allows you to share videos with anyone virtually anywhere.

Recording great videos has never been easier. With the Sony Handycam® you have the power of a wide-angle G lens, 42x extended zoom and 30x optical zoom, and Steady Shot image stabilization to maintain control of the picture when you are recording.

The Tracking Focus feature tells the camcorder to focus on any object you select, even if the object leaves the image frame and returns later. Night recording is possible because of the camcorder's Exmor R CMOS sensor. The Exmor R maximizes light gathering in low lighting situations. Golf Shot is another super fun feature that will record a few seconds of action as 22 still digital images in sequence. With a feature like this you can analyze and tweak your golf swing—hence the feature's name.

You can also capture rich sound. The 5.1ch surround microphone and wind reduction features capture clearer sound and reduce wind noise during playback. The Clear Phase stereo speakers playback sounds that are clearer and more enjoyable.

The 3" LCD touchscreen display is great for viewing as you record. Plus the display will rotate up to 270 degrees as you change the orientation of the camcorder. Controlling things like focus and metering are easy to access with intuitive menu options.

Pros and Cons of the Handycam® With Projector

The Sony 16GB Handycam® camcorder has many useful and convenient features that make it a great HD camcorder. The built-in projector and stereo speakers mean you won't need to fuss with confusing cables and connectors to view your videos. The wide-angle lens and zoom aren't too shabby either.

However, consumers who have no interest in using the camcorder's projector feature may be better off investing in a different, projector-free model with more performance options. For instance, some other Sony models offer recording at 24p and 60p, making it possible for you to shoot lower resolution images but increase the amount of video you can record at one time.