What is a Smart Fridge?
Kids who grew up watching the Jetsons probably never imagined that one day the world would really be full of fantastic new gadgets and appliances. Our tablets can control our home security systems. Our smart phones can unlock our car doors. Our televisions can surf the internet. And we have robots that can vacuum our carpets for us.

Perhaps even more amazing is the introduction of a new line of smart appliances. Thanks to the wonders of technology, smart refrigerators are doing some pretty amazing things in kitchens all over the world.

Smart Fridge Technology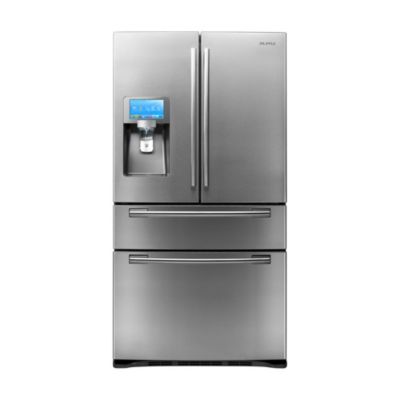 Smart fridges vary by model, but here is a list of some of the most popular and desirable features being added to refrigerators today.



LCD Display: Fridge apps are controlled on the front of the appliance using an LCD display. The Samsung 28 cu. ft. Stainless Steel 4-Door French Door refrigerator, for example, features an 8" screen that includes built-in Wi-Fi.
Energy Monitoring: Some smart fridge models are capable of monitoring their own energy consumption and making adjustments accordingly, helping owners minimize their utility bills.
Troubleshooting: Something go wrong? Smart fridges are capable of assessing and diagnosing problems on their own, making the service technician's job even easier.
Apps: The most useful features of smart fridges include the availability of a large number of apps that help simply life. With a smart fridge you can check the weather, check your Google calendar to see when Susie plays her next soccer game, get the news, listen to your favorite tunes on Pandora while you pack tomorrow's lunch, send messages on Twitter, and browse last night's birthday party photos on Picasa.
Food Management: Wondering how long those plums have been sitting around? Smart refrigerators can monitor food expiration dates and even send you messages on your phone to let you know it's time to replace that gallon of milk or stop by the grocery store for a new carton of eggs.
Recipe Suggestions: Your smart fridge can make recipe suggestions for you based on the ingredients currently stored in your refrigerator. Although at the moment this requires manually entering the items in your fridge, there has been some buzz from technology reviewers about adding a bar code scanner to make this feature a true timesaver.
Maintenance Scheduling: If you are prepping for a party, simply set your refrigerator to make more ice. You can even set your fridge to defrost at night while you sleep.


In busy homes where families struggle to stay connected, we may see smart fridges serving as the hub of family activity. With calendars, weather updates, and the latest news family members can see what's on the agenda for the weekend while grabbing a quick snack.

The question is: Will smart refrigerators eliminate the need for fridge magnets? Will parents upload digital images of their children's artwork now? Will family snapshots be relegated to the LCD display? Even if this happens, it seems safe to say that refrigerators will still be preserving our family memories for many years to come.