How to Save Money with a New Freezer


If you have seen even one episode of Extreme Couponing on TLC, you know that all extreme couponers need two things to store their stash: lots of shelf space and plenty of room in the freezer. Some couponers even have multiple freezers to store their frozen food stash. Freezing food is a great way to keep that grocery bill under control. And even though you might not have any intention of becoming the next star of Extreme Couponing, you can still save money in the long run with the purchase of a new chest freezer or upright freezer.


How to Save Money

There are a few things to keep in mind to make purchasing a new freezer a more cost-effective investment. First, make sure you purchase an energy-efficient model. That old chest freezer of Grandma's might not be everything you bargained for. Compare ratings on any freezer models you are considering by taking a look at the ENERGY STAR label, which estimates how much the freezer costs to operate per year.

Second, date and label every item you freeze so you don't end up tossing out mystery items simply because you do not remember what they are or how long they have been around. A large part of saving money on your grocery bill is directly related to reducing the amount of food you waste. Put labels on any homemade items like soups and casseroles as well as any seasonal fruits and vegetables you want to preserve.

Finally, check out the USDA's website for information on safe freezing and thawing at http://www.fsis.usda.gov. There you can learn about proper methods for freezing different foods and proper packaging for freezer storage as well as get answers to any other questions you might have about freezing food and general food safety.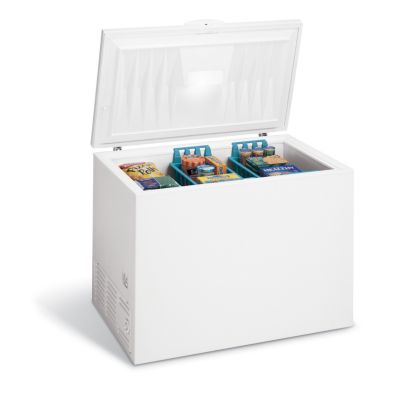 Types of Freezers and Features

Upright freezers: One of the most convenient features of an upright freezer, such as the Frigidaire 20.5 Cu. Ft. Upright Frost Free Freezer, is that it takes up a lot less floor space than a chest freezer. Many people also prefer upright freezers because they contain drawers and shelving, making it easier to organize items and find food later. However, there is a drawback to the upright freezer, as it can cost more to buy and operate.

Chest freezers: Chest features, such as the Frigidaire 14.8 Cu. Ft. Gallery Series Chest Freezer, are bulkier than upright models and take up much more floor space. They are wide-open freezers that can be difficult to access, but most have hanging baskets to offer a modicum of organization. On the plus side, chest freezers tend to be more energy efficient. They also keep food frozen longer in the case of a power outage.

With a little forethought, you can find a freezer to help you save money on your grocery bill and your utility bill, but the type of freezer you purchase will depend on your overall budget and the amount of floor space available to you in your home.