Watch Movies Under the Stars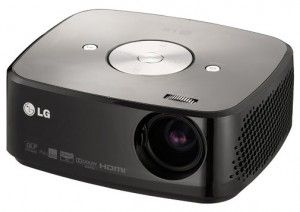 It's the dog days of summer, and it's too hot to sit comfortably in your family room. Or maybe you don't have enough space indoors to entertain the crowd that you expect. You can entertain more people more comfortably on clear summer nights by taking your home theater system outside. How? All you need is a portable projector, a speaker system and a portable screen.
Projectors


Projectors have the flexibility to make bigger (or smaller) pictures depending on the circumstance. The
LG Portable LED Projector
provides a wide color range and deeper color saturation with its LED lamp, which also eliminates motion blur and color breakup. The projector connects easily to a Blu-ray player or laptop via its HDMI, RGB, and other video and audio ports.
Some projectors available today offer the clarity and picture of a big-screen HDTV. The
Epson PowerLite Home Cinema 8350 Home Theater Projector
provides full HD 1080p and a contrast ratio of 50,000 to 1 to deliver sharp, distinctive details. With its 2,000 lumens each of color and white light outputs, the projector can display a picture that's bright enough to watch day or night. And it's compatible with standard and widescreen video formats.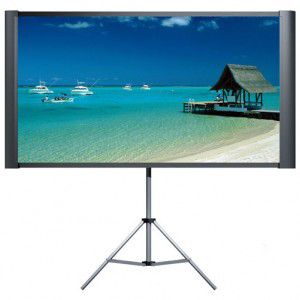 Screens


You could use a high thread-count sheet on the side of building, but you might miss some of the clarity that a bright white projector screen can provide. The 80-inch
Epson Duet™ Ultra Portable Projector Screen
supports both 4:3 standard and 16:9 widescreen formats. Its floor stand is easy to set up with its patent-pending design, or you can mount it on a wall. The screen rolls up and becomes its own carrying case.
Speakers


Regular speakers can be very sensitive to wind or moisture, but the attractive
Acoustic Research Outdoor Wall Lantern
and Wireless Speaker is designed for outdoor use and can transmit audio up to 150 feet away from the source. And its wireless design means you have fewer cables to worry about people tripping over. The speakers are compatible with most electronic devices, such as iPods, stereos, computers and Blu-ray players. Purchase a few of the speakers to provide a surround-sound experience.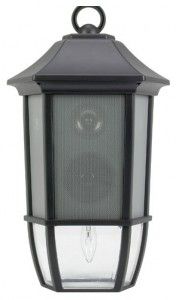 Speaking of cables and cords, you will likely need an extension cord and a surge protector. The 6-foot
RCA Surge Protector
provides 1,500 joules of protection from a power outage. Hopefully, that outage wouldn't be from a lightning storm, but if such a storm comes unexpectedly during such an event, make sure to have plastic garbage bags on hand to shield your electronics from the rain.
Whether you are hosting an extended family gathering, high school reunion or church group, you can likely accommodate more people in your backyard or a nearby park than you can in your living room. If you are able to show movies to large groups, you should be aware of copyright laws. If you show a movie to a crowd beyond your immediate family or small group of friends, it is considered a public showing, and it requires purchasing a public performance right. However, to a large group, it's legal to show movies that are in the public domain or movies that you've produced yourself.
Stay cool this summer. With an outdoor theater system, you can entertain the group with a movie while serving them watermelon or ice cream – under the stars.