TV Mount or TV Stand: Which is Better?
Shopping for the perfect flat screen TV takes some time. Not only do you need to compare prices, but you also must also compare model specifications to determine which TV fits your budget and your lifestyle. In addition to standard questions about screen size, resolution, and image processing, you should also determine whether you want to place your new TV on a stand or mount it to the wall.

So, which is option is better? Well, what works best for you will be determined by the type and size of TV you purchase and the characteristics of the room in which you plan to place the TV. That means it's impossible to say categorically that one method is better than another. However, you can weigh the advantages and disadvantages of each method and come up with the best possible solution for your needs.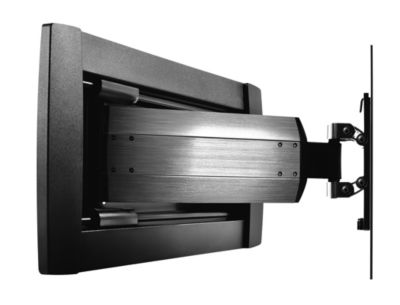 The Pros and Cons of TV Mounts


Wall-mounted TVs are great space savers. Because the TV doesn't require the use of an entertainment center or TV stand, floor space can be reclaimed for other purposes. Most mounts make it possible to hang the TV flush with the wall, an added space-saving feature.
Wall-mounted TVs are a big plus in the world of home fashion. Aesthetically speaking, TV mounts like the OmniMount LEDP75 bring a more modern and sophisticated look to any room.
Wall-mounted TVs are less likely to be bumped, scratched or damaged by children or pets because they are out of reach.
Flat panel TVs can be quite heavy, and as a result wall mounts must be installed properly in a location suitable for bearing loads up to 75 pounds or even more. This can limit options in some homes.
Wall-mounted TVs often leave unattractive wires exposed when connected to video game systems, DVD players and wired audio systems.
Mounting requires the use of screws and other hardware that can cause superficial damage to finished and painted surfaces. It may not be a viable option for apartment dwellers and renters.
The Pros and Cons of TV Stands


TV stands are attractive and available in a number of finishes. Although they are not as streamlined as wall-mounts, TV stands like the Bush my│space® Aero TV Stand can also enhance the aesthetic of a room.
Whether you plan to sell your home or just rearrange the furniture, TV stands are much easier to move than wall-mounted TVs.
TV stands make it easy to store additional components including gaming consoles, DVD players, and audio equipment while at the same time hiding unsightly wires and cables.
TV stands take up more room and can rob you of precious floor space in smaller rooms.
TV stands can easily be reached by children and pets, increasing the potential for damage to the TV as well as the stand.
By weighing the pros and cons of TV stands versus TV mounts, you can determine which option is the best fit for you and your home.