Hoover MaxExtract77 Multi-Pro Steam Cleaner
The Hoover MaxExtract77 Multi-Surface Pro steam cleaner is a versatile steam cleaner that can be used on carpets, upholstery, and hard-surface flooring such as tile, linoleum and sealed hardwood. As steam cleaners go, it is relatively simple to use, but it still has many useful options and features that make it powerful, convenient and effective.

The Hoover MaxExtract77 comes with a 32-ounce bottle of professional strength carpet and upholstery detergent, a 16-ounce bottle of hardwood floor detergent, a 9-foot clear active hose, a SpinScrub® hand tool, an upholstery tool, and a squeegee tool.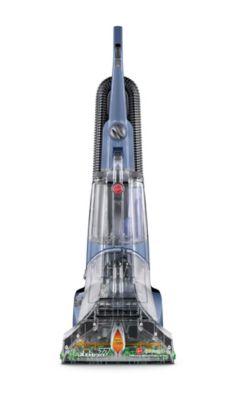 Hoover MaxExtract77 Key Features

The MaxExtract77 lets you choose from three different settings for cleaning up spills, cleaning hardwood floors, and cleaning carpets. The SpinScrub® technology uses counter-rotating scrub brushes that make it possible to clean more deeply than other steam cleaners, because spills and stains are attacked from virtually every angle.

Another key feature of the MaxExtract77 steam cleaner is AutoRinse. AutoRinse is a patented system that allows the user to wash floors when the cleaner is in forward motion and automatically rinse floors during backward motion. It also lifts the maximum amount of dirty water from floors, which means faster drying times after clean-up.

The Hoover Multi-Service Pro steam cleaner also features fingertip controls for easier cleaning. The deluxe handle allows you to use extra detergent when cleaning set-in stains and high-traffic areas. SmartTanks separate clean and dirty water, eliminating the need for constant water refilling.

Hoover MaxExtract77 Key Benefits

In addition to SpinScrub® and AutoRinse technology, the MaxExtract77 has many additional benefits. Because the machine uses heat, it can more effectively clean surfaces and remove stains. It also utilizes and automatic detergent system that provides just the right ratio of detergent to water.

All tools fit onboard the Hoover MaxExtract77 including the upholstery brush and squeegee tool, and at 22.5 pounds, the steam cleaner is lighter than rental steam cleaners which can weigh up to 44 pounds. The steamer is relatively compact in size as well, measuring 19"L x 13"W x 46.75"H.

Customized cleaning modes make it easier to lift dirt and stains without making them worse. For example, the spill pick-up mode uses the power of suction to clean up spills rather than scrubbing, which can actually work stains deeper into carpet fibers. Using the gentle scrub mode, brushes rotate at lower speeds for use on tiled floors, sealed hardwood floors, and linoleum. The power scrub mode with maximum scrubbing action is ideal for cleaning high-traffic carpet areas.

The MaxExtract77 uses pressurized water for edge to edge cleaning. With dual water tanks, the steamer's clean water capacity is 147 ounces. The power cord extends a full 20 feet, and the DualV nozzle is a full 13 inches wide for maximum cleaning efficiency.

With so many convenient features, professional quality steam cleaners are becoming as popular as traditional vacuums and hand vacuums in high-traffic homes with children and pets. The MaxExtract77's versatility makes it a good choice for cleaning a variety surfaces within the home.