The Pros and Cons of DLP Projection TVs
If you are looking for a new TV and are considering purchasing a digital light processing (DLP) projection TV, it is a good idea to weigh the pros and cons first. DLP HDTVs like the Mitsubishi 92" 3D 1080p 120Hz DLP HDTV can be more expensive than other high-definition models, but they have some great features that make them an excellent choice for the right kind of buyer.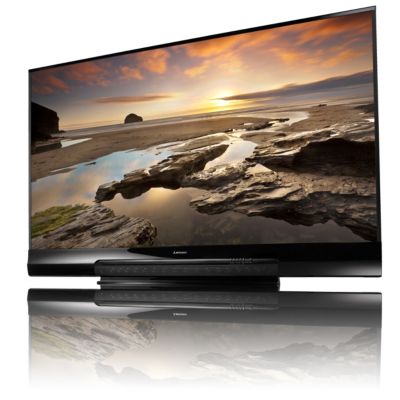 How DLP Projection TVs Work

DLPs work like LCD televisions in the sense that the image is actually displayed on a chip. The difference is that the DLP projection television's chip is a digital micromirror device (DMD). This means that each of the pixels on the DLP TV's chip is essentially made by a reflective mirror bouncing part of the picture back at you.

So, while the whole picture is displayed on the screen, only one pixel is actually displayed on each micromirror on the chip. Each of those little mirrors then tilts with the changing image, producing a basic grayscale image. Color is added to the equation when light passes through a color wheel and is then reflected by the mirrors. The light is amplified and then reflected off of one larger mirror. That reflection is what you see on the screen when you watch DLP rear-projection TVs.

The Pros of Projection TVs


DLP projection TVs are available in very large sizes including 73 inches, 82 inches and 92 inches. For consumers looking for the largest viewing area, projection TVs boast some impressive stats.
The picture on these projection TV models is very nice and offers high brightness and contrast. Although they may not appear as bright as LCD models, they do produce a very smooth picture.
DLP rear-projection models are energy efficient. Whether you are into saving money on your utility bills, living green, or both, a DLP is a nice choice.
Projection TVs provide high-quality, accurate color.
DLPs, like LCD televisions, feature a slim, space-saving design.
The Cons of Projection TVs
Sometimes DLP projection TVs produce a rainbow effect. This refers to the flash of colors seen when quickly looking from one side of the screen to the other.
Rear-projection DLP televisions are generally pricier than LCD TVs. If you are concerned about staying within a tight budget, they will probably not be your first choice for a new TV.
On specific models, after about 5,000 viewing hours (it could be more or less depending on the TV you buy) it could be necessary to replace bulbs on DLP TVs. This won't be necessary for higher-end laser or LED models, however.
If bigger is better and you have budgeted for a rear-projection DLP TV, you won't likely be disappointed in the color, brightness or clarity on these kinds of TVs. Overall picture quality is high. Price and size are likely to be the top reasons why consumers will pass on DLP projection TVs and opt for other flat screen HDTVs.