The Canon EOS Rebel T3
Digital single-lens reflex cameras (also called digital SLR or DSLR cameras) have truly evolved in recent years. They continue to drop in price while at the same time consumers are benefitting from a growing list of high-tech features. While these digital cameras are more powerful than ever before, they are also much easier for amateur photographers to use. The Canon EOS Rebel T3 is no exception.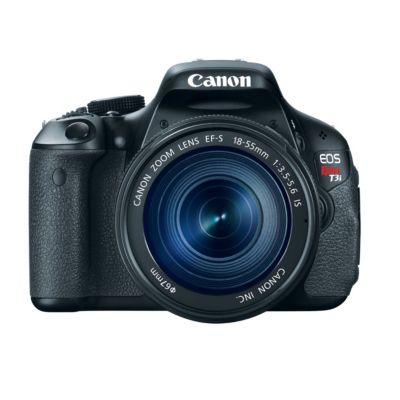 EOS Rebel T3 Features and Specifications

The Canon EOS Rebel T3 (Model: REBELT3KIT) is packed with features. It comes with a 12.2 CMOS image sensor, Canon's Basic+ function, and DIGIC 4 image processor. Plus, it features HD video recording. The EF-S 18-55mm f/2.5-5.6 lens makes it possible to take great shots any time slow shutter speeds are needed, and the optical image stabilization feature helps you take sharp hand-held shots at shutter speeds up to four stops slower than was otherwise possible.

Canon touts its complementary metal oxide semiconductor (CMOS) sensor for its ability to take pictures with superior clarity and tonal range while offering the greatest number of pixels in a camera of its class. The DIGIC 4 image processor ensures that images are processed at the highest speeds and makes image resizing, S2 and S3 recording quality, and in-camera RAW image processing possible.

This digital camera operates on an LP-E10 lithium ion battery pack which can take as many as 700 shots with 50 percent flash usage. Battery consumption increases, however, with the use of Live View and video mode.

The EOS Rebel T3 also includes:


ISO 100 - 6400 for greater flexibility shooting in a number of settings from bright to dim light.
Enhanced metering capabilities with a 63-zone, dual-layer metering system.
Enhanced EOS HD movie mode featuring options for editing video in-camera.
A 2.7" TFT color LCD
Built-in flash
HD movie recording at a resolution of 1280 x 720.


EOS Rebel T3 Pros and Cons

The EOS Rebel T3 body weighs in at just under 500g including the battery. The camera body is made of smooth plastic and lacks rubber-coated grips. However, menus and automatic controls are easy to understand, making the camera intuitive to use—particularly for first-time photographers. Manual settings allow professionals and students of photography to learn and grow as they become more familiar with the art and science of digital photography.

The Rebel T3 is a relatively lightweight camera that takes impressive pictures. It is also extremely versatile, so it is suitable for capturing your favorite vacation moments, shooting wedding photos, or taking pictures at your child's first school play.

On the left side of the Rebel T3 users will find a socket for an optional remote switch, a USB port, and a mini HDMI port. The HDMI port makes it possible for you to connect the camera to an HDTV, but analogue AV output is not available. That means you will not be able to view slideshows on television sets that are not HDMI equipped.