Preserve Memories by Backing up Your Photos and Videos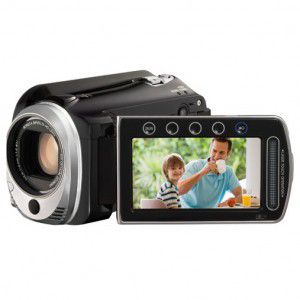 Even with the JVC Everio 120-gigabyte Camcorder that features a hard drive, you will still eventually run out of space to store the video feed you record.

The camcorder's hard drive will store up to 50 hours of full HD video and it offers state-of-the art camera features, such as its advanced image stabilizer and 40x optical zoom that will get you closer to the action. It even includes a quick upload to Facebook or YouTube. Unfortunately, the only thing between the safety of your files and disaster could be as haphazard as a drop of your device down a flight of stairs. Ouch!

External Drives for Backup

hhgregg recommends that you back up images and video feed that you create on an external hard drive or other computer storage unit for safe keeping. Storing these files on the Toshiba 1TB Canvio™ Portable External Hard Drive, for example, will free up memory on your camera, tablet, gaming console or PC. It will also protect these files, should anything ever go wrong with your electronic devices. (We recommend that you also insure all your equipment.)


Toshiba's hard drive is inexpensive and provides one terabyte of data storage, which is the equivalent of 1,000 gigabytes. You can transfer your large media files at blazing fast speeds with its USB 3.0 port, and it's compatible with USB 2.0 ports. Its compact and anti-slip design makes the device easy to take with you on vacations to free up space on your camcorder. The Sony 16-gigabyte Handycam® Camcorder will even let you transfer files directly to an external hard drive without needing a desktop computer to assist in the process.

Have Two Options

Consider keeping two different external hard drives – one to serve as everyday back up for your large media files and one for more long-term storage. You could take the long-term storage drive with you quickly in an emergency. Store your long-term external hard drive in a cool, dry place. Use a safe that would survive a house fire, if possible.


There's nothing worse than losing the footage or images you captured at your child's birthday party or your parents' 50th wedding anniversary. Even if you have uploaded images to YouTube, you have still lost the high-resolution original. Consider storing priceless family memories on a flash drive in a safety deposit box. The Lexar Media 16-gigabyte JumpDrive Retrax gives you ample storage space that's small and sturdy enough to easily place in the mail. Its capless design and retractable case protect the drive and all its contents. Its LED light flashes during a file transfer, so you know when the job is done.

Routine backup of all the files on your computer is a good practice, and we recommend using an external hard drive to store backups of all your electronic devices, such as your camcorder, digital camera, tablet and smartphone.